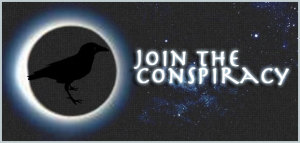 If you've read Amaskan's Blood or other novels/stories, you already know that my novels are full of political intrigue and conspiracy. Since a group of ravens is called a conspiracy, what better name for my team of readers?
Why should you join?
Members get:
Info on book releases, events, & news before anyone else
Access to Freebies (additional stories, cover reveals, etc.) before anyone else
Access to exclusives before anyone else
Access to contests before anyone else
Opportunity to beta read stories and novels first
100% Spam Free-
You'll only get the newsletter when there is important news to share. No constant mailings or sales pitches. Fantabulously geeky, right? You can unsubscribe at any time via the link in the newsletters (located at the bottom). Because it's run through MailChimp, you know your information will be secure. You can read more about my PRIVACY POLICY and GDPR Compliance here:  Privacy Policy
To join, just fill out the form below to join.
Happy reading & see you soon!