It's time for the Central City Comic Con Wrap-Up, which will include a LOT of pictures. (You can click on them to see them larger.)
C4 was an interesting and small convention held in Yakima, WA, a place I had never visited before this convention. The convention itself was held in the Sundome on the Central City State Fair grounds, which was both good and bad.The Sundome was pretty and there was plenty of parking, but there was also an overabundance of flies from the proximity to livestock. We spent the weekend dodging flies.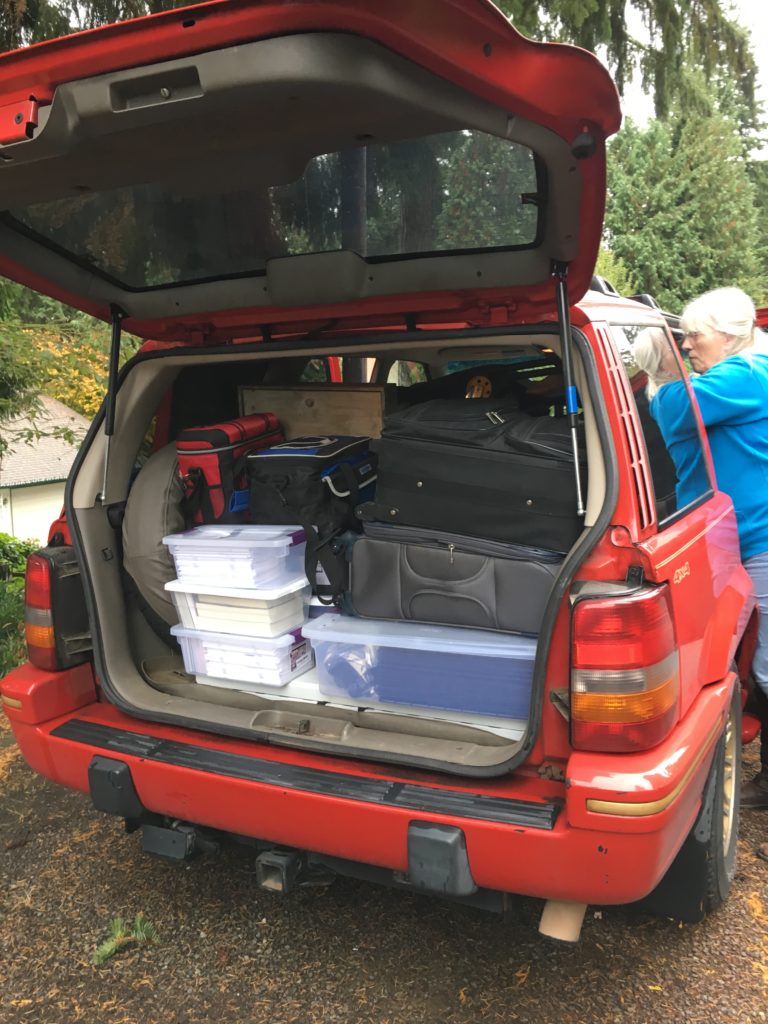 On Friday morning, we loaded up Elise's Jeep, literally to the roof, and set out across the Snoqualmie Pass as it began snowing. Luckily, the snow wasn't sticking, but the mountains and waterfalls were gorgeous. I need to go back there with my DSLR camera and take some photos.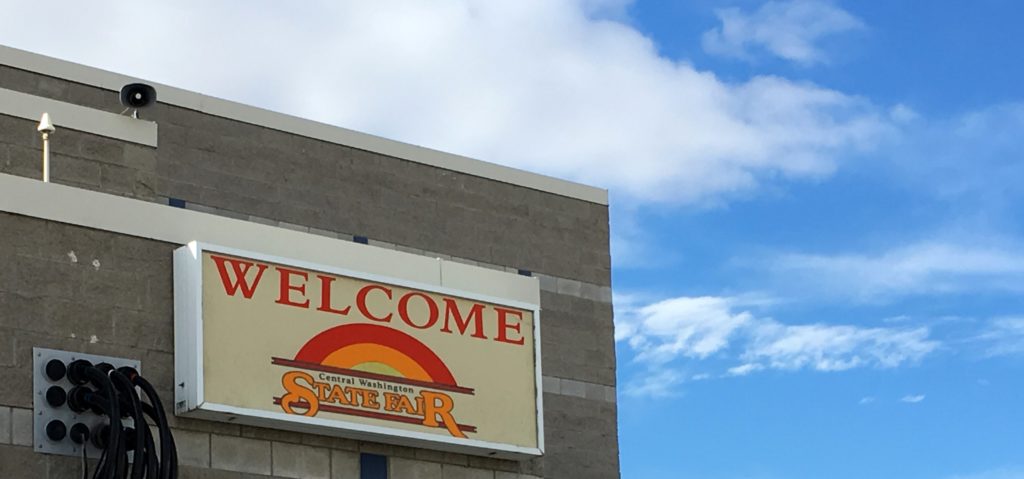 We arrived at the Central City State Fairgrounds a little after 2 PM. It took a bit of driving in circles to figure out how to get to the Sundome itself, but we found it!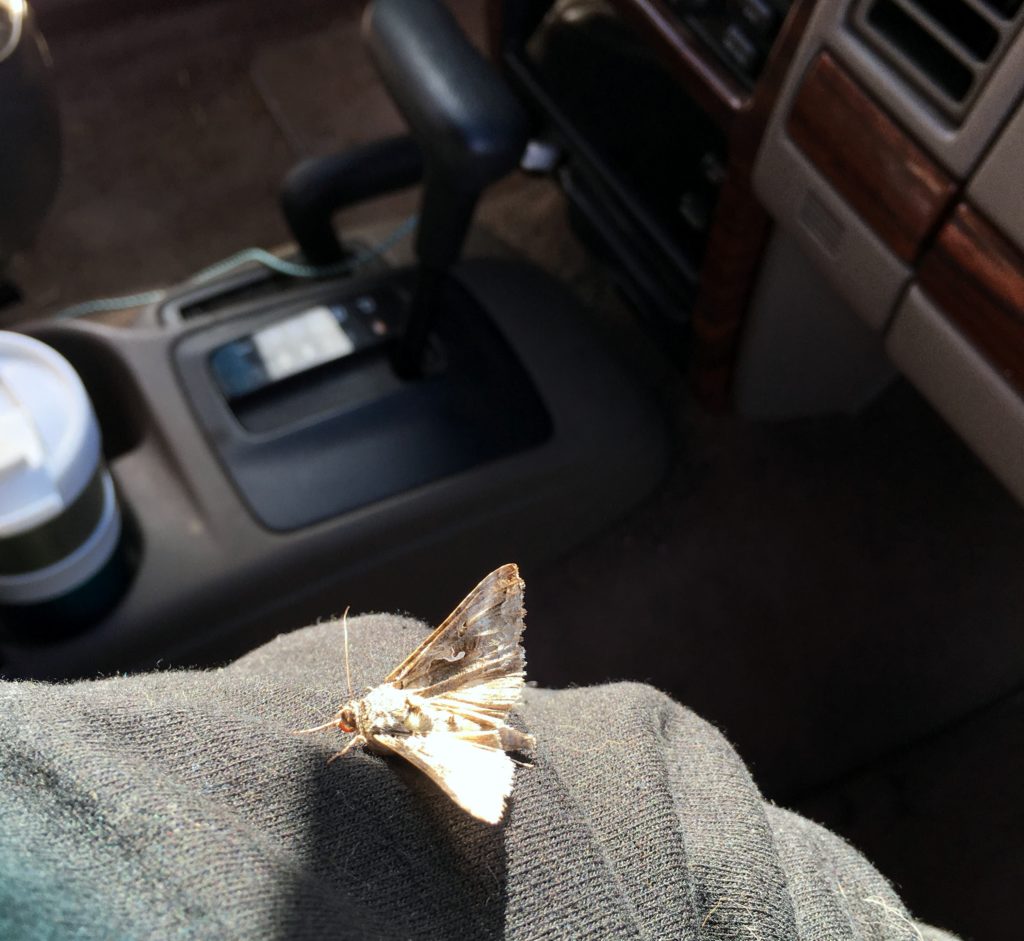 We had a hitchhiker that tried to follow me into the Sundome.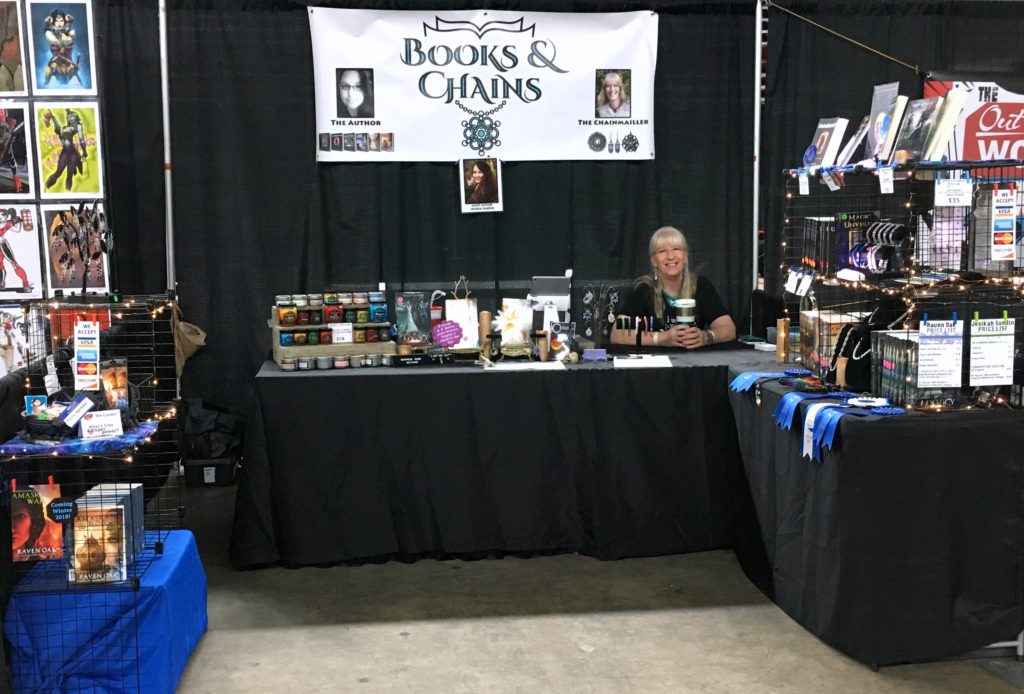 It took us about 2.5 hours to set up with our new layout, which you can see above. Elise is so happy in this shot!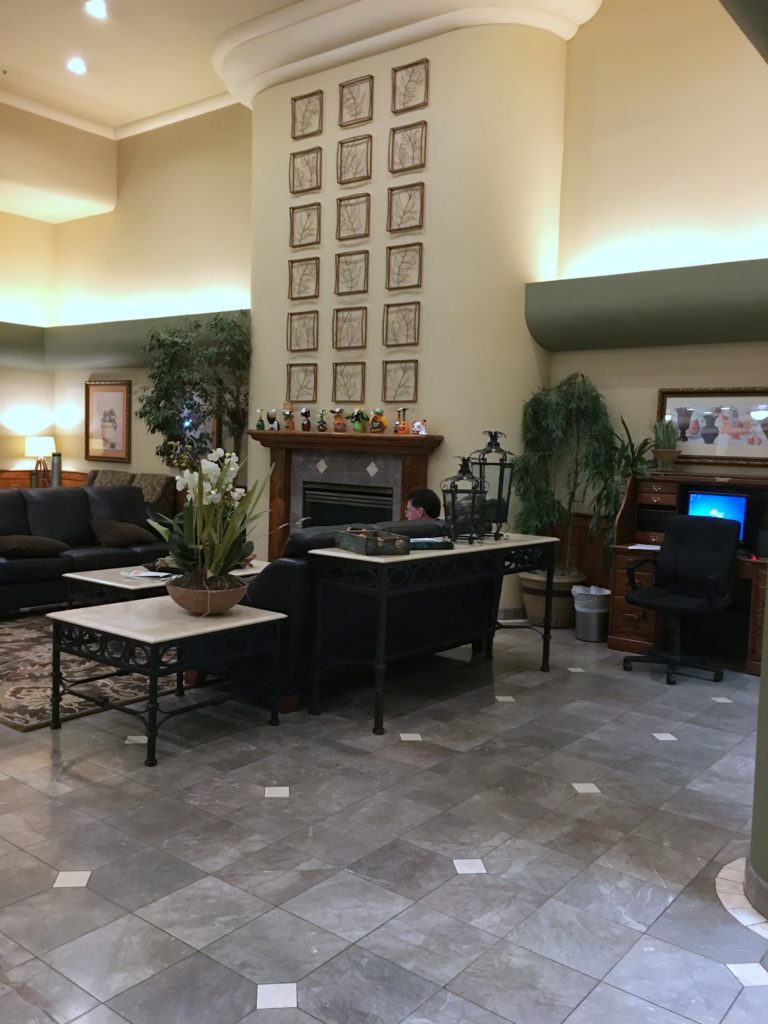 This is the lobby of the Oxford Suites where we stayed. They were pretty awesome and clean. No bed bugs! Plus they fed us free full breakfast, partial free dinner, and provided coupons for free soda, wine, or beer.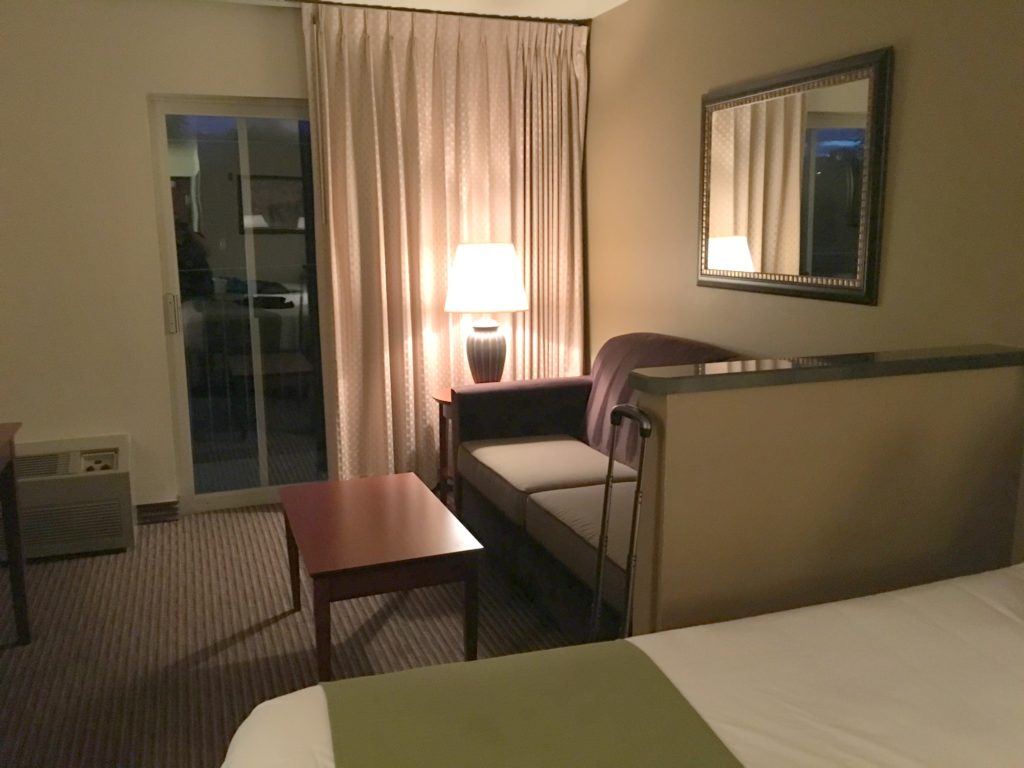 The hotel room had a nice sized couch in it, which we sat in Friday night as we watched Netflix.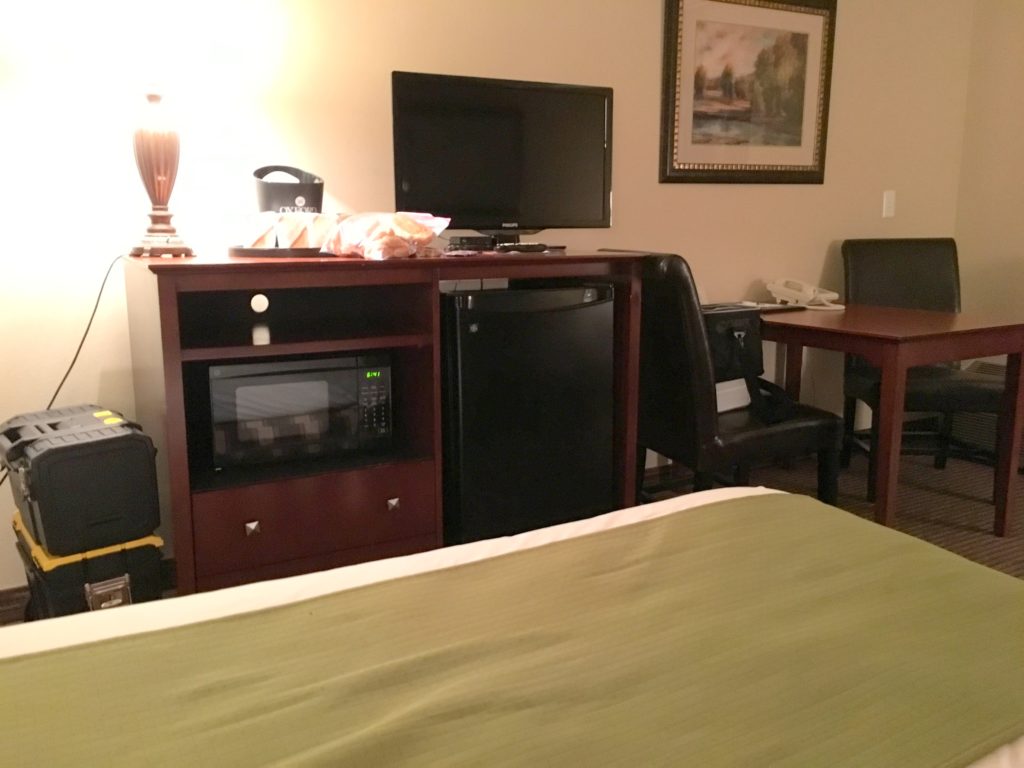 Nice sized fridge, too. Was handy to keep food in during our stay.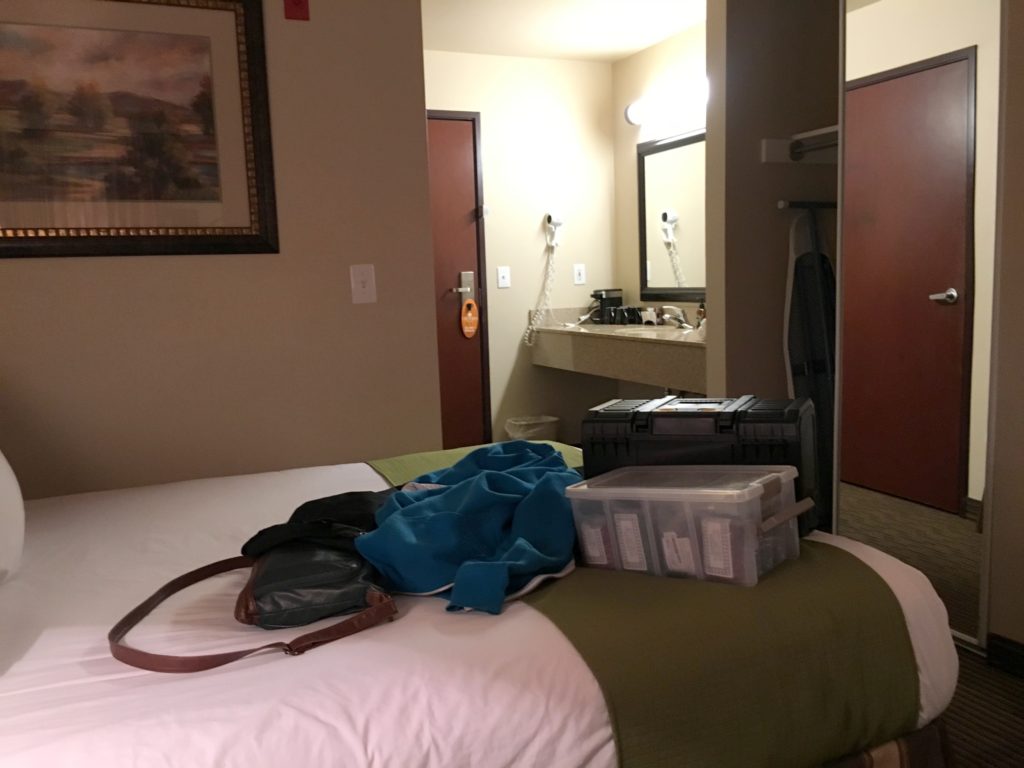 The rest of the room. We also had an amazing view of the Yakima River, complete with chairs on a balcony so we could sit and enjoy said view.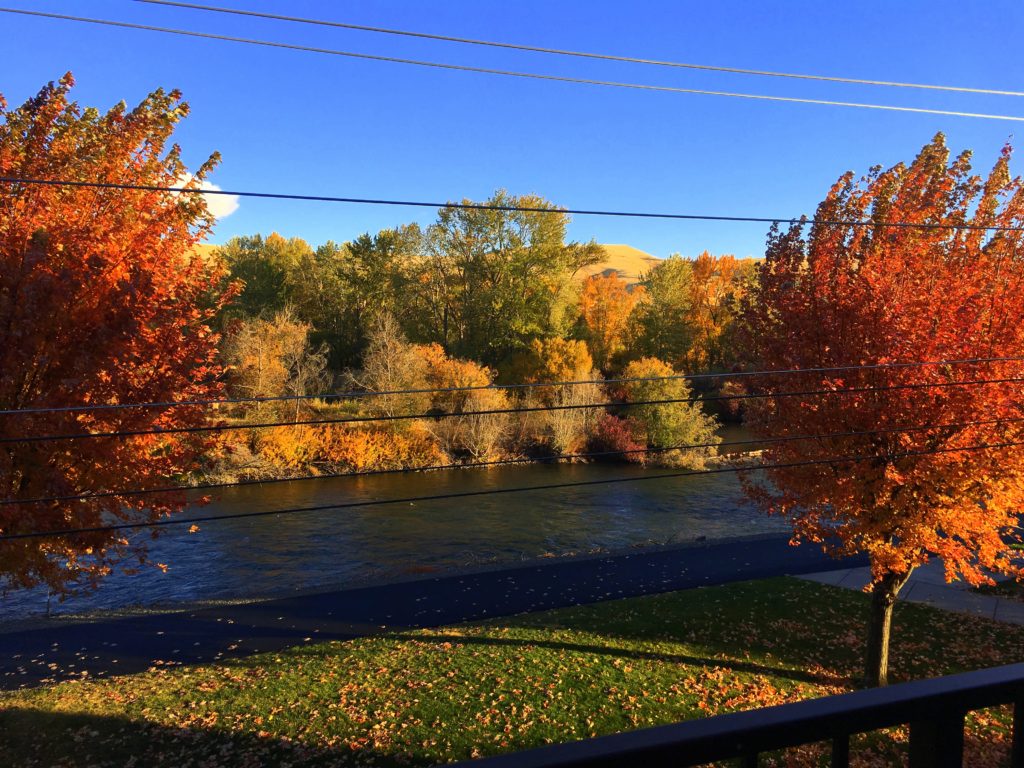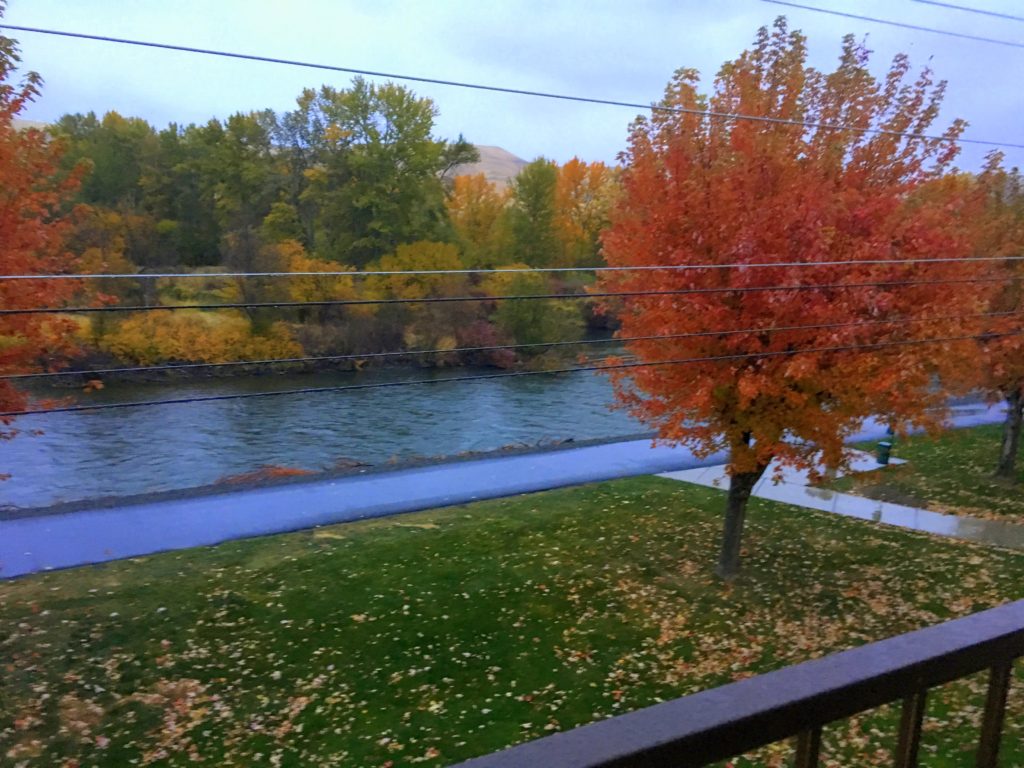 After check-in, we went down to the hotel's Bistro to avail ourselves of some of their free salad, soup, and rolls, and order some proper dinner.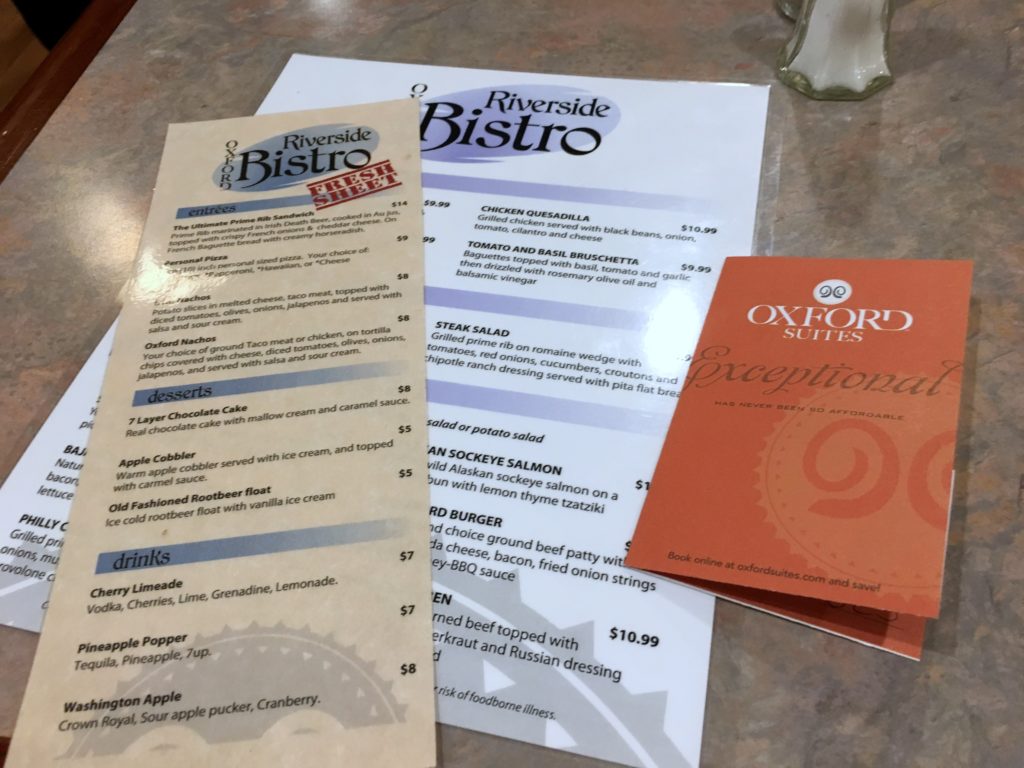 I had a nice humus plate while Elise had Irish Death Beer and Irish Nachos.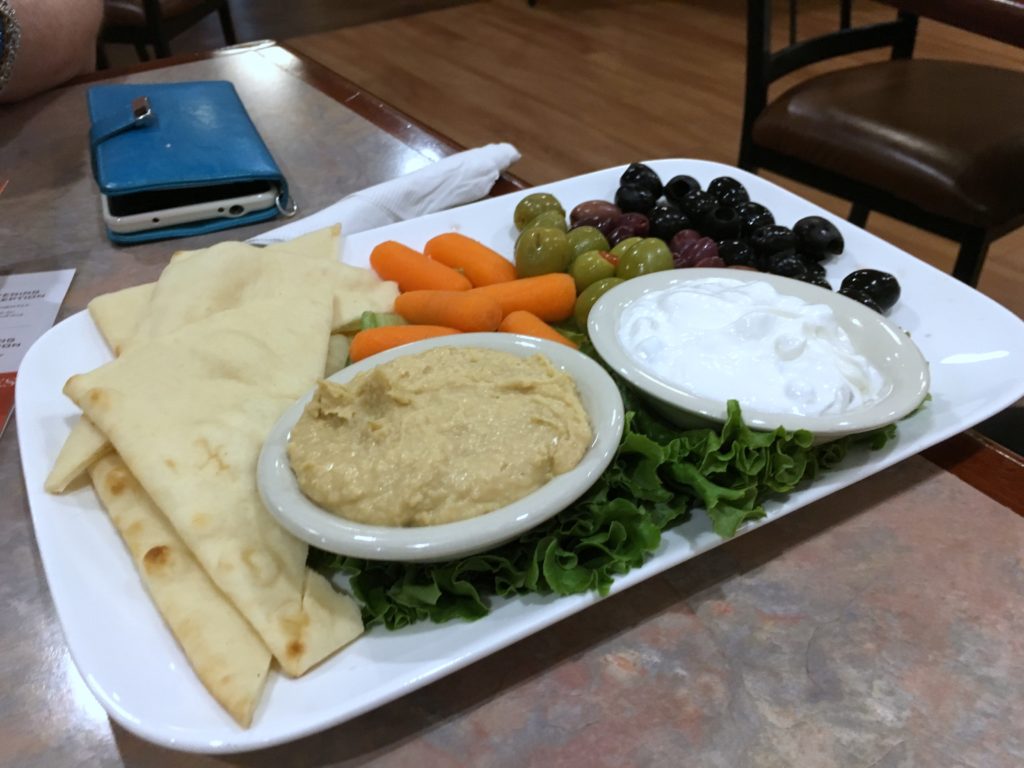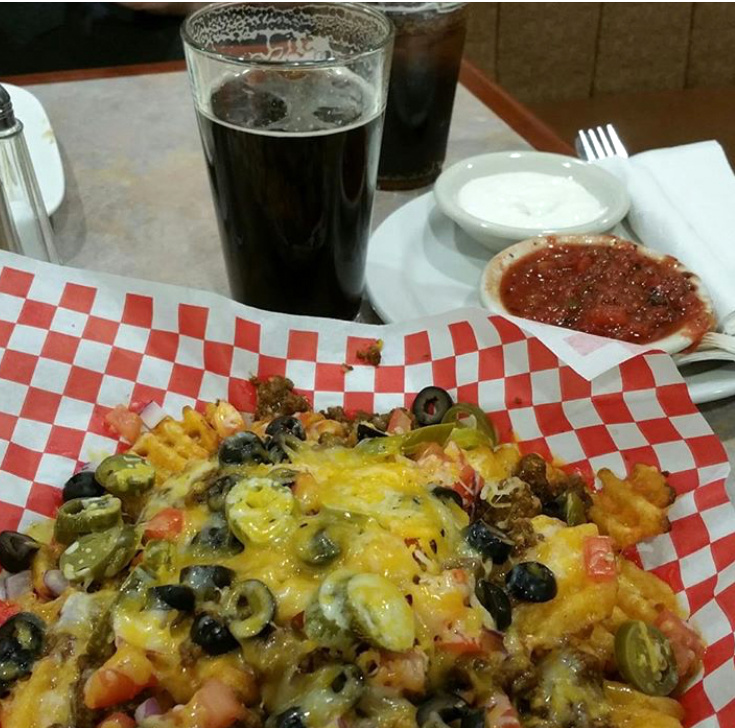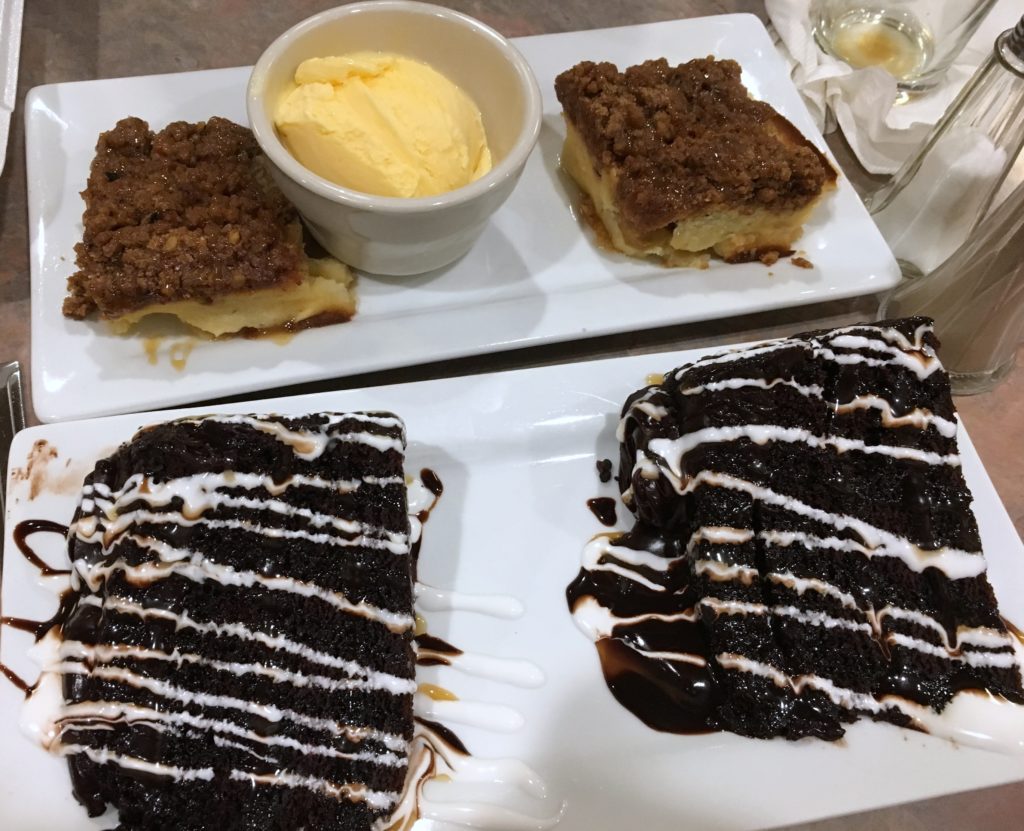 They had a nice dessert that came in twos, but Elise and I wanted different desserts so we ordered them and kept the leftovers for Saturday evening. Both the cobbler and the 7 layer chocolate cake were amazing.
Saturday morning came way too early for me. This is me trying to prop my eyelids open.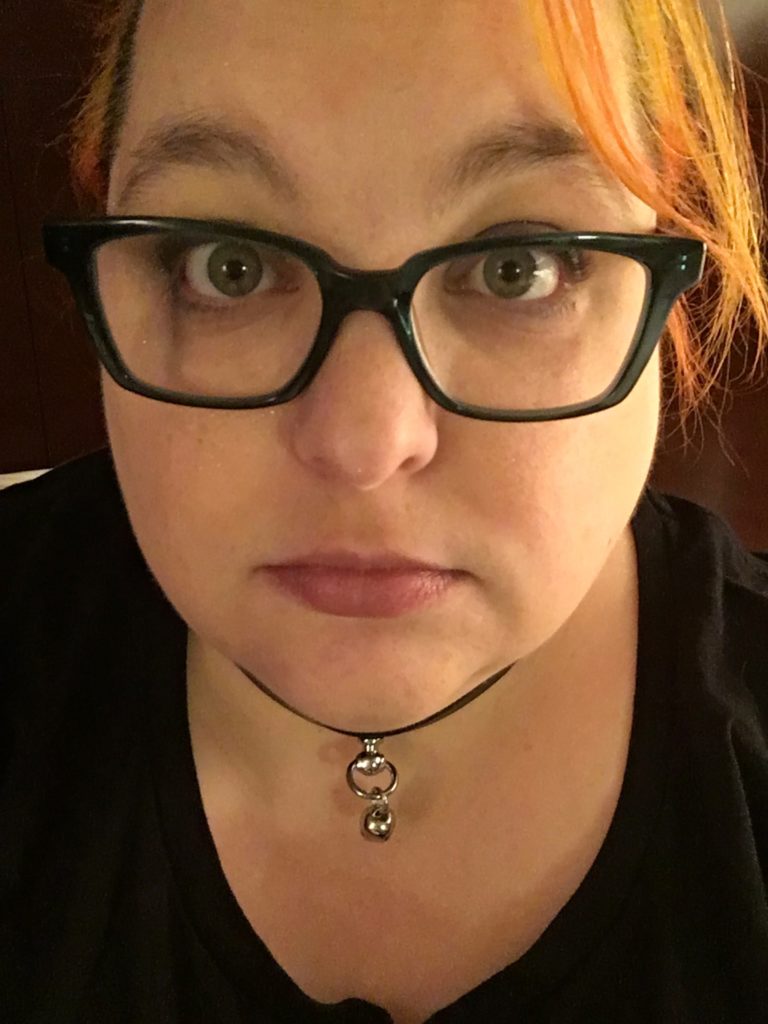 I decided to cosplay Abby, Forensic Scientist from the television show NCIS.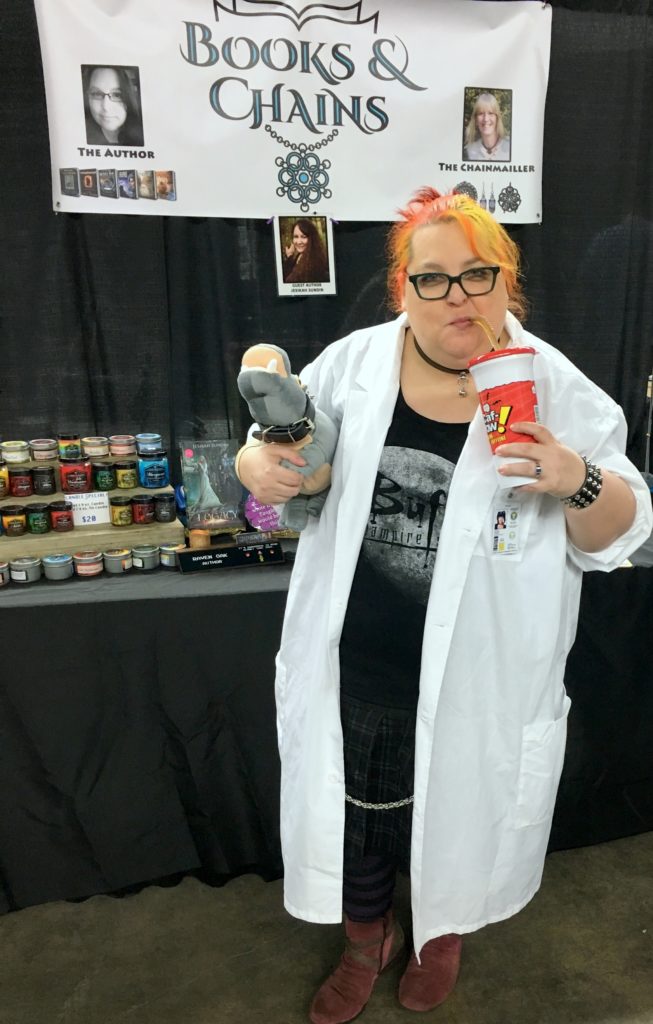 I opted for my comfy boots rather than my combat boots, but the rest of the outfit fits, including the Caf-Pow cup and Bert, the farting hippo.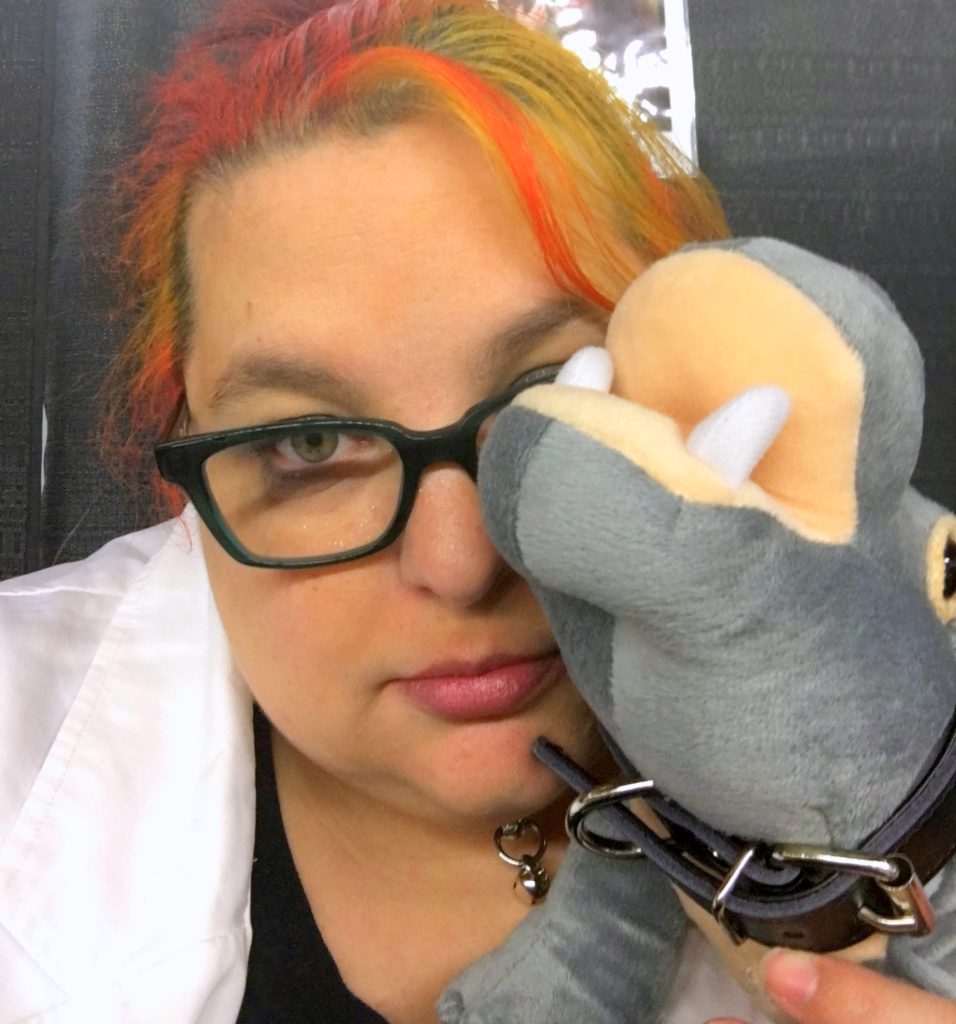 Here's a better picture of Bert, who is wearing his spiked collar. And yes, he really farts.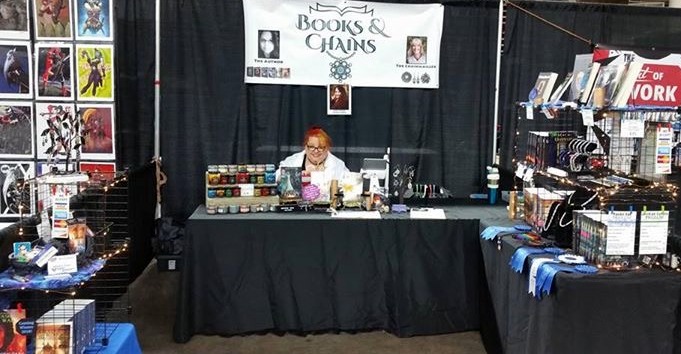 Another shot of our booth, this time with me behind it. 🙂 We had some amazing cosplayers (and readers!) stop by our booth!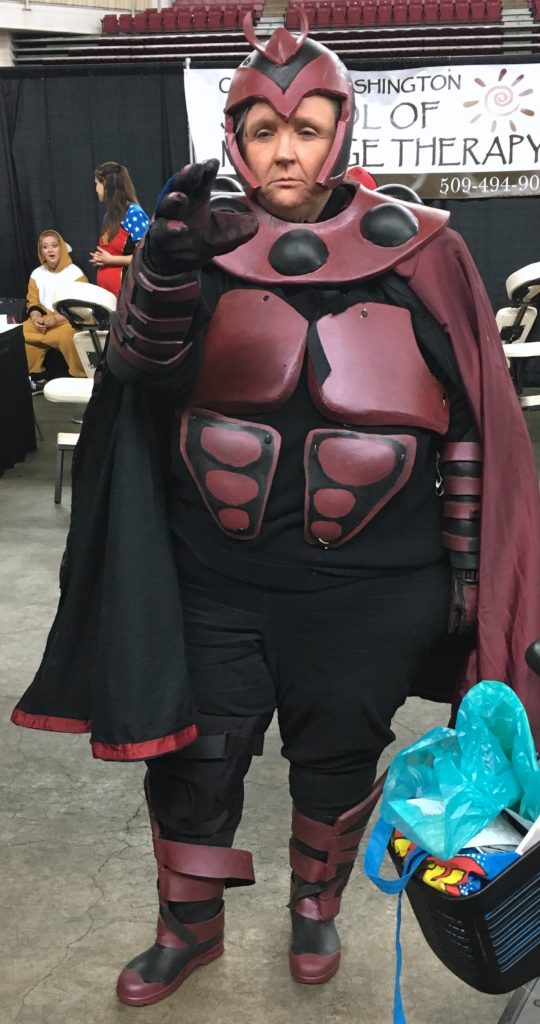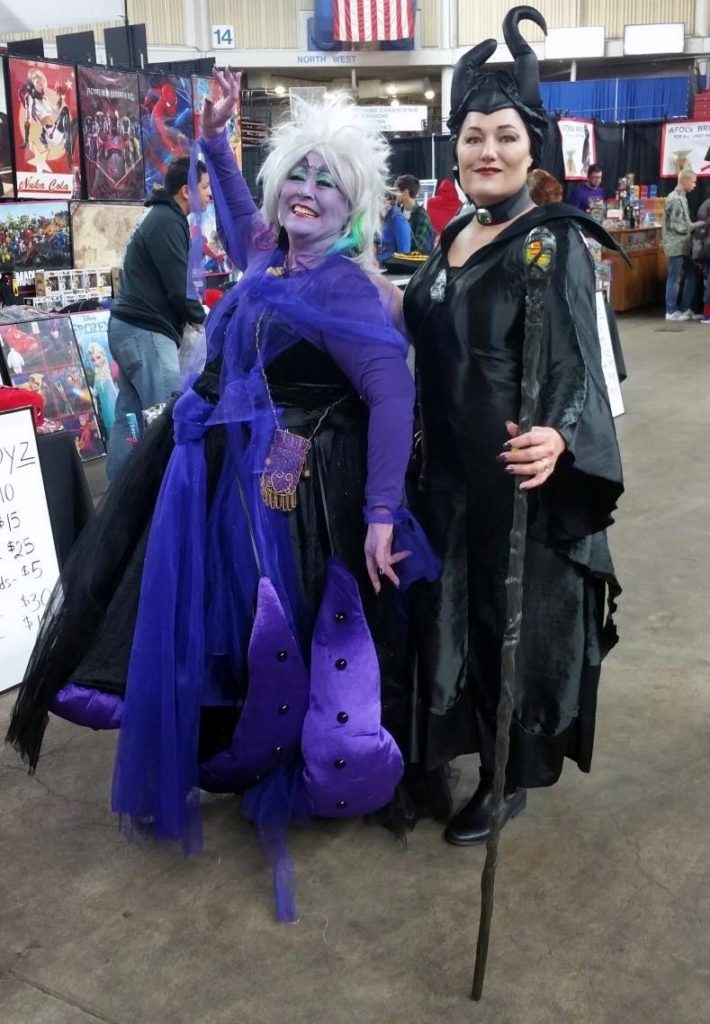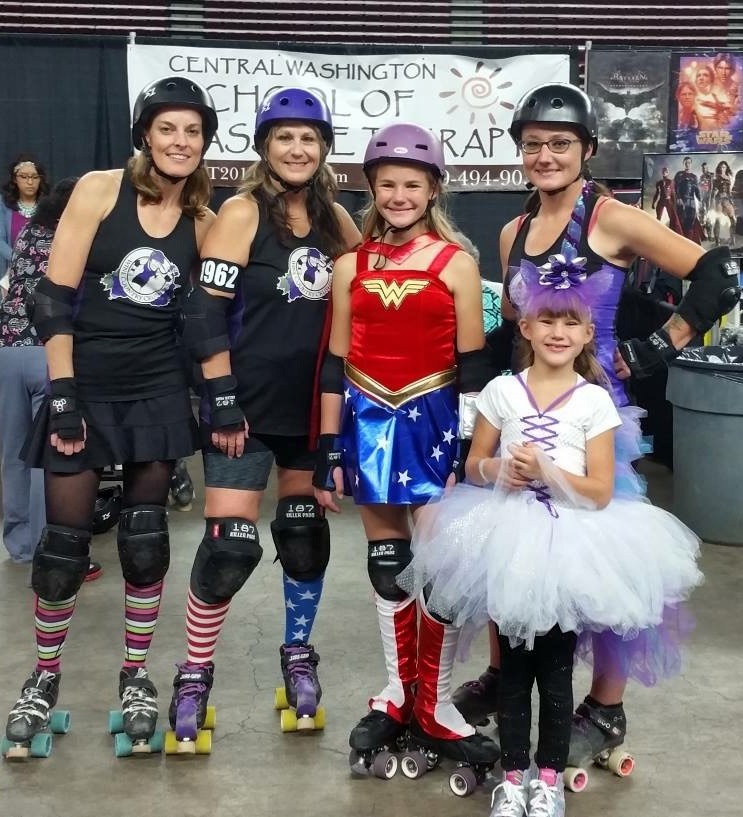 The Wine County Crushers (Yakima Roller Derby) folks served as helpers at C4 and skated around helping all weekend long.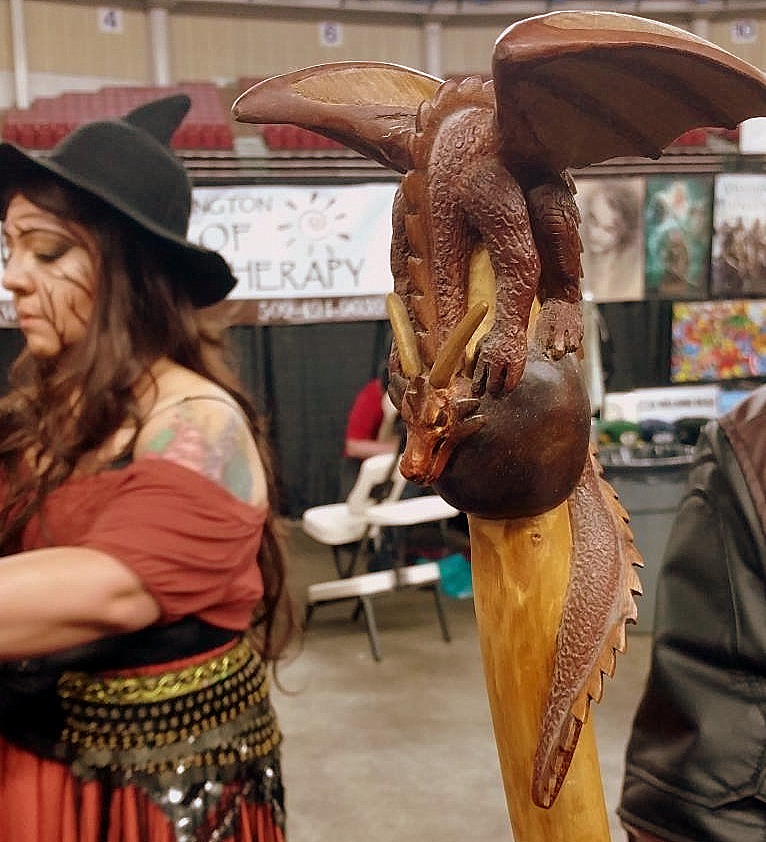 One patron had an amazing staff. We had to take a photo of it.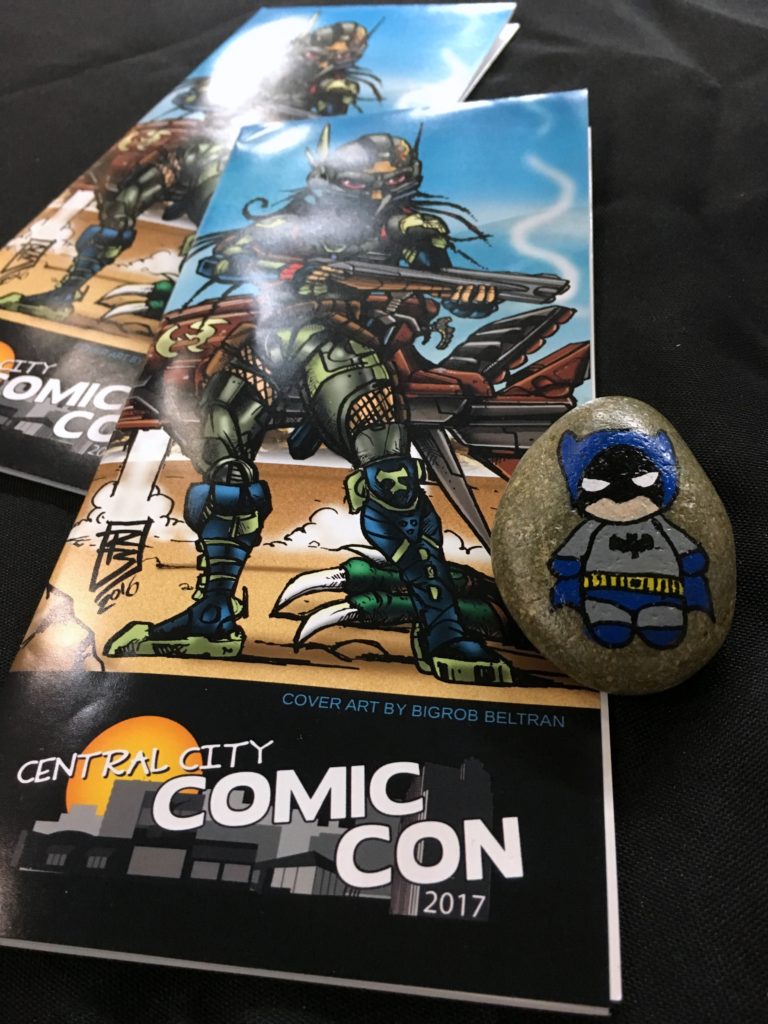 Someone from Yakima Valley Rocks! stopped by and gave us a stone. I'll have to give it to someone in the Bothell Rocks! group!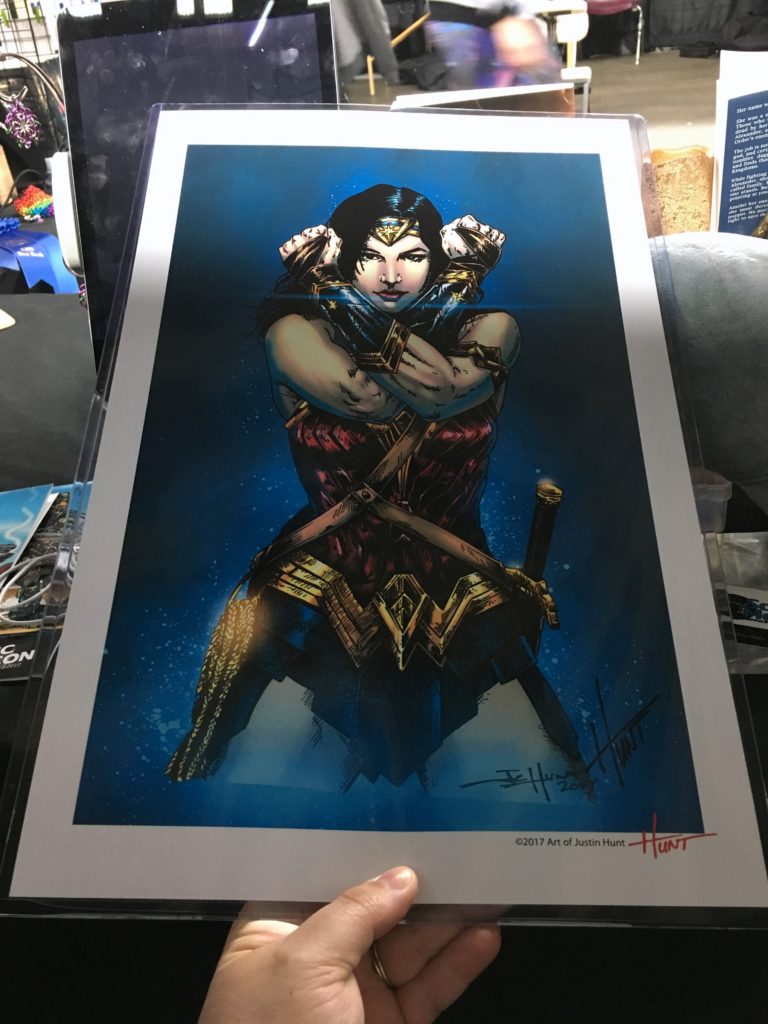 I picked up this gorgeous print of Wonder Woman from artist Justin Hunt, who was in the booth next to us. (And oddly enough, he will have the booth behind us as Jet City Comic Show as well!)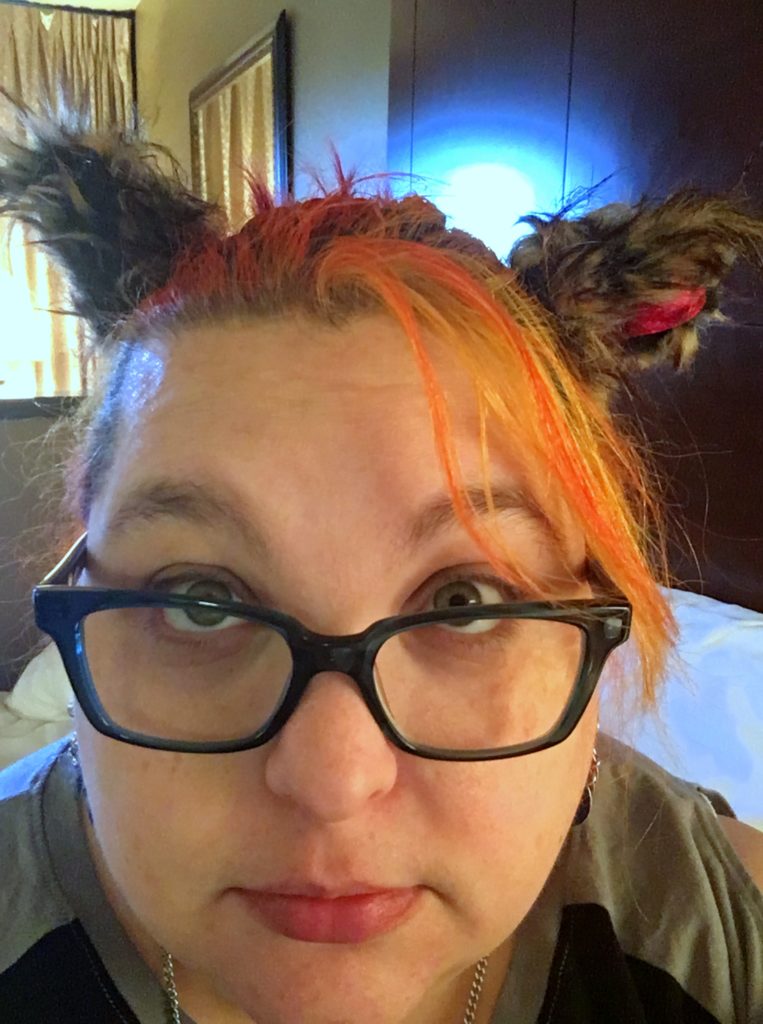 Sunday, I wore my Star Wars: The Last Jedi shirt, Star Wars jeans, and cat ears that looked a bit like Wookie ears. I also had on a pair of Elise's BB-8 chainmaille earrings.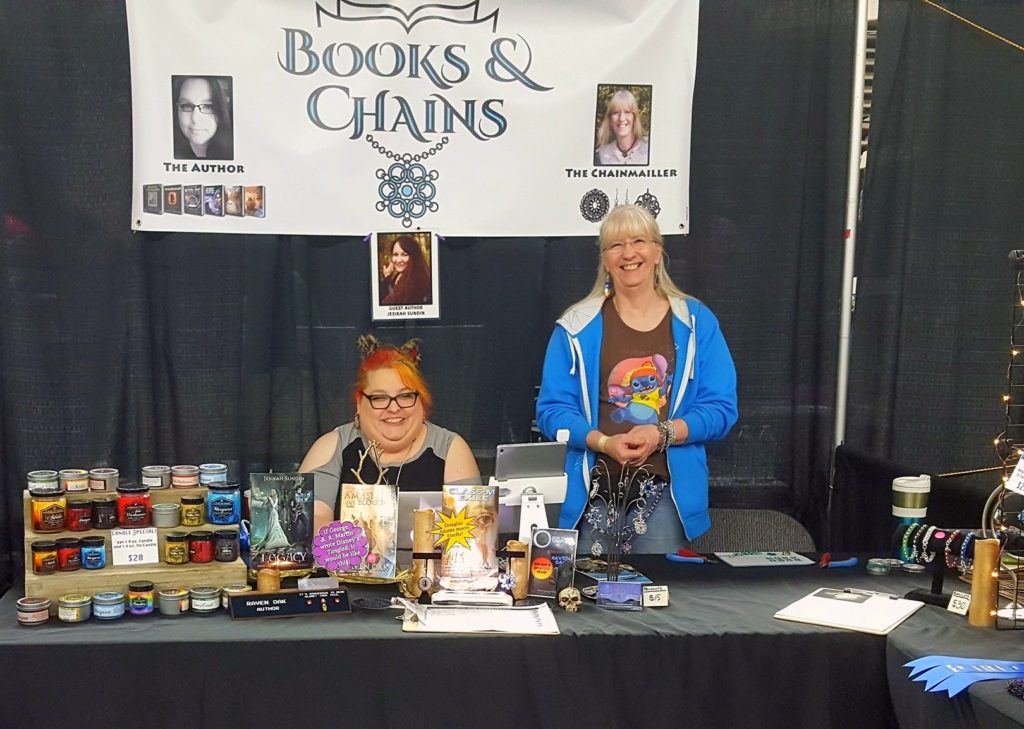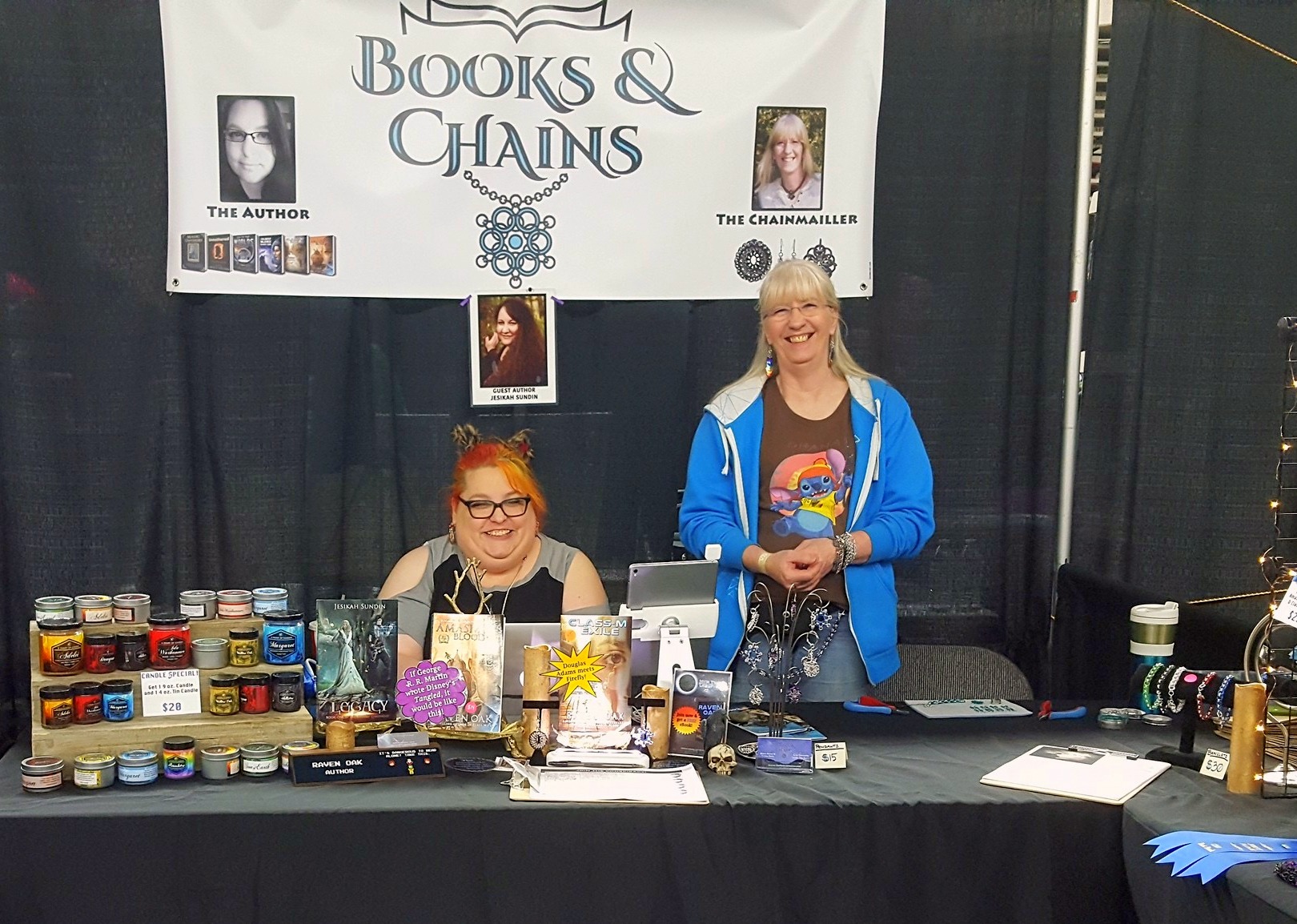 Ronnie, of SciFi Monkeys, stopped by a few times to say hello and took this photo of us at the booth.  Sunday was a much slower day, so I tried my hand at a bit of chainmaille. I actually didn't do too badly for my first attempt. The rings were fairly smooth!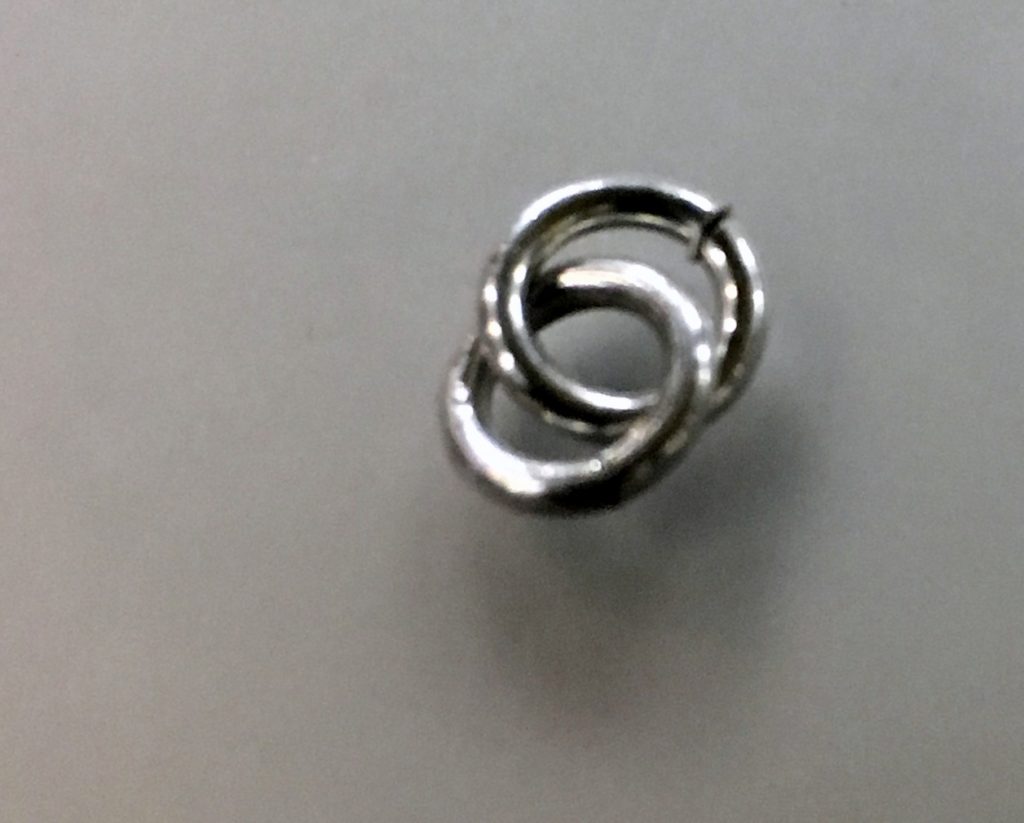 After a long weekend where we met a ton of fun people, we were happy to check out of the hotel and drive back home.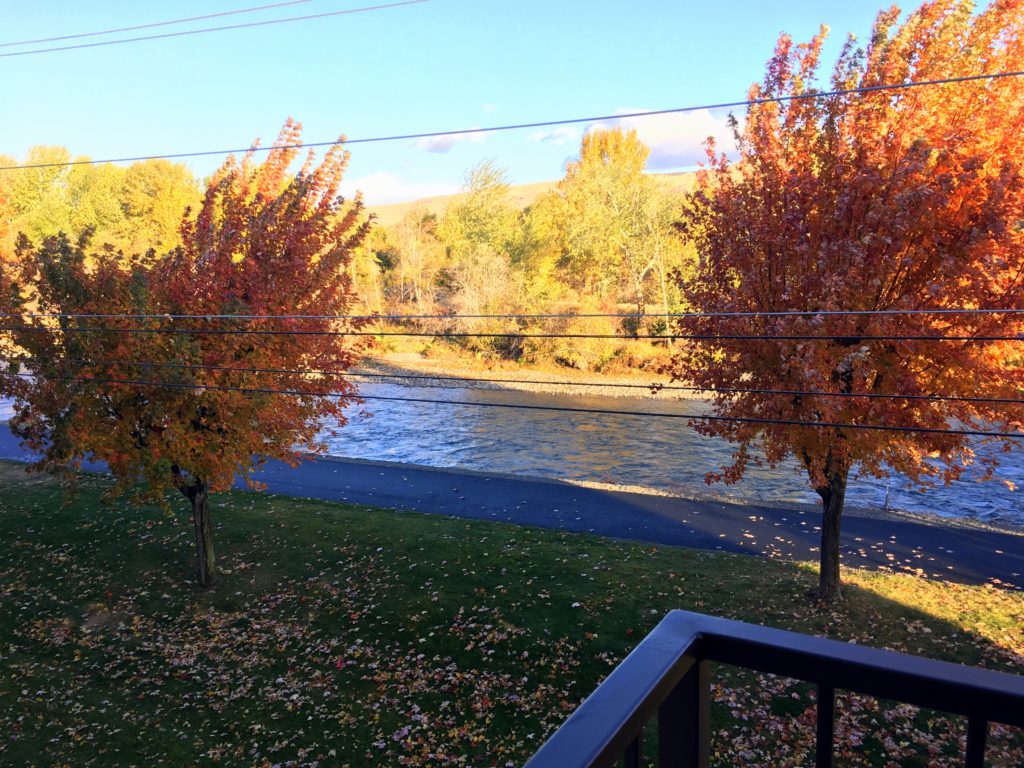 I arrived home to three happy kitties and husband about 9:30 PM.
---
Photos taken by Raven Oak, Elise Kreinbring, and Ronnie of SciFi Monkeys.