---
Today begins our Joy to the Worlds Book Tour.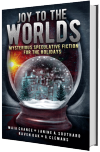 If you'd told me ten years or even five years ago that I'd be driving around the Pacific Northwest with three authors on a book tour, I wouldn't have believed it. I remember my first book signing party (for Amaskan's Blood) this past January. I had no idea that my life would change as much as it has. Almost a year later, a third book comes out as an Amazon #1 New Release, and I'm touring.
It's a bit unreal.
If you're in the PNW, come out for an event. Join us in celebrating the holidays, but more so–join me in celebrating a year of challenge and change. I can only hope 2016 is as good.
---
TOUR DATES
DEC. 4—Book Tour Kick-Off Party in Wedgewood (Seattle, WA). Join us for s selfie photo booth contest, good food, and more. 7PM – 11 PM at 10326 45th Ave. NE, Seattle 98125.
DEC. 5—Virtual Book Tour Event streaming live on Google+ and YouTube. Join us for a short reading and Q&A. We'll be giving away a free autographed copy as well. (Link coming soon.) 5:30-6:30 PM CST.
DEC. 6—UW Bookstore Event in Bellevue, WA. Join us for a mini-mystery hunt (with prizes), seasonal treats, Q&A, and book signing. 3-4 PM. Further details here.
DEC. 11—Barnes & Noble Event in Beaverton, OR. Join us for a reading, Q&A, and signing. 7-8 PM. Further details here.
DEC. 12—Seattle Mystery Books in Seattle, WA. Come chat with the authors and snag a signed copy of Joy to the Worlds while you enjoy the ambiance of this unique bookstore. 12-1 PM. Further details here.
DEC. 13–Kings Books in Tacoma, WA. Join us for a short reading, Q&A, and signing. 2-3 PM.
---
Click here to read other Flashback Friday posts including those by bestselling authors Jean Walker, G.G. Silverman, G. S. Jennsen, and Django Wexler.