This week's Flashback Friday: The Giver by Lois Lowry.
---
The Giver is one of those classic sci-fi novels that tops the Banned Book List annually and shocks parents everywhere for daring to talk about puberty and euthanasia.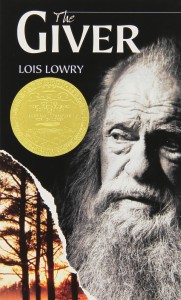 The book wasn't published when I was in middle school, being that it was published in 1993, so the first time I read it was the summer before my first year of teaching back in 2001. I read it because it was one of several books we'd be teaching that year (and for many years after).
Between it and Fahrenheit 451, I was in happy-land! I was going to be teaching not one, but TWO works of science fiction. Even better, both of them were dystopian novels–my favorite!
In The Giver, Lois Lowry shows a world without color–which sounds like a great idea–sort of. Imagine a world without racism (if differences aren't a thing…neither is racism) and without religion (and thus, war). One would think it would be a beautiful thing, but without our differences, are we really living?
Then comes the secret that war, famine, prejudice, etc. aren't gone…just kept by one person–The Giver.
Nothing like carrying the weight of the world on your shoulders, huh?
When I read this for the first time, I loved the ending (which I didn't find ambiguous at all). Hell, I loved the book. Teaching it gave me a new appreciation for it every year as I watched students discover and explore deeper thoughts than they thought imaginable.
The Giver taught me that pushing the envelope is worth it. Ask the questions people are afraid to whisper, discuss the topics that are taboo. As a writer, it's my job to make people uncomfortable and force them to think about the future.
Sometimes my students hated me for making them think. They couldn't figure out why it was important to not just think, but think long and think globally.
I wore their hatred like a badge. If I got even one of them to comprehend how much our decisions and choices impact the world, I've done my job as an educator. Now that I'm a writer, it's doubly important for me to make people think.
If you haven't read this book, you need to remedy this situation ASAP.
And no, I haven't seen the movie yet. It probably sucks. 🙁
---
Click here to read other Flashback Friday posts including those by bestselling authors Jean Walker, G.G. Silverman, G. S. Jennsen, and Django Wexler.