This is a copy of the interview from ReadFree.ly. The link is: http://www.readfree.ly/archives/11220/Kindle-eBook/why-you-must-read-raven-oaks-amaskans-blood/
They have their site set up with some sort of dynamic URL's so the interview changes its location daily. You can find it via a search on their site, but folks were saying they couldn't read the interview with the ever-changing address. So here it is transcribed for your viewing pleasure.
Why you must read Raven Oak's Amaskan's Blood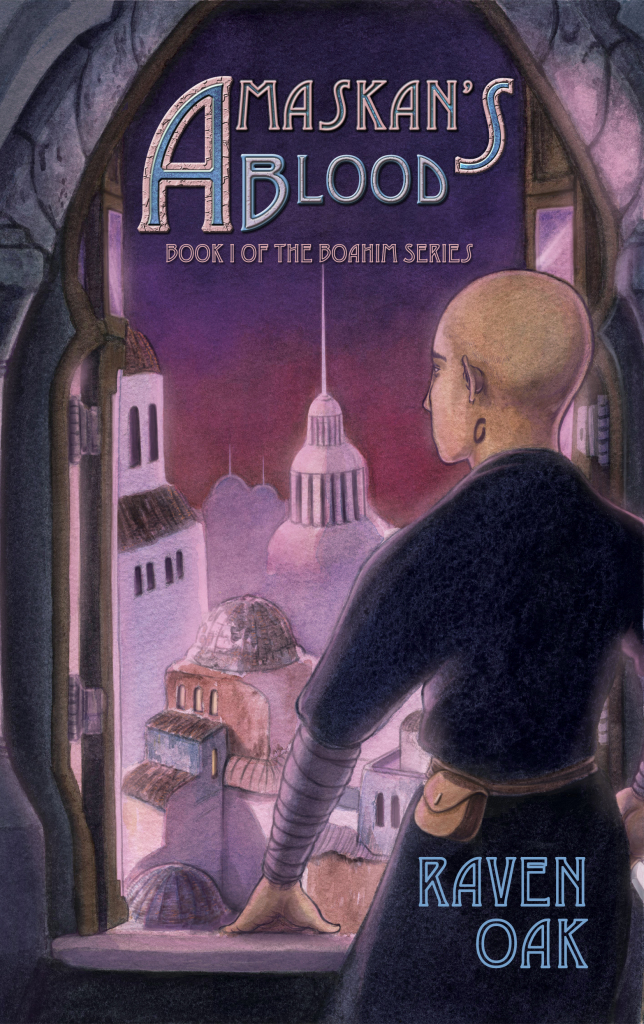 Her name was Adelei. She was a master in her field, one of the feared Order of Amaska. Those who were a danger to the Little Dozen Kingdoms wound up dead by her hand. The Order sends her deep into the Kingdom of Alexander, away from her home in Sadai, and into the hands of the Order's enemy.
The job is nothing short of a suicide mission, one serving no king, no god, and certainly not Justice. With no holy order to protect her, she tumbles dagger-first into the Boahim Senate's political schemes and finds that magic is very much alive and well in the Little Dozen Kingdoms.
While fighting to unravel the betrayal surrounding the royal family of Alexander, she finds her entire past is a lie, right down to those she called family. They say the truth depends on which side of the sword one stands. But they never said what to do when all the swords are pointing at you.
Amidst her enemies, in a land from the darkest reaches of her past, she must decide if she is to be more than another brainwashed puppet. No matter her choice, she must fight to do what is just and right to save the people of the Little Dozen.
Very exciting.
This epic fantasy novel started as an individual novel and then exploded into an epic fantasy series with a spin-off or three in the works.
That's good to hear.
So you'll characterise it as epic fantasy?
Amaskan's Blood is epic fantasy at its core, but is also categorized as new-adult fantasy as the main character, Adelei, struggles to figure out who she is in a world that's ever changing on her. Because of its darker elements, one could also lump it into dark fantasy. What can I say? I enjoy cross-genre.
But doesn't that confuse the audience? How would readers know they'll like it?
Readers who miss the rich fantasies of old will enjoy this novel. I love a good urban-fantasy, don't get me wrong, but the market is inundated with them. There are authors who are working to bring back the popularity of epic and dark fantasy, but we're still not seeing a ton of it in print. I love world building, and I especially love authors who dive into thick stories. If that's your passion, I think you'll enjoy Amaskan's Blood.
If you like Patrick Rothfuss, you'll love my book. At least I hope you will. I believe in confidence, but Patrick Rothfuss is a master storyteller. It's a bit intimidating to compare myself to him. But if you enjoy rich world-building and epic fantasy, you'll like my book.
Tell us more about Adelei.
Adelei is hard headed to a fault, like most young adults are as they start off in life. She has the curse of being very talented and very good at her job, which has given her a bit of a big head about it all. So what does she do?
Well, she's an assassin. But not a common "kill 'em all!" assassin. She's a member of the Order of Amaska—think half monk, half assassin. Her holy order believes that they kill to protect the citizens of the Little Dozen Kingdoms of Boahim and that they do so because the Gods decree it. Being good at killing isn't all it's cracked up to be, especially when she discovers that this "perfect" world she lives in is as flawed as she is.
Like any young adult, she has to find her own way in the world, but she'll be damned if she's going to let innocent people die in the process. She'll fight until she can't fight anymore.
Have you written any other books that we should read next?
My science fiction space-opera, The Silent Frontier, is due out in the summer of 2015. Also, I have a sci-fi novelette called Class-M Exile that should be out in the winter of 2015. Amaskan's Blood will continue with Amaskan's Honor, which should be out in 2016.
That's a long wait! Tell us about yourself.
I am a proud geek. Besides writing, I love gaming–console, PC, tabletop, all-of-the-above. I also enjoy everything Joss Whedon has ever done. I live on a cliff in Seattle, less than a mile from the ocean, with my husband and three kitties who torment me (a.k.a. they prostrate themselves across the keyboard while I'm trying to write).
Do you have a website where we can keep up with your work?
You can find me at https://www.ravenoak.net.
Social media?
Twitter: @raven_oak
Facebook: http://facebook.com/authorroak
Goodreads: https://www.goodreads.com/raven_oak.
If we give you four random words – Man, Woman, Suitcase, Cadillac – can you give us a brief storyline?
How odd.

A crocodile skinned suitcase lay perpendicular to the overturned Cadillac. It wasn't odd to find it askew considering the accordion shape of the now-empty car, but seeing the spatter of ruby across its slick, greenish-gray skin made my skin crawl.

Was just wrong to see a suitcase abandoned like that. Never mind that the ambulance had driven away with both a man and a woman, their high-class bodies bent as wrong as the car's rear fender. Never mind the crying child swooped up by some folks from CPS.

That damn suitcase was gonna make me a bundle. I ain't ever seen a real croc skin before.

No need to let it go to waste.
I rattled that off for you in 5 minutes or so. Most of the time, ideas come to me fleshed out enough to get me writing. Then after a page or three, I plan in detail. And then more planning and outlining and research until finally, I have something to drive my writing forward.