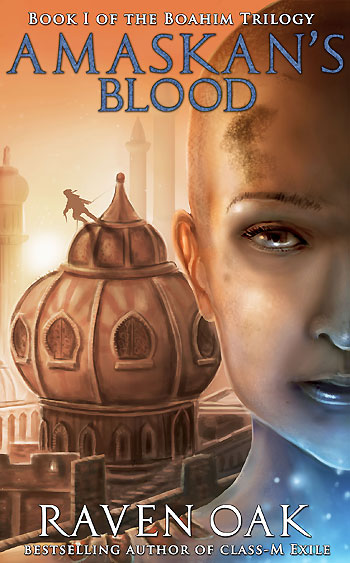 Amaskan's Blood
Two Sisters. Two Loyalties. One Path Together.
Series: Boahim Trilogy, Book 1
Adelei was a master in her field, one of the feared Order of Amaska. Those who were a danger to the Little Dozen Kingdoms wound up dead by her hand.
The Order sends her deep into the Kingdom of Alexander, away from her home in Sadai, and into the hands of the Order's enemy, her birth father. The job is nothing short of a suicide mission, one serving no king, no god, and certainly not Justice. With no holy order to protect her, she tumbles dagger-first into the Boahim Senate's political schemes and finds that magic is very much alive and well in the Little Dozen Kingdoms.
While fighting to unravel the betrayal surrounding the royal family of Alexander, she finds her entire past is a lie, right down to those she called family. They say the truth depends on which side of the sword one stands. But they never said what to do when all the swords are pointing at you.

ISBN:  978-0-9908157-0-9 (Print)    978-0-9908157-2-3 (eBook)
AWARDS:  2016 Ozma Fantasy Award Winner, EPIC Awards 2016 Finalist, and 2019 Readers' Favorite Book Bronze Award Winner
BESTSELLER:  Top 100 Amazon Bestseller in New Adult Fantasy, Coming-of-Age, and Dark Fantasy; Top 20 Amazon Bestseller in Dark Fantasy
Get the Goods!
Paperback available at:
Praise
"
With a ferocious-yet-fragile heroine, resonant themes, and a sweepingly gorgeous backdrop,
Amaskan's Blood
delivers food for thought and frank enjoyment.
"
-- Maia Chance
author
of the
Fairy Tale Fatal series
"
⭐︎⭐︎⭐︎⭐︎An exciting epic fantasy filled with intrigue and layers upon layers of well crafted secrets and lies.
"
"
Holy crap, this is good!
"
-- Seattle Geekly

"
⭐︎⭐︎⭐︎⭐︎⭐︎This is a novel for readers who enjoy plots filled with twists and intrigue and characters that are emotionally on edge, multidimensional, and solidly developed…It is cinematic and outright entertaining. Ruffina Oserio for Readers' Favorite
"
"
⭐︎⭐︎⭐︎⭐︎⭐︎Just when you think you know where the novel is headed, the author will surprise you, frighten you, charm you, and, ultimately, move you profoundly. …if you're longing for the next season of Game of Thrones to begin, this is the novel to read while you're waiting.
"
"
The prose itself is…a cut above the rest as Raven Oak playfully dances with the reader. It's the addition of just enough detail, and the right amount of it, that makes this read. Oak is loquaciously talented and the writing in the book shines. [She] crafts [her] words carefully, in order to pull the reader in, and once he's hooked, reels him in.
"
"
…A feast of words…Reading [Amaskan's Blood] was like trying to run through Alexander–exhilarating, beautiful and filled with danger for preconceived notions about how people of any economic or social level should be treated.
"
"
Adelei undertakes to save the kingdom, protect Margaret, and discover what truth, loyalty, duty, and family really mean—a tall order for any heroine….
"
-- Publisher's Weekly

Awards
---
Maps & Images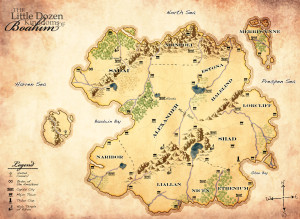 Map of the Little Dozen Kingdoms of Boahim. Click on map to view it larger.
I created this map of the Little Dozen Kingdoms of Boahim using hand drawings and Photoshop. First I drew the outline of the land masses by hand and scanned the image into Photoshop. Then I used filters and brushes to create the rest.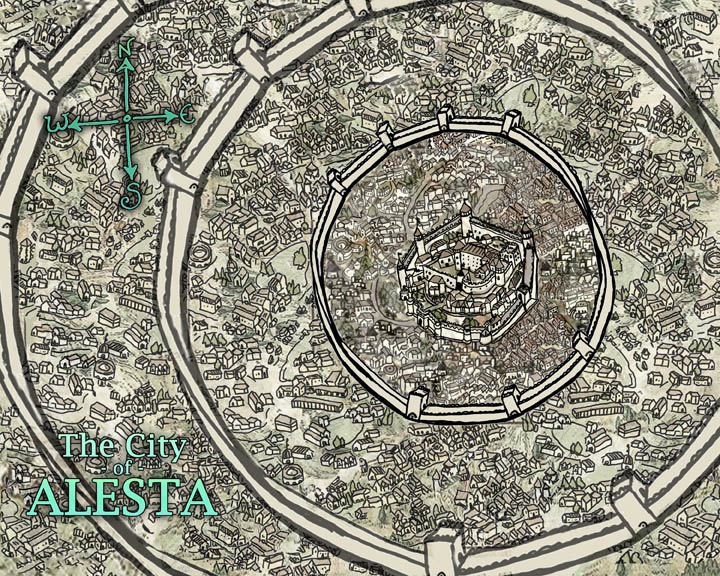 Map of the City of Alesta. Click on map to view it larger.

First floor map from Alesta Castle. Click on map to view it larger.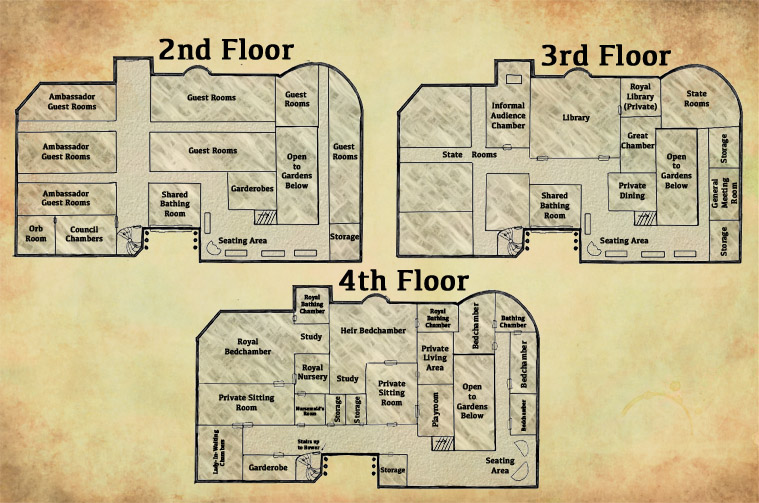 Other floor maps from Alesta Castle. Click on it to view larger.
---
Trivia
Amaskan's Blood was originally titled Assassin's Blood.
Amaskan's Blood was always about twin girls as major characters, though in the first draft (before I'd done enough world building), Adelei was named Robyn and Margaret was named Renee.
Ida wasn't written into the first draft.
Ida is such an awesome major character that she will have her own novel at some point.
Boahim was the first place/location name I came up with, which then led to the creation of the Little Dozen Kingdoms of Boahim.
The first edition/printing cover was drawn by K. E. Clausen of Little Griffin Studios.
The 2nd edition/printing cover was drawn by Jamie Noble, The Noble Artist.
---
Get the Goods!
Paperback available at:
Other Books in the Boahim Trilogy