Class-M Exile
Douglas Adams meets Firefly
Bay-zar. Class-M planet in the middle of no-where. Dust, dust, and more dust. Unless ya circled 'round to the more habitable region, you'd be stuck without a ship to anywhere. 'Round the corner though, you could find everything from ship parts and dried food packs, to roast dog and the rare bi-cycle. Hell, you could even buy yerself a gen-u-ine religion if you were so inclined.
The ultimate tourist trap. And here I'd taken the bait.
When Eerl stepped off The Marzipan, he was one of a billion tourists on Bay-zar. He expected to shop for rare artifacts from war-ravaged Earth and maybe study at the grand library, but not even his background in Human Studies from the University of Tersia could prepare him for what came next:
A military beefcake with a grudge, a wartime conspiracy, a stolen ship, a galaxy full of prejudice, and at the center of it all, a young human named Mel in search of the truth.
Her search for her past and his quest for knowledge take them across the stars as they uncover the darkness and fear in us all.

ISBN:  978-0-9908157-4-7 (Print) 978-0-9908157-5-4 (eBook)
AWARDS: #1 Amazon UK Sci-Fi Hot New Release, Top 25 Amazon Bestseller in Space Opera, Top 100 Amazon Bestseller in Sci-Fi
Get the Goods!
Paperback available at:
Praise
"
There's a nice twist to the end of this story…I enjoyed 'Class-M Exile'. not only for the main story and plot twists, but for the implied depth to the back story. It's well worth reading.
"
"
A new voice in science fiction. Oak combines a multi-species future with a contemporary "down home" flavor to create a gripping work of heartbreak and racial tension.
"
-- Janine Southard
author of the award-winning Hive Queen Saga
"
⭐︎⭐︎⭐︎⭐︎⭐︎If you are a fan of sci-fi that is funny, has tension, AND makes you think, please pick up this book. It easily holds its own against Doug Adams' Hitchhikers Guide, and had me smiling the whole way through.
"
-- G. G. Silverman
author of Vegan Teenage Zombie Huntress
"
Some of the best scenes…involved short conversations between Eerl and Mel about human culture and history. These talks provided glimpses into corners of their minds…. I looked forward to every single one of them….
"
"
[Class-M Exile] really does do what [Star] Trek does, in that it functions well in social commentary. If you like science fiction that really deals with social commentary…you need to check this book out! You need to put this author on your radar.
"
"
Oak hurls you thousands of years into the future and hits you at the core of your being. It's a fresh look at science fiction in a charming "hillbilly" fashion… The plot has as much intrigue, suspense and action befitting a much larger work…a testament to Oak's skill at short fiction writing.
"
Full Cover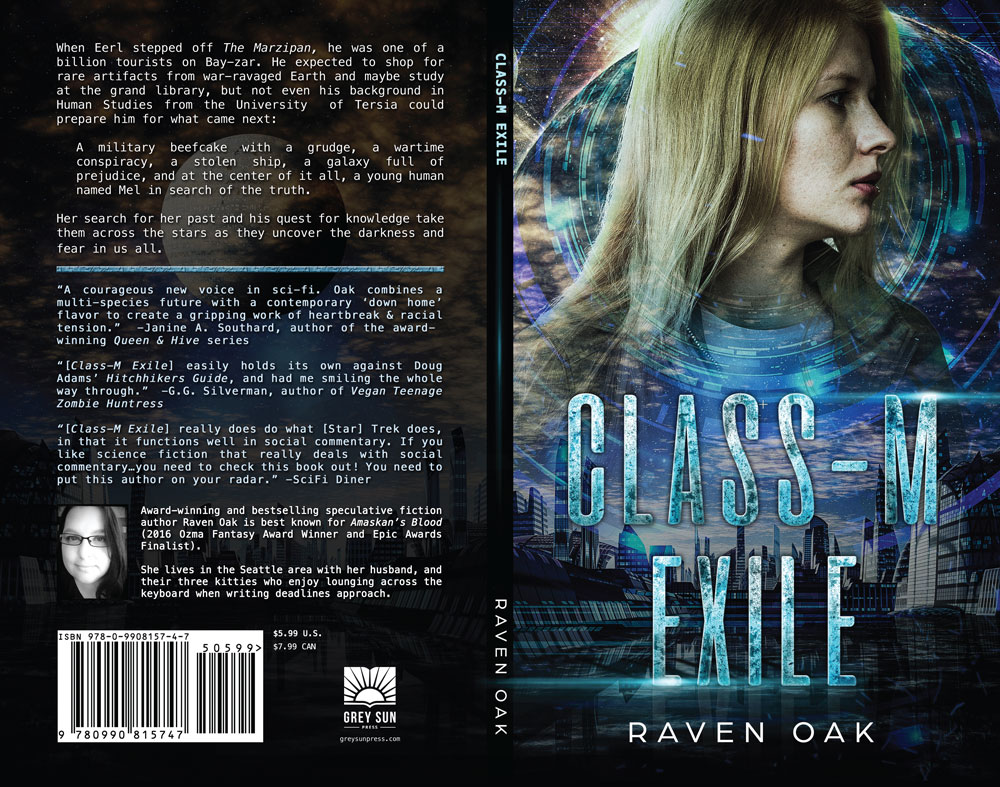 ---
Extras
The Making of Eerl (article about how Eerl came to be)
Dreaded Differences (article about my influences for writing Class-M Exile)
---
Get the Goods!
Paperback available at:
Related Books