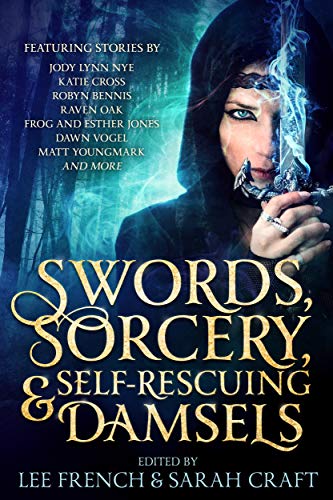 Swords, Sorcery, & Self-Rescuing Damsels
These ladies aren't waiting!
Twenty bestselling and award-winning authors offer enchanting tales of women and girls forging paths through darkness and peril. Cleverness, curiosity, and determinations make worthy heroines in fantastical new worlds.
Published by: Clockwork Dragon
ISBN: 978-1944334260 (print)
Get the Goods!
Paperback available at:
Audiobook available at:
Praise
"
The tone ranges from light to dark ... the diversity of premises and worlds makes for a delightfully unpredictable reading experience. ... A hoard of fantasy tales that proves damsels can be as dangerous as dragons.
"
-- Kirkus Reviews

"
A collection of the mythical, magical, and marvelous that delights and amazes. Self-rescuing damsels use their wits, their might, and their courage to rescue their lands and loved ones, as well as themselves, from a myriad of threats--ghosts and demons, barbarians and witches, mages and wizards, monsters and dragons. The adventures take you from rooftop to dungeon, from city to sea, from ancient Rome to the Wild West, never ceasing to entertain and inspire. A must-read for all who enjoy swords, sorcery, and strong female characters.
"
-- Chris Mandeville
author of Quake, a YA time travel adventure, and Seeds: a Post-Apocalyptic Adventure
Featuring stories by:
Jody Lynn Nye, Katie Cross, Robyn Bennis, Raven Oak, Frog and Esther Jones, Dawn Vogel, Matt Youngmark, Lee French, Connie J. Jasperson, Jeffrey Cook, Katherine Perkins, Jeremy Zimmerman, Edward J. Knight, Elmdea Adams, Fulvio Gatti, Robert J. McCarter, Lou J Berger, Ian Berger, and Sarah Bartsch