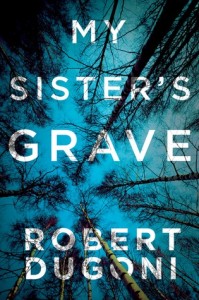 A few weeks ago, I decided to give author Robert Dugoni's books another go and picked up his newest, My Sister's Grave. I'd previously read The Conviction, which was a decent enough read, but it wasn't my cup of tea. However, My Sister's Grave was nothing like The Conviction.
The main character, Tracy Crosswhite, is a cop. When she was a teen, her sister disappeared. Edmund House was tried for her murder, but even twenty years later, Tracy doesn't believe he was the murderer. The evidence doesn't add up, and Tracy becomes a homicide detective in order to unravel what really happened. Her sister's remains are finally discovered, and Tracy seeks to get answers once and for all. Without spoiling anything, let's just say that Tracy gets more than she bargained for.
I first heard about this book at the PNWA 2014 conference where Robert Dugoni was a guest speaker. He talked about the book, and I thought it sounded interesting enough to give it a read. If you've never heard him speak, Dugoni is an excellent speaker–very entertaining and funny. I swear he could sell the phone book.
The core plot wasn't unique–we've seen a lot of cops investigating the murder of a family member before–but the story was well crafted and the characters intriguing enough that it didn't matter. (Besides, every story has been told before.) The twist to the plot was one I saw coming, but the tension roped me in for a late night of reading. 🙂
I give it 4 out of 5 stars. If you're going to check out his books, let this be the one you check out.