Rather than the typical Book Cover Throwback Thursday, I'm throwing back to my first classroom.
---
Before I was a writer, I was a computer teacher, and before that, an English teacher. And I promise there's a reason I'm thinking of this today.
We closed on our house yesterday (yay!) and I'm soon to be busy with unpacking. While changing addresses everywhere today, one of our bank accounts where my car loan is situated thought I was still a teacher in Texas. I haven't been that in over three years. 😉 Still, it made me remember when I was teaching and painting Mario murals (among other things) on my classroom walls… I spent 6 years as an English teacher before I moved into teaching computer classes. I think I learned more about writing as a teacher than I did as a student.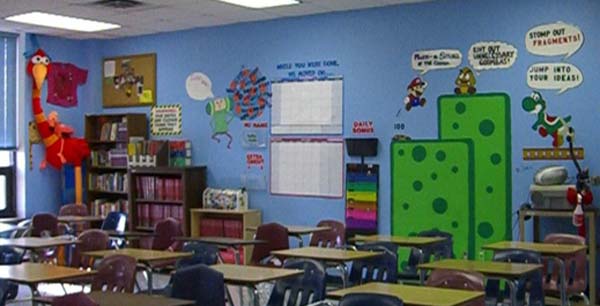 I rotated through a variety of sayings on that back wall, which were dependent upon what we were studying at the time.

Better close up of the Mario mural I painted.

Katamari Damacy rolled up "dead words," or words young writers shouldn't rely upon.

I wouldn't have been a decent English teacher if I didn't teach why Alanis Morissette's Ironic is not ironic.

Some days I miss teaching students, but I certainly don't miss the grading 140 essays, the politics, and honestly, most of the helicopter parents. 😉 I much prefer speaking my mind on the page.
---