The Boahim Series (fantasy)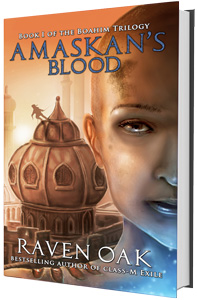 Scheduled Titles in the Boahim Series:
Book I: Amaskan's Blood (Published Jan 2015)
Book II: Amaskan's War (Forthcoming 2016)
Possible Future Works:
All titles below are working titles only.
Book III: Amaskan's Honor
Amaska
Ida
Information about the World of Boahim
The Histories of Boahim
Set in the land of Boahim, the Little Dozen Kingdoms are rife with politics, intrigue, & religion. Once magic united them. Can it do so again?
For more information on Amaskan's Blood, book I of the Boahim Series, such as excerpts, maps, purchase information, and more, click here.