The Xersian Series (science fiction)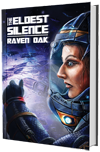 Scheduled Titles in the Xersian Series:
Book I: The Eldest Silence (Forthcoming 2016)
Possible Future Works:
All titles below are working titles only.
Book II: The Eldest Traitor

She thought being the captain of her own ship would keep her out of the rising war between Earth and the Xersians, but some crimes are too great to watch from the sidelines.
Kris was never the type to keep her mouth shut, not even when they blew up her ship. Only when she's alone will the silence make her chose sides.
For more information on The Eldest Silence, Book I of the Xersian Series, such as excerpts, purchase information, and more, click here.