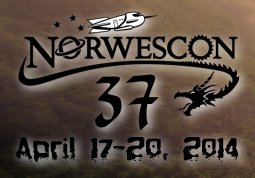 Later this week, I'm excited to attend NorWesCon, the largest Sci-Fi/Fantasy conference in the Pacific Northwest. While I'll mostly be in the writing panels, I am ducking out a bit here and there to play some Munchkin, Magic, and whatever other board games I find appealing.
For me, conferences are one of the funnest things a writer/author gets to do! And when its my genre (SF/F), I'm double psyched! In between panels, I can also duck into the dealer's room, artist's alley, and watch the interesting cosplay!
If you're going, and you'd like to know my schedule, or you're just curious or stalkerific, I'll post it here, behind the cut.
THURSDAY
3pm Congratulations, It sucks! Panel
4pm Alien Biospheres Panel
5pm Building Intricate Worlds Panel
6pm Galaxy Spanning Empires Panel
7pm Opening Ceremonies
8pm Alien & Fantasy Biology Panel
9pm Maps in Fantasy Literature Panel
FRIDAY
10am A Beta By Any Other Name Panel
12pm Military Motifs in Fantasy Panel
1pm Careers as a Hybrid Author Panel
2pm Designing Believable Planets Panel
4pm Giving Good Alien Panel
5pm Mapping & Fiction Writing Panel
6pm Creating Creative Insults Panel
7pm Character Arc + Plot Arc = Story Panel
8pm How to Get Your Book into Readers' Hands Panel
SATURDAY
10am Putting the Epic in Epic Fantasy Panel
11am Perfect Pitch Panel
12pm Constrained Writing: Writing in Hard Mode Panel
1pm World Building 101 Panel
2pm Researching Your Fantasy Panel
4pm GAMING–Munchkin Booty in Maxi's Ballroom
8pm Surviving the Slush Pile Panel
9pm The Doubleclicks concert
SUNDAY
10am Tracking Your Fictional Universe Panel
11am Writing Vivid Scenes Panel
12pm Writing What You Don't Know Panel
2pm Writing Action Panel
3pm The End Panel
4pm Closing Ceremonies
5pm Writing a Series Panel
Stop by and say hello! 🙂