This week's Book Cover Throwback: Daughter of Destiny by R.A.V. Salsitz.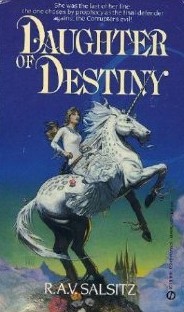 What I Love about this Cover: It has a unicorn. For child-me, these were second only to dragons.
What I Don't Love about this Cover: I hate that Rhondi had to use initials to disguise that she was female writing in a male dominated genre.
(Sorry for the small pic. This book is way out of print and hard to get a good image of. My copy is hiding from me so I couldn't scan it.)
---
Click here to view other Book Cover Throwbacks.