This past weekend was GeekGirlCon, one of my favorite conventions in the area. Besides supporting diversity and equality, it's a great convention with attendees from all walks of life–all ages, all genders, all ethnicities, all sexualities.
I began this year's con with a serious ankle sprain, so my left foot was in a huge boot. It's never fun trying to set up a booth, hobble around to your panels, and tear down with an injury. I'm incredibly lucky to have two amazing friends to have a booth with. <3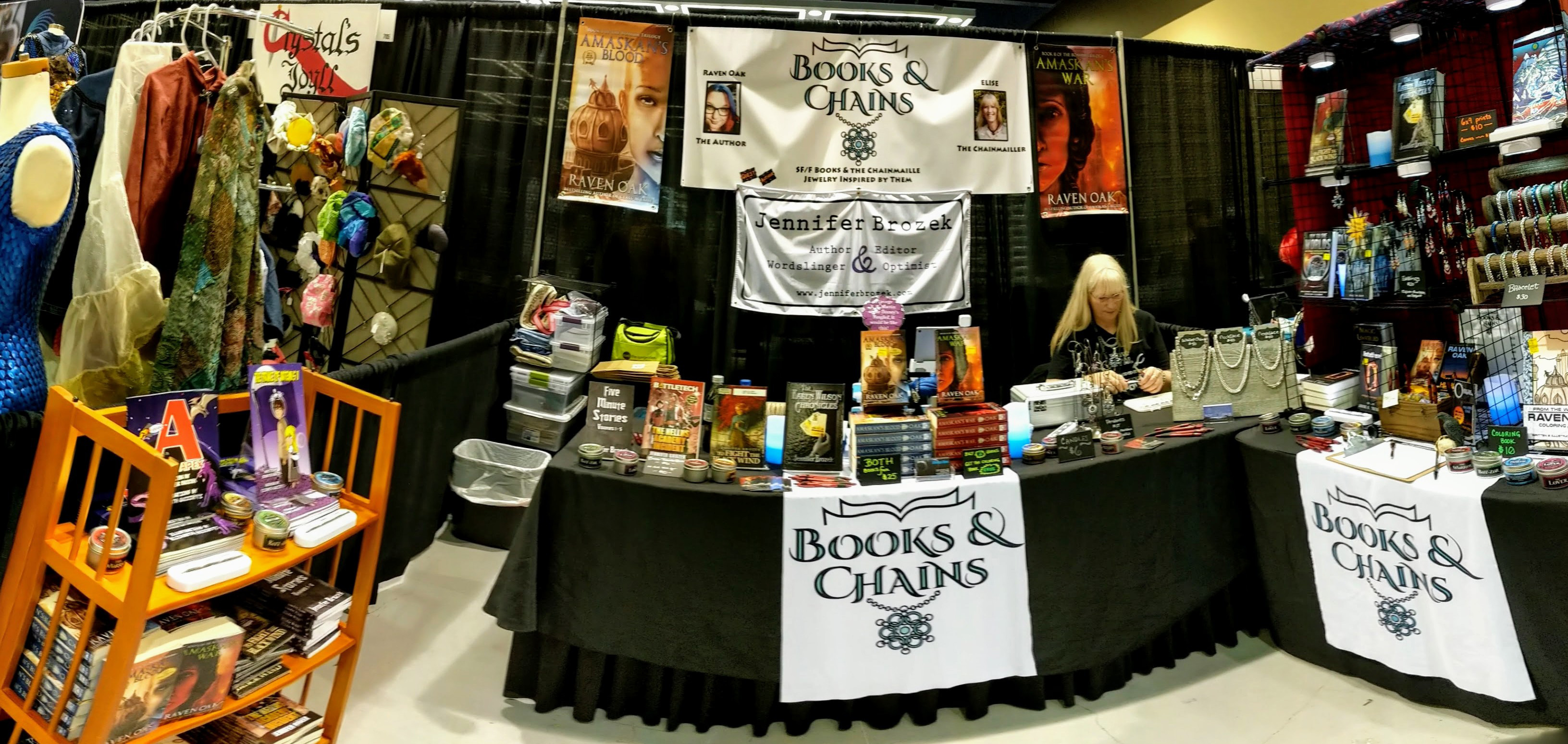 Here's some closer shots of our awesome booth.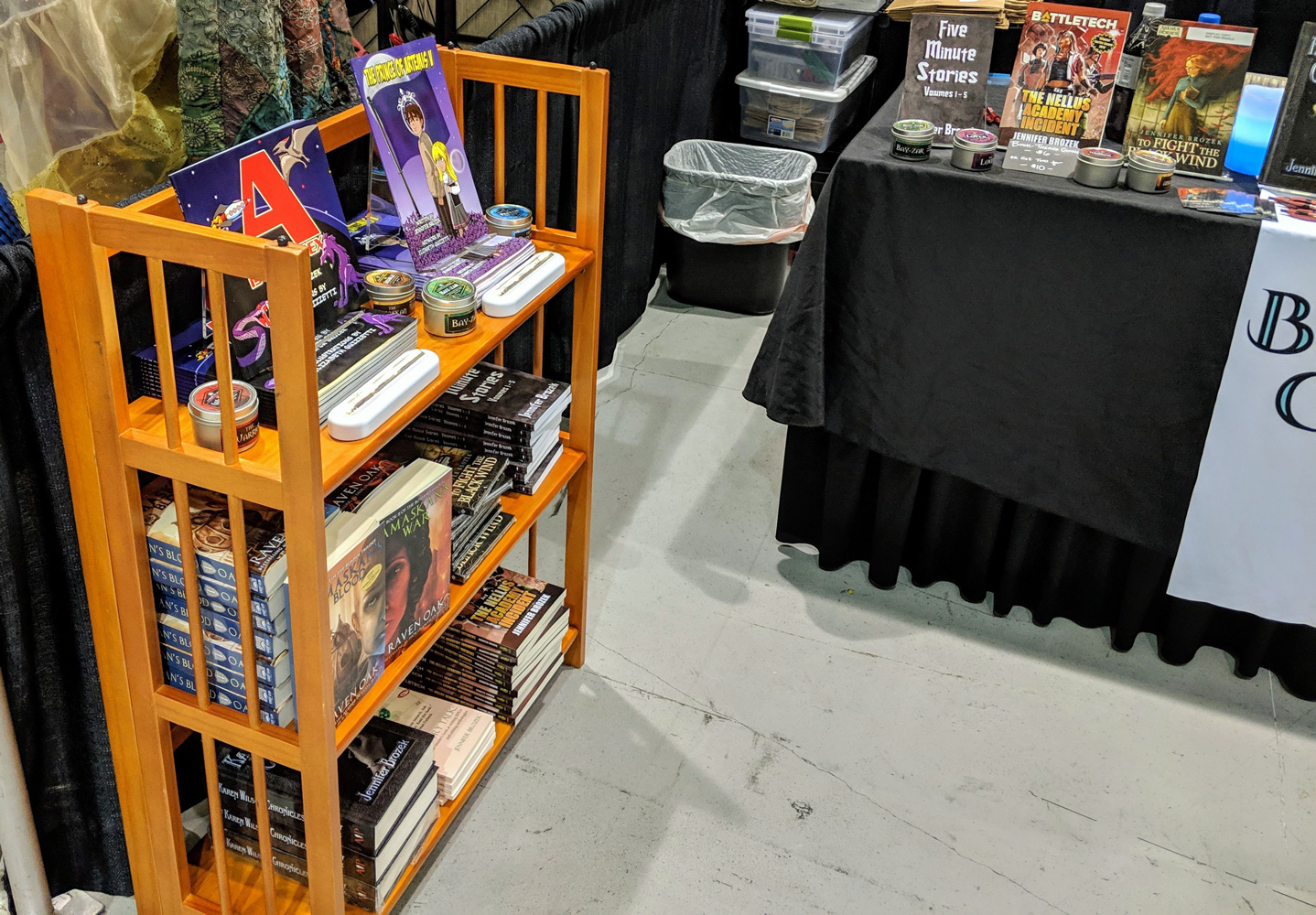 I'm loving seeing my art at the booth.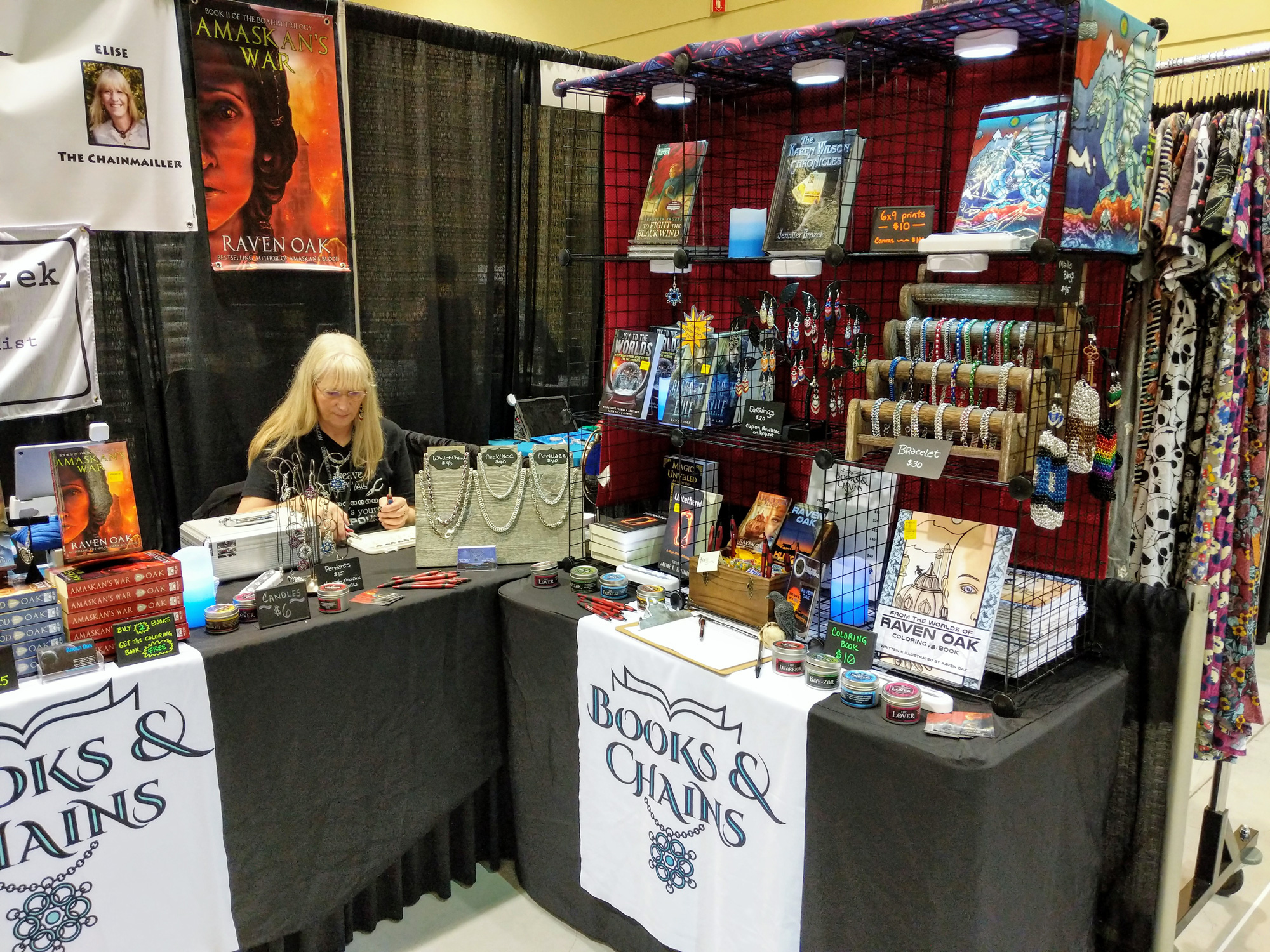 This cosplayer of Princess Mononoke was amazing.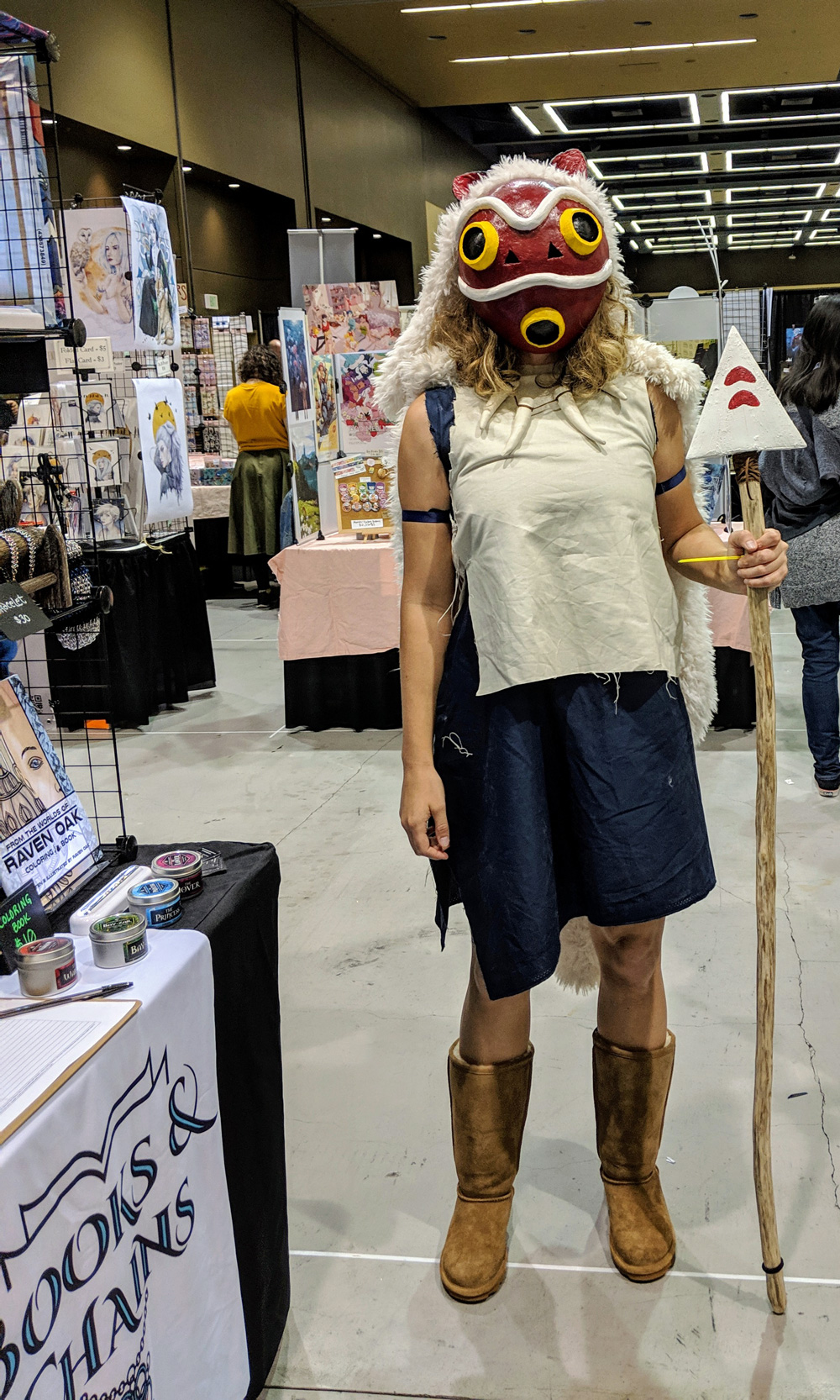 My first panel was on writing strong female characters, which was well attended. We discussed the problems with using language like "strong" and "female," which can be subjective.
I was supposed to be in the mentoring program and chat with folks interesting in entering STEM industries, but it conflicted with my panel schedule. It was a lot of fun last year, so I'm hoping I get to participate in 2019.
This Ash from Evil Dead was awesome. He even had Bruce's voice down.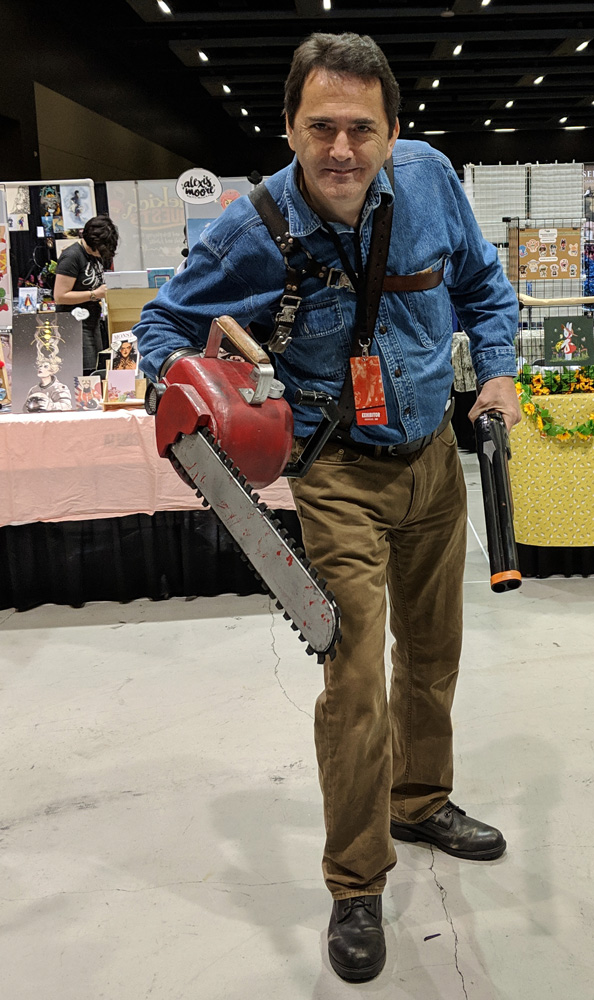 This woman was cosplaying Supreme Court Justice Ruth Bader Ginsburg. <3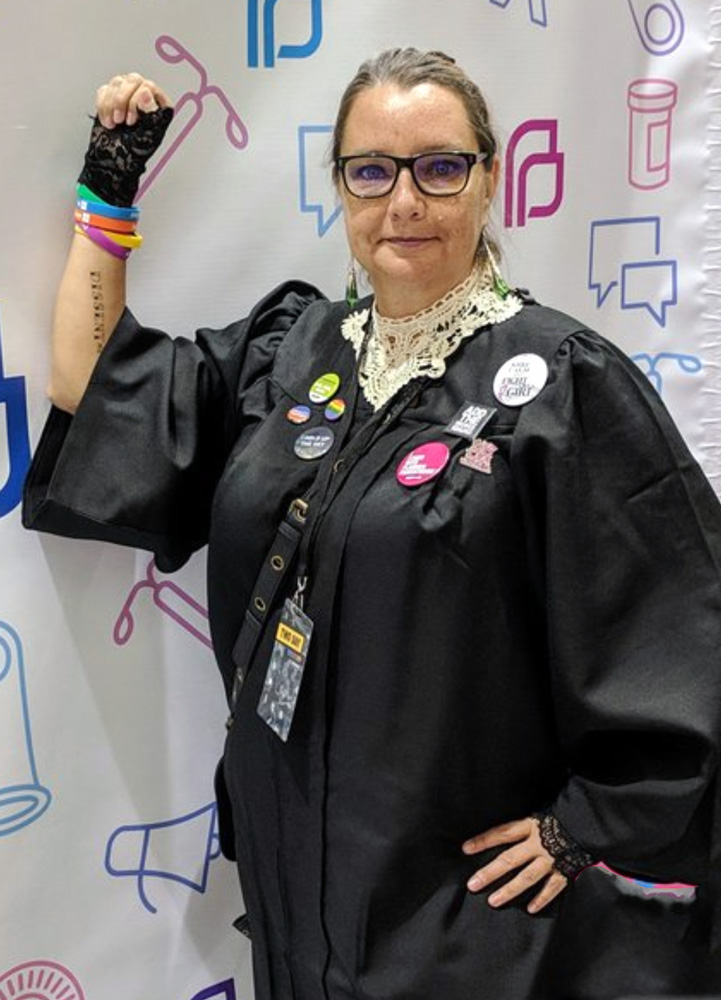 Here's a shot of our booth from behind the table.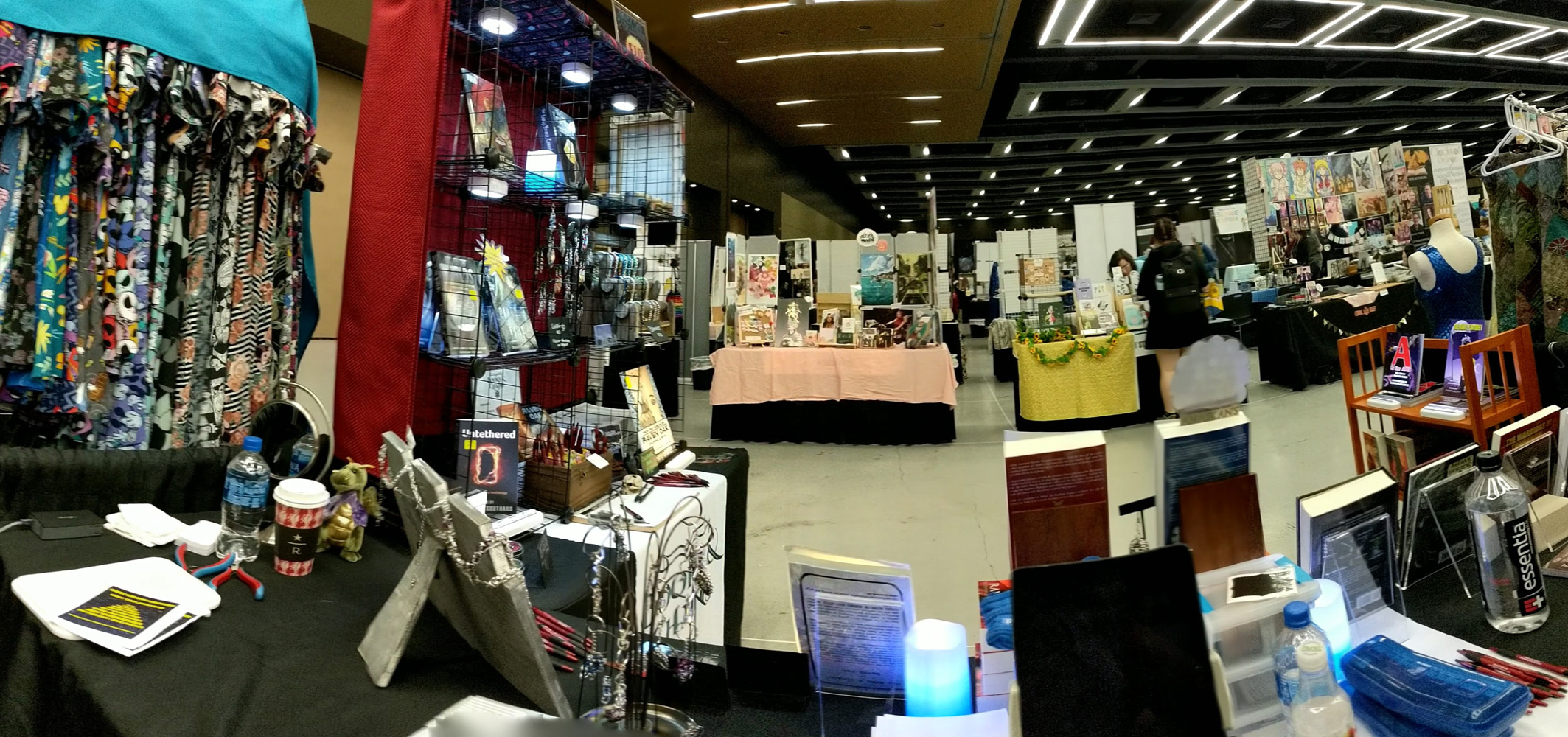 There were so many Star Wars' droids at the convention, including this one that stopped by our booth.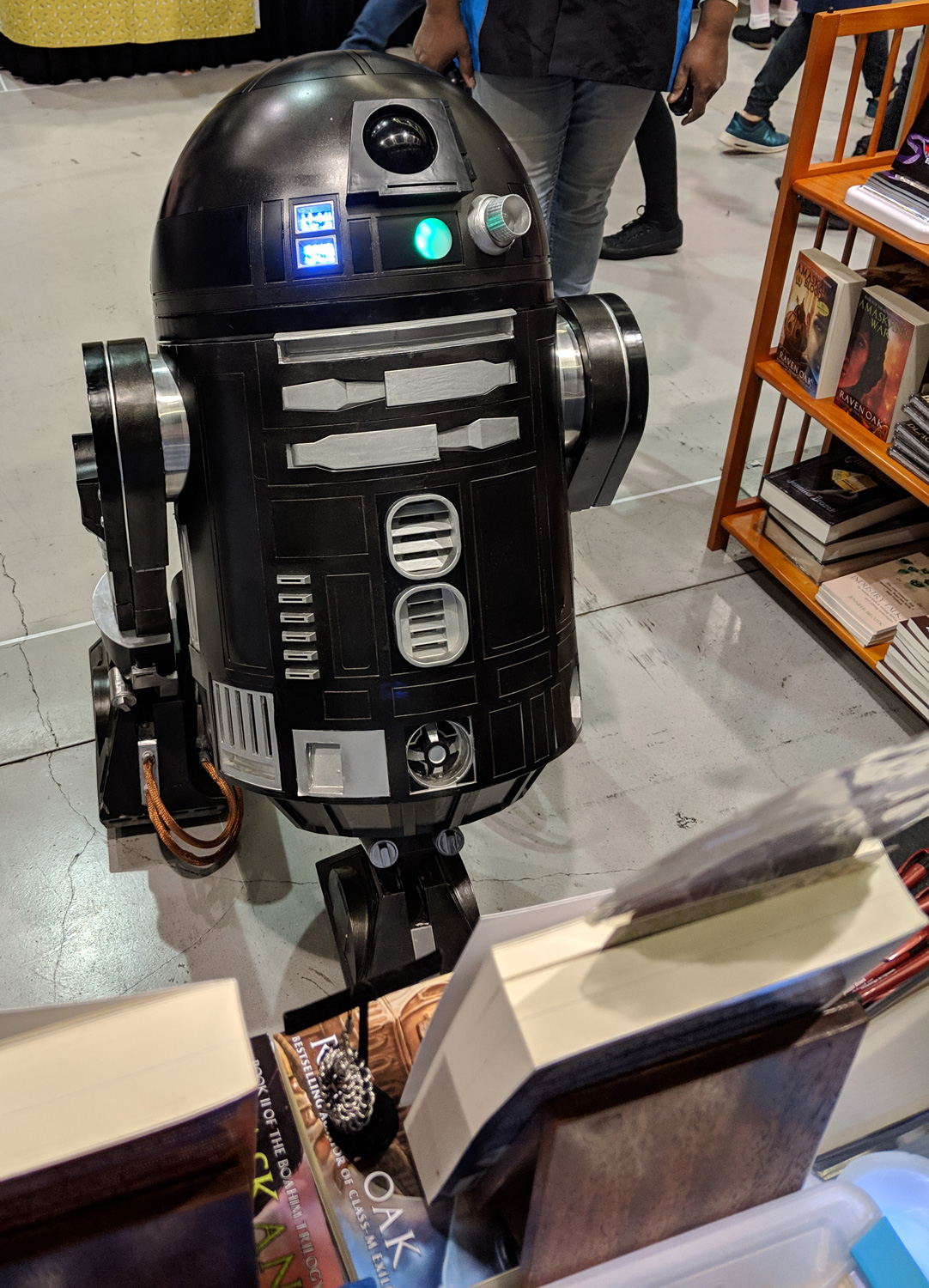 This cosplayer from Adventure Time  forgot her guitar but loved chatting about chainmaille.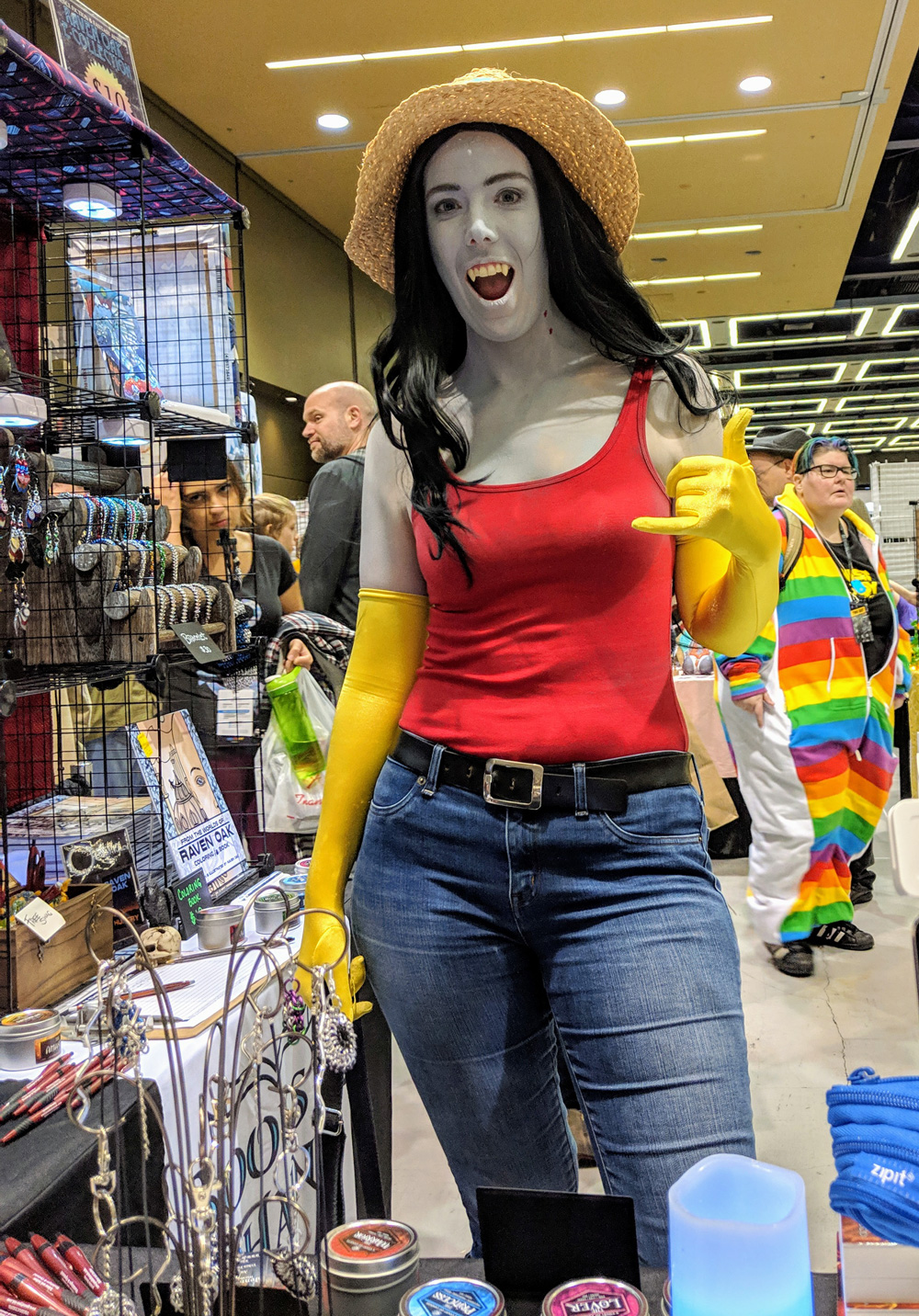 On Saturday, I cosplayed as Totoro from the Miyazaki film Totoro. There were so many other folks cosplaying his films, including another Mononoke from Princess Mononoke and Kiki, from Kiki's Delivery Service.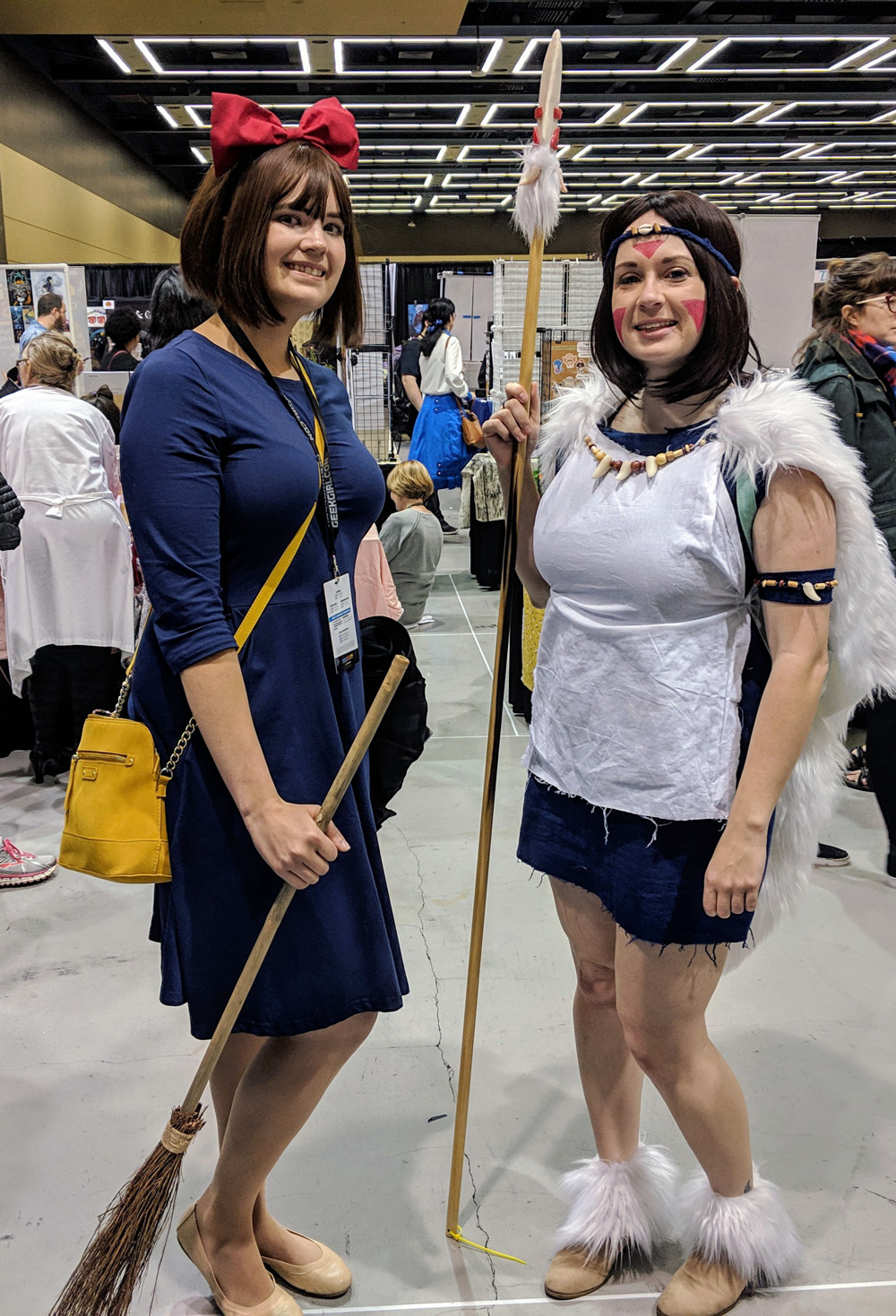 My second panel  was on Stranger Things and the lessons we can learn from its young characters. For a panel that late in the evening, it went fairly well.  Sunday was an early morning (though let's be honest–so was Saturday).
There were also plenty of Disney cosplayers at the convention, including these fairy godmothers.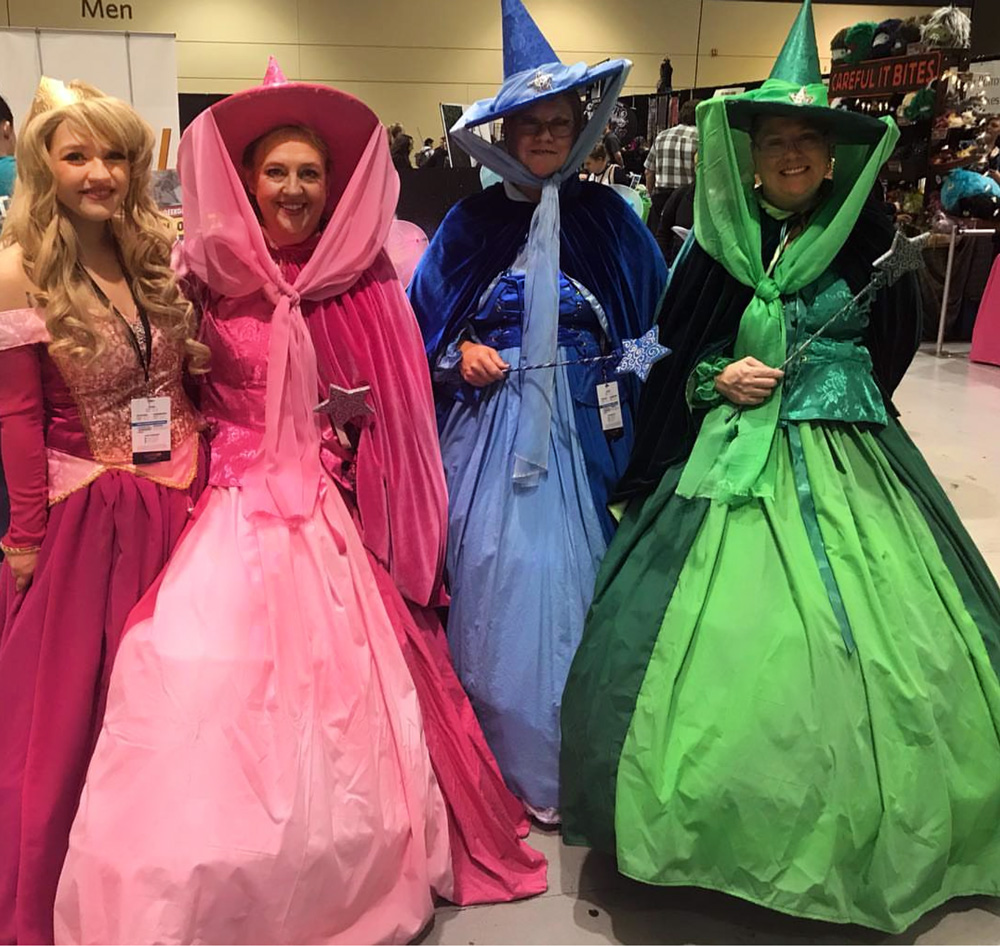 Of course, there's also a Zoidberg. Always a Zoidberg.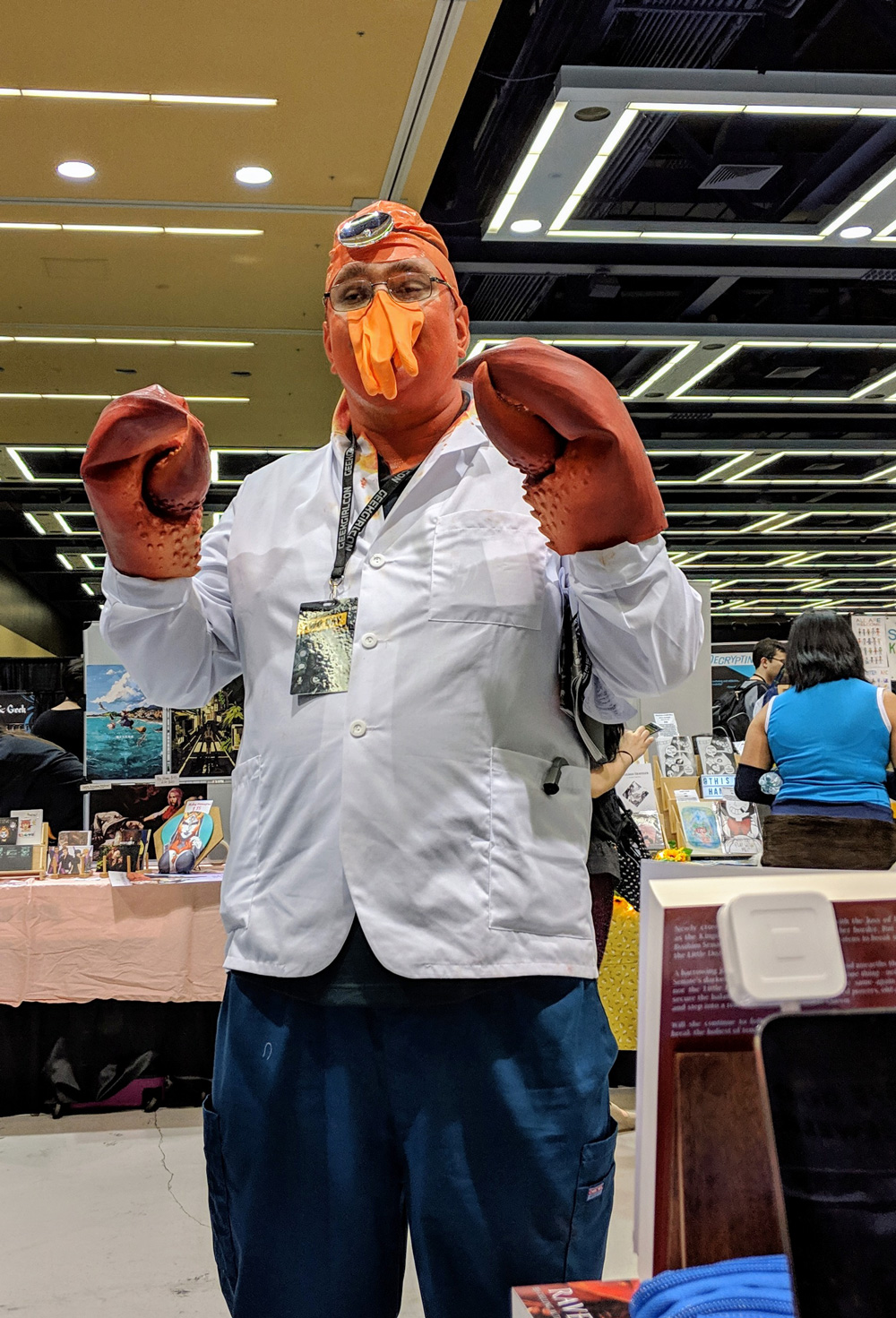 Sunday was so busy a day that I didn't get a lot of pictures of all the cosplay. There was plenty of it to see too. Before I knew it, it was time to pack up. I grabbed this shot on the way home. I love the way the Washington State Convention Center is lit up at night.

My foot's hurting quite a bit post-convention, but it's slowly improving. Hopefully next year I won't be injured!
Now it's time to finish some editing and write Amaskan's Honor. No more conventions until next spring!