This is your Lilac City Comicon Wrap-Up!
This past weekend was the Lilac City Comicon in Spokane, WA, where we (Books & Chains) vended. Prior to the long drive from Seattle to Spokane, I had to pack up my vending crates and my suitcase, both of which are tasks that cue the cats off that I'm leaving town.
Riley protested harder than usual. He curled up on my suitcase and refused to move. When I touched him, he snarled lightly at me, then dug his claws in. I decided to leave him there for a few hours and pack the suitcase last. (Reminder that you can click on photos to see them larger.)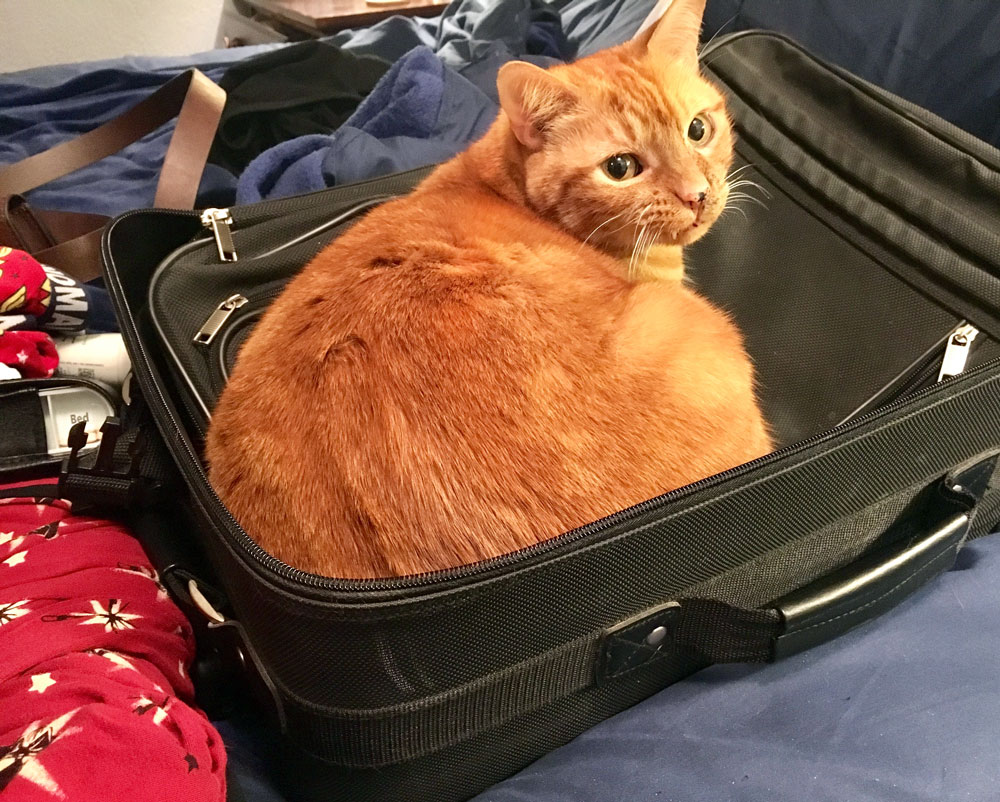 A few hours later, Riley was still curled up, asleep on my suitcase. I managed to get him to move, though he curled up on my hip and wouldn't leave.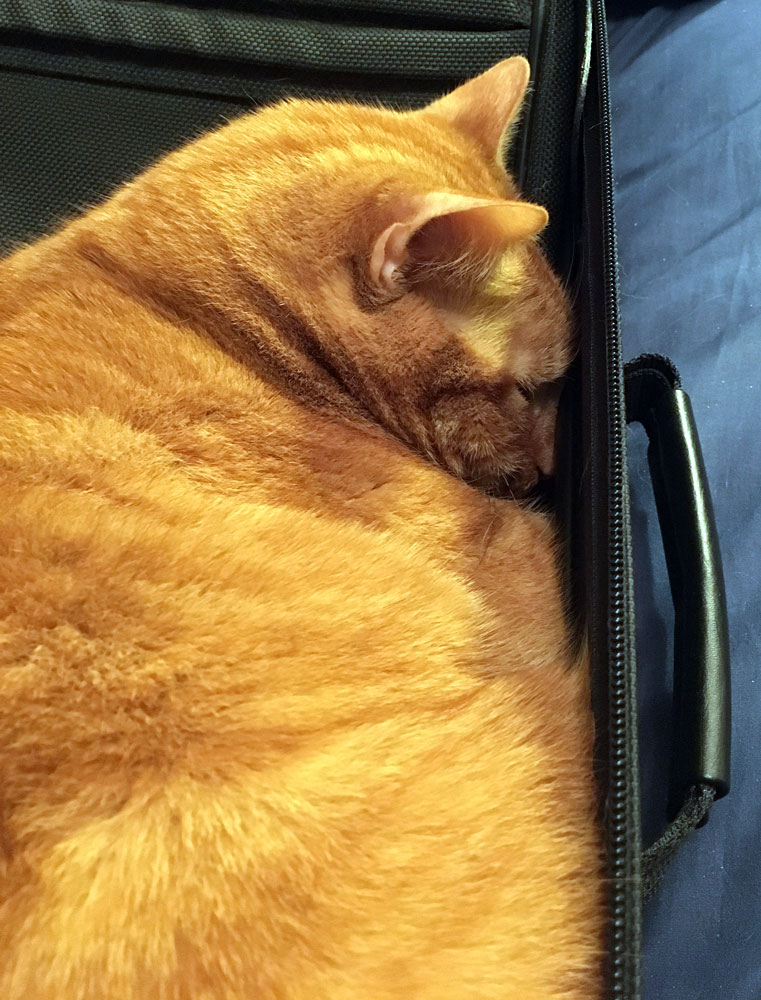 Early Friday morning, I head over to Elise's house, where we packed up all our gear into my Honda Fit. The Fit is Go! We crammed so much into this car.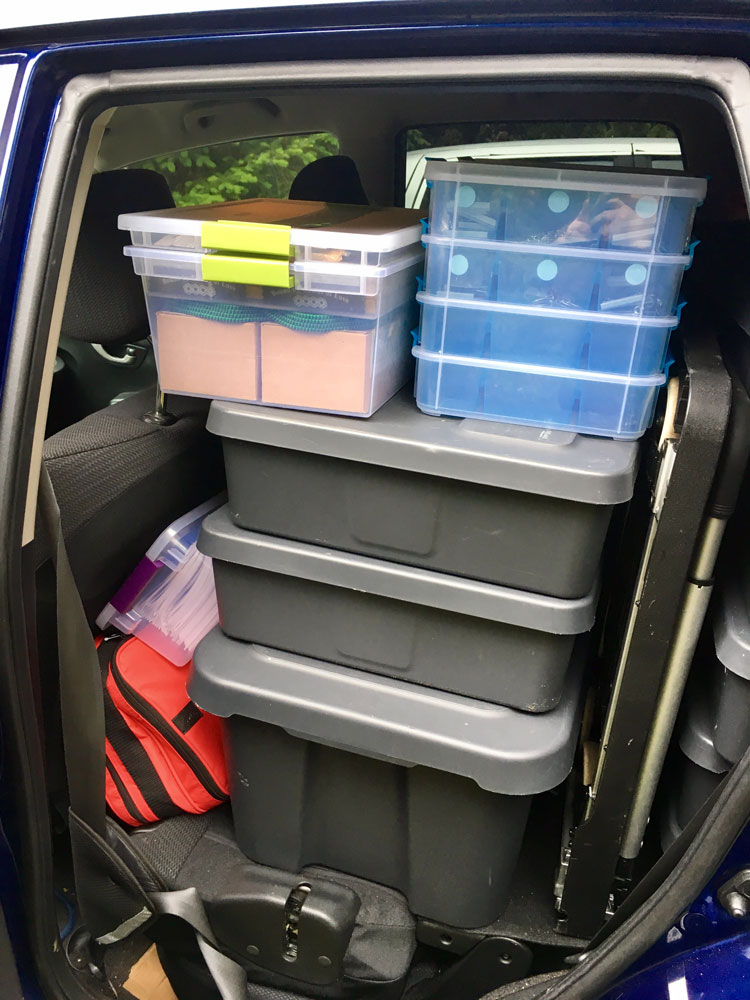 Another view.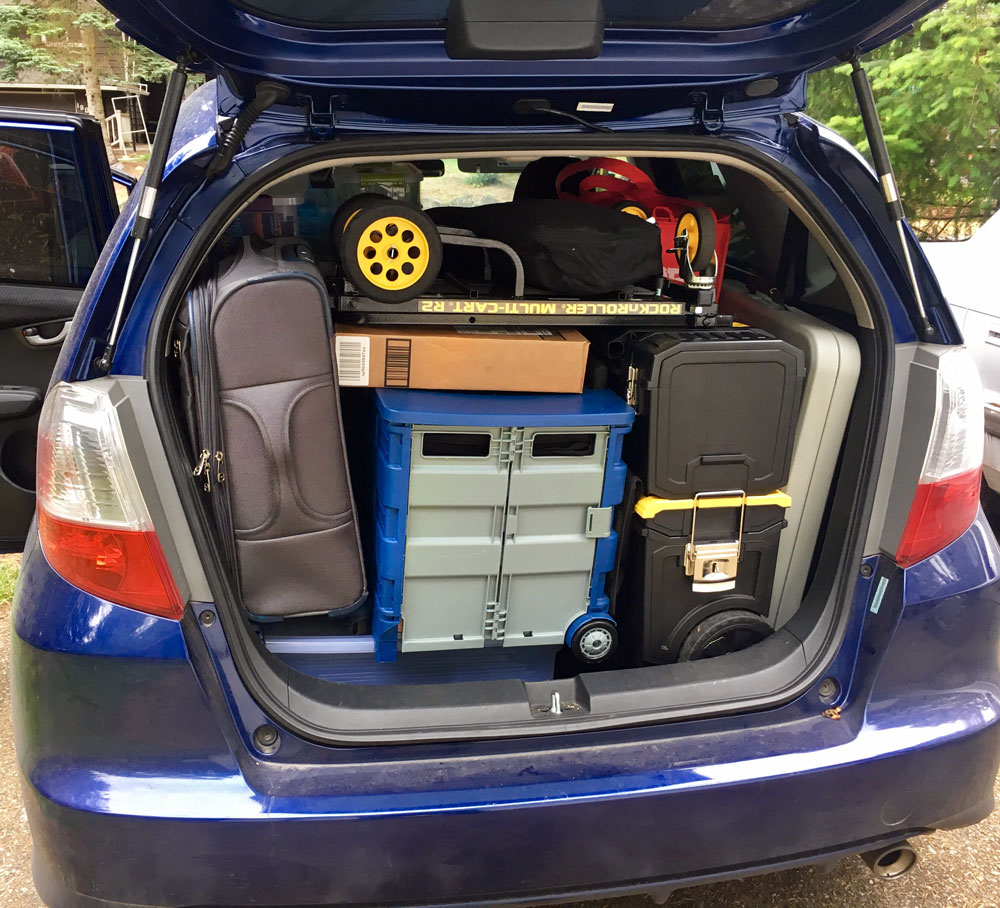 Five hours or so later, we arrived in Spokane, WA. We unloaded all our gear and spent about two hours setting up. Here's our booth (and me with Book II).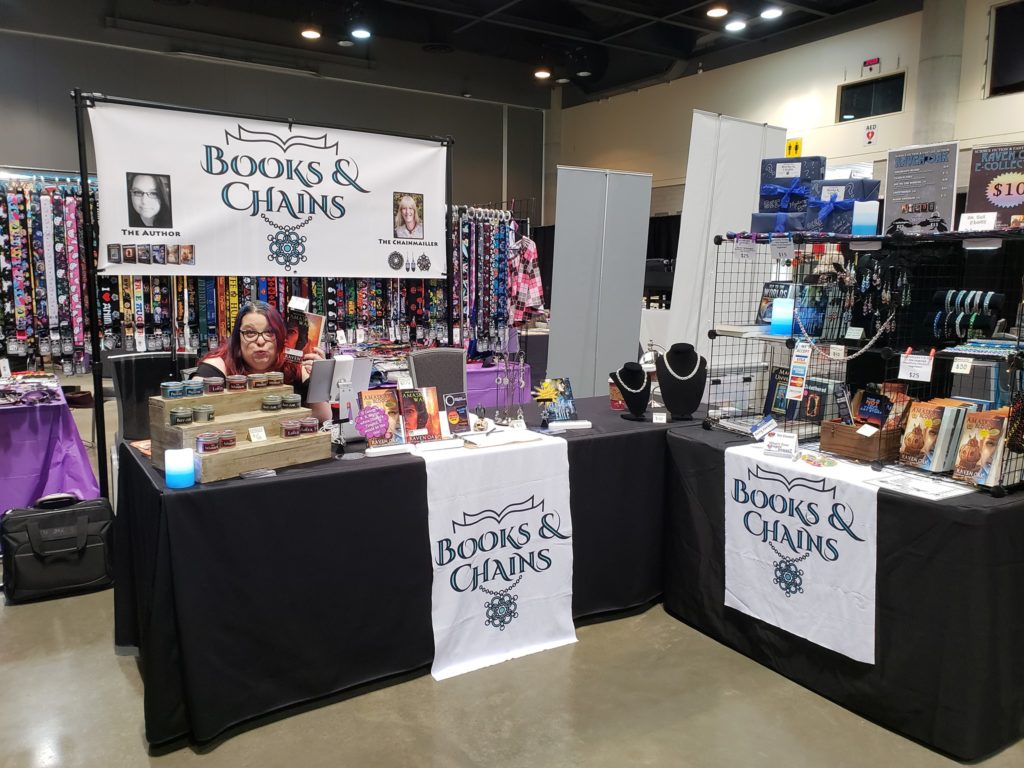 We checked into our hotel and got a room on the 12th floor with a lovely view of the river.
Another shot.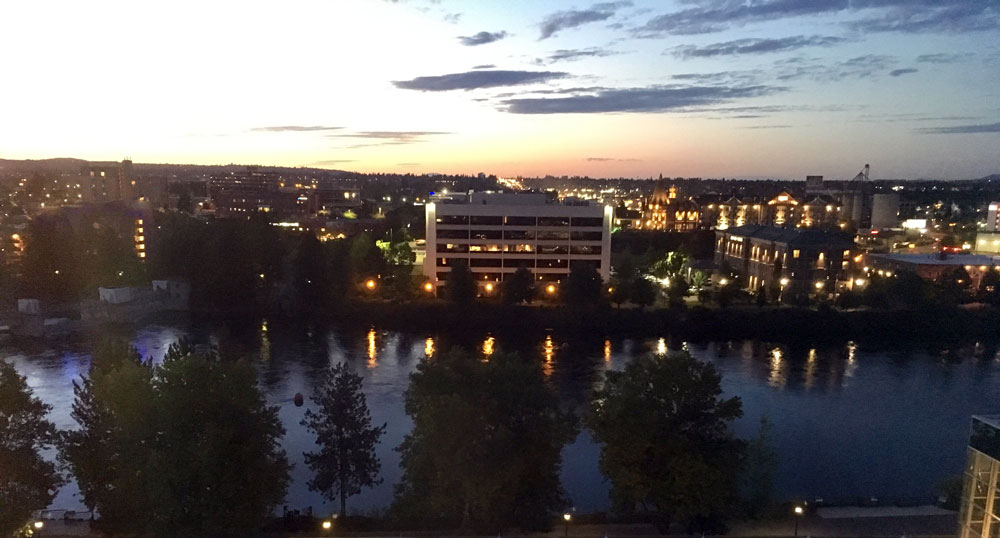 We went down to the hotel restaurant for dinner and had a load of veggies, among other things.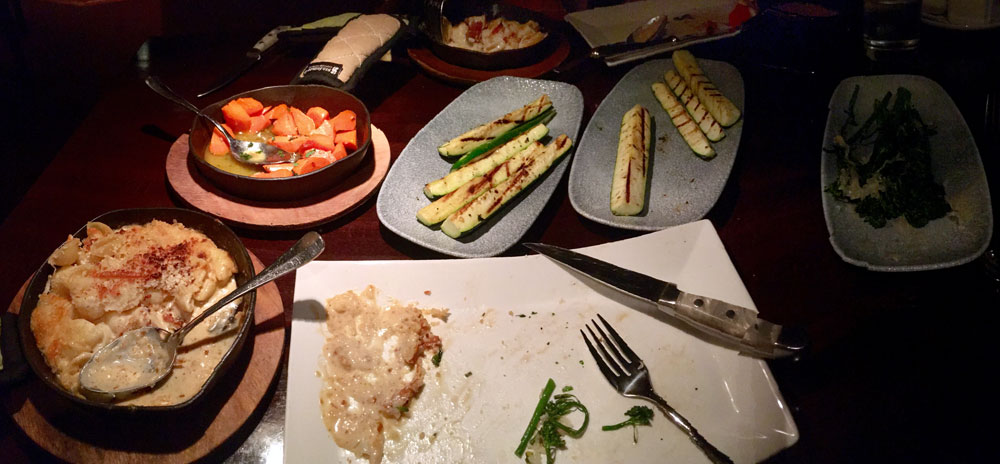 Saturday morning dawned very early as the dealer's room opened up to VIP attendees at 9:30 AM. I decided to take a moment before we opened to take some close-up pictures of our wares.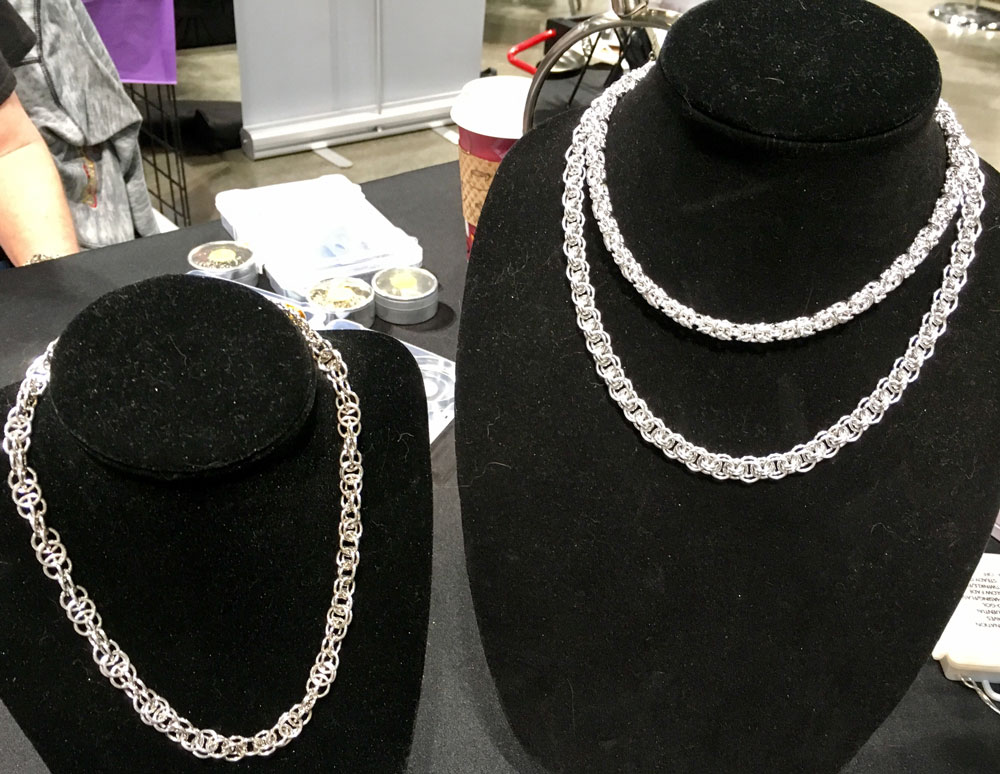 Pretty necklaces.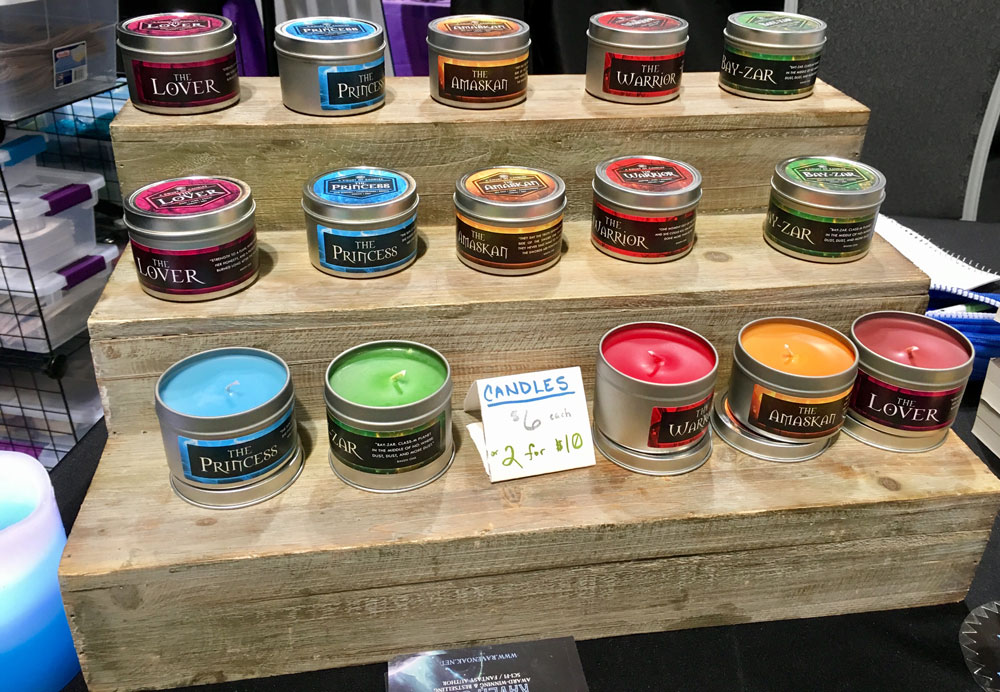 And character/setting themed candles.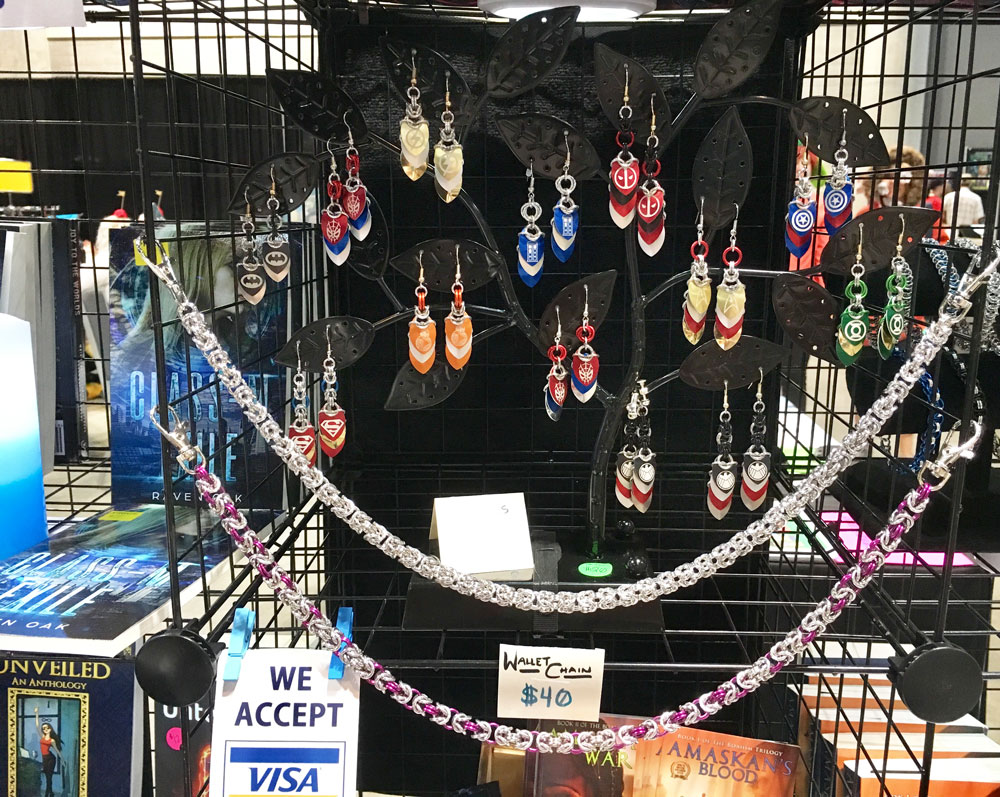 Hero earrings.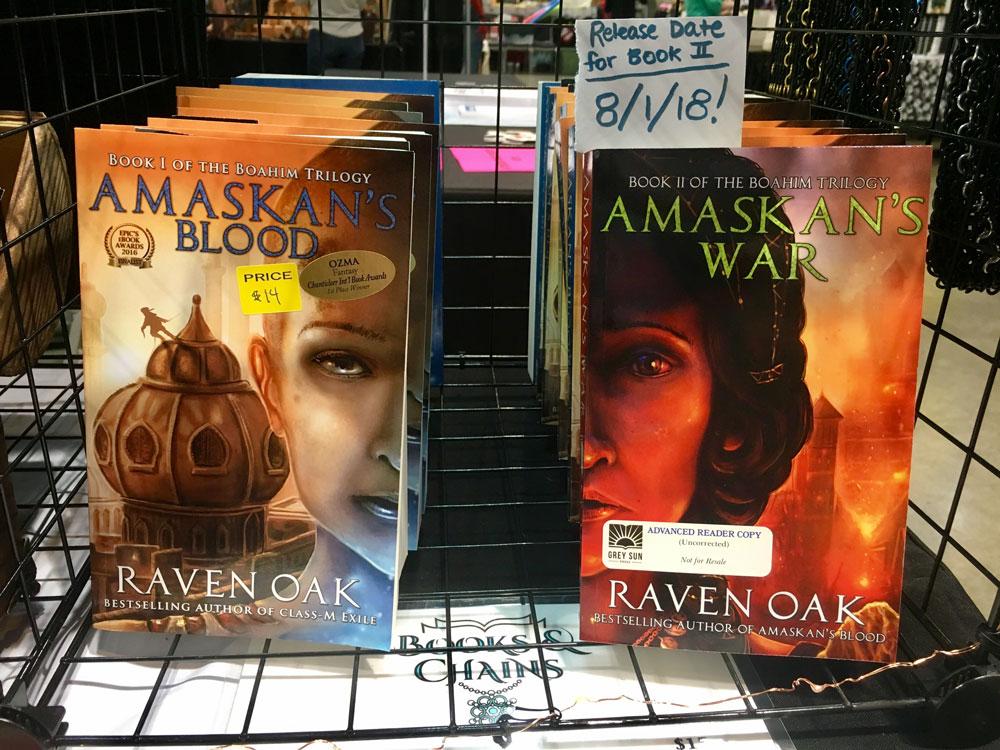 We opened the booth and immediately made some sales! Woohoo!
We ran into some really awesome cosplays, including this steampunk gentleman. He made all the parts of his costume, including the fabulous gun, which was lighter than I thought it would be.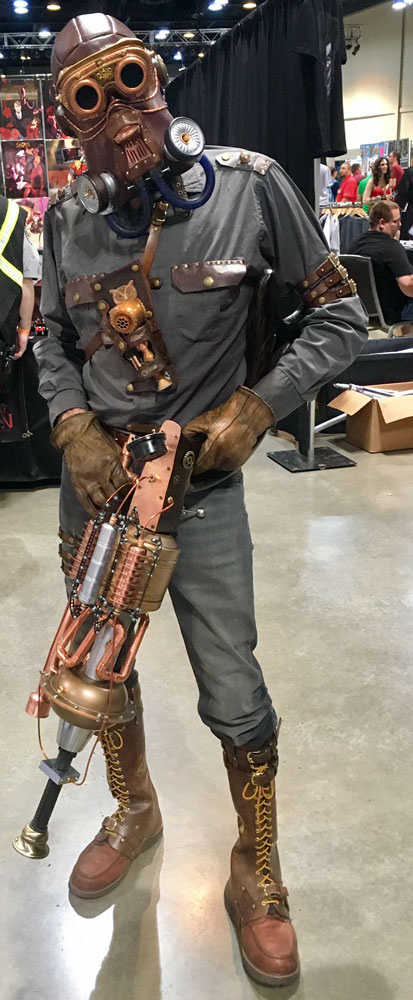 This gentleman was a steampunk Captain America.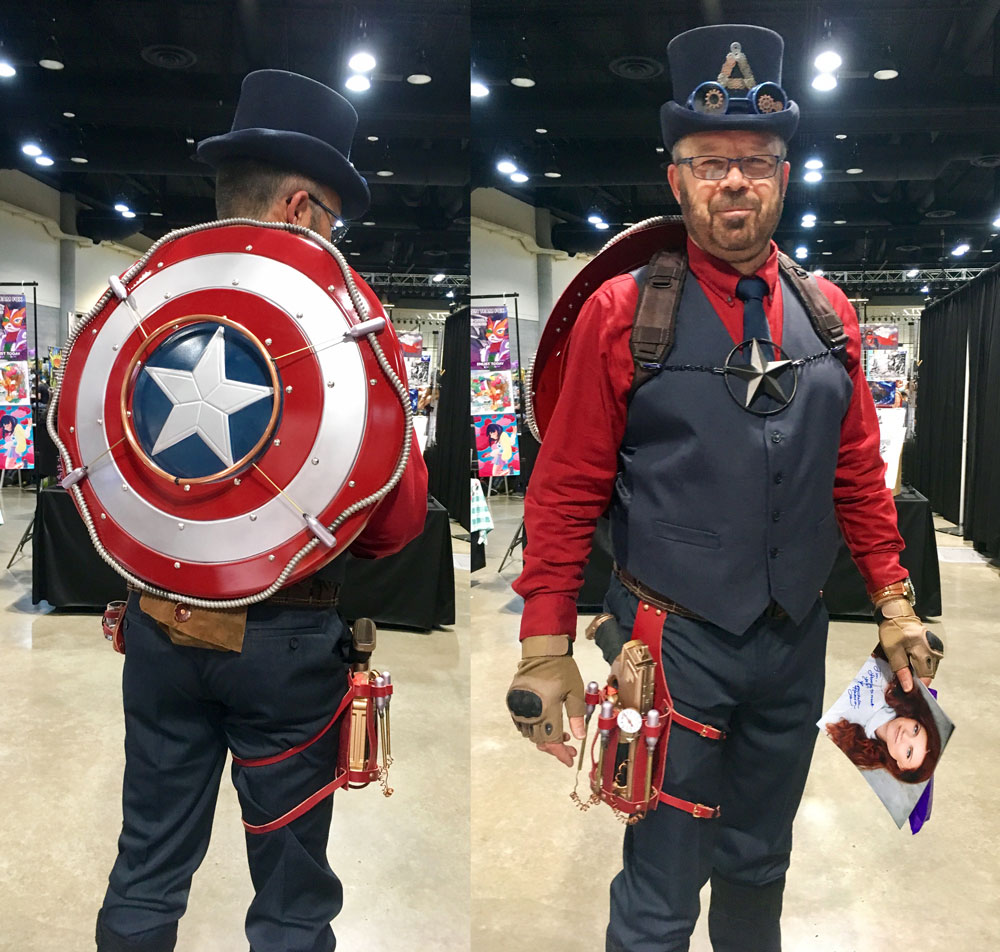 Elise and I also met another chainmailler. When I saw this piece at his booth, I had to snag it since it seemed so Amaskan. 😉 Sorry that the photo is a bit blurry.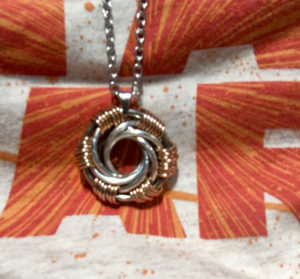 Here's a selfie from Saturday. I am not quite awake yet.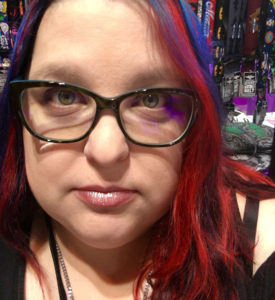 Attendance was down from last year, but we had a decent day on Saturday. We even ran into Shad of Penguinate.com, who we met last year. (He read and reviewed Amaskan's Blood previously and was looking forward to Book II.) We also ran into Lori Collins, an artist who we met last year at Foolscap.
Elise bought a Toothless onesie, which she tried out in the freezing cold hotel room.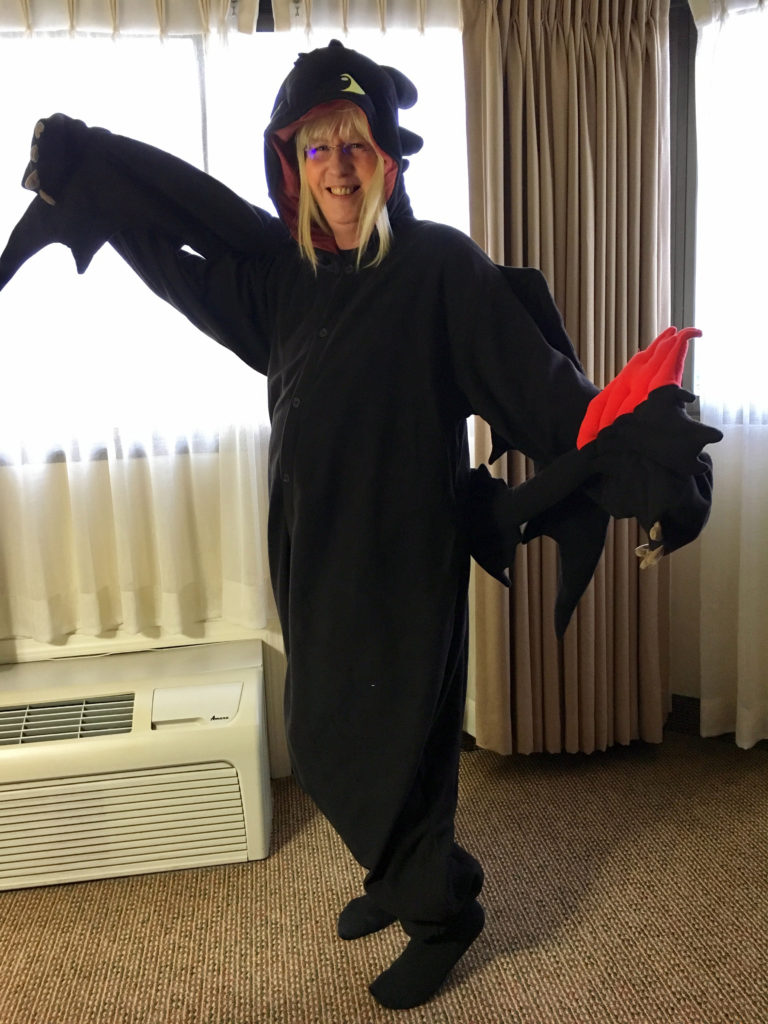 Here's a few shots from our room during the proper daylight. The river was REALLY high and even had some rapids going.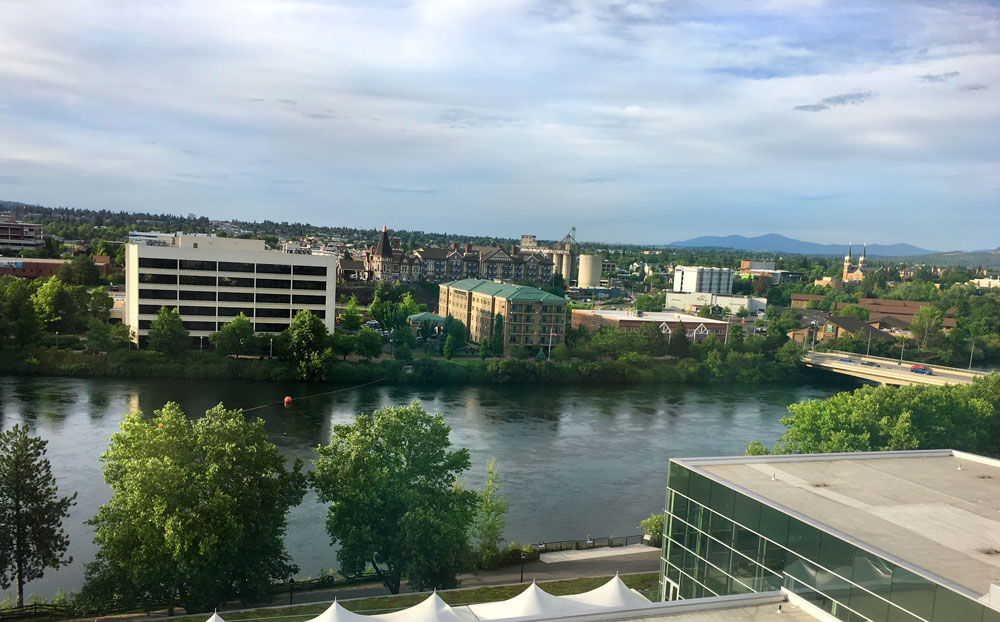 Yet another view.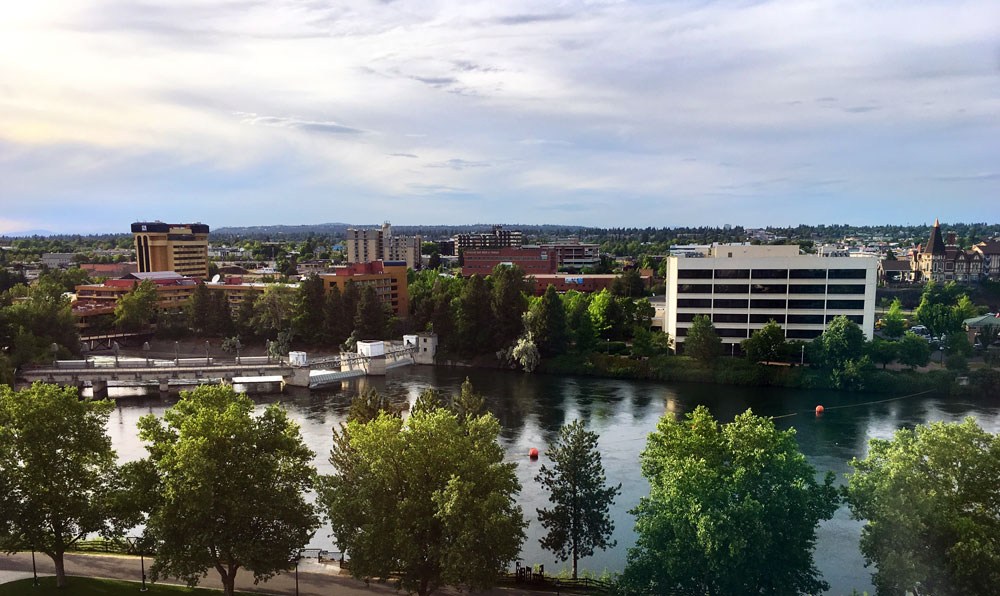 Saturday night, I used the hotel's internet connection to play some Stardew Valley with my husband. Then I went to sleep, and we started all over again on Sunday.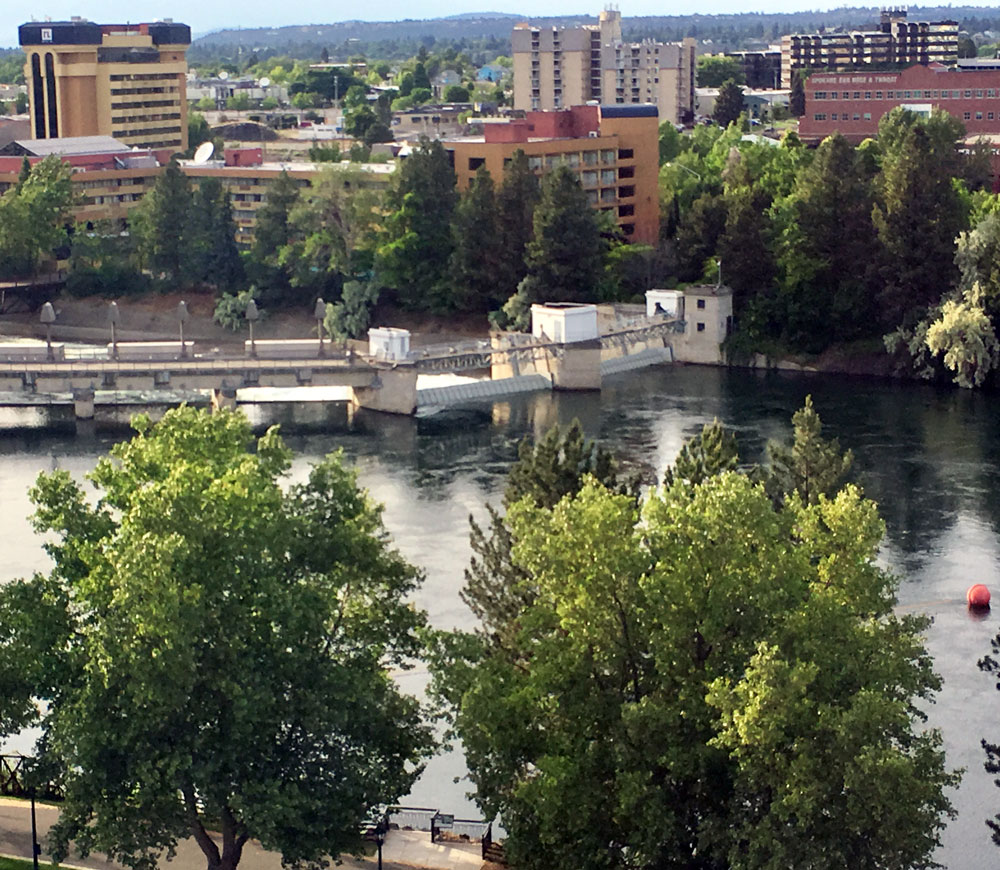 Yummy food from Perkin's down the street from the convention center. <3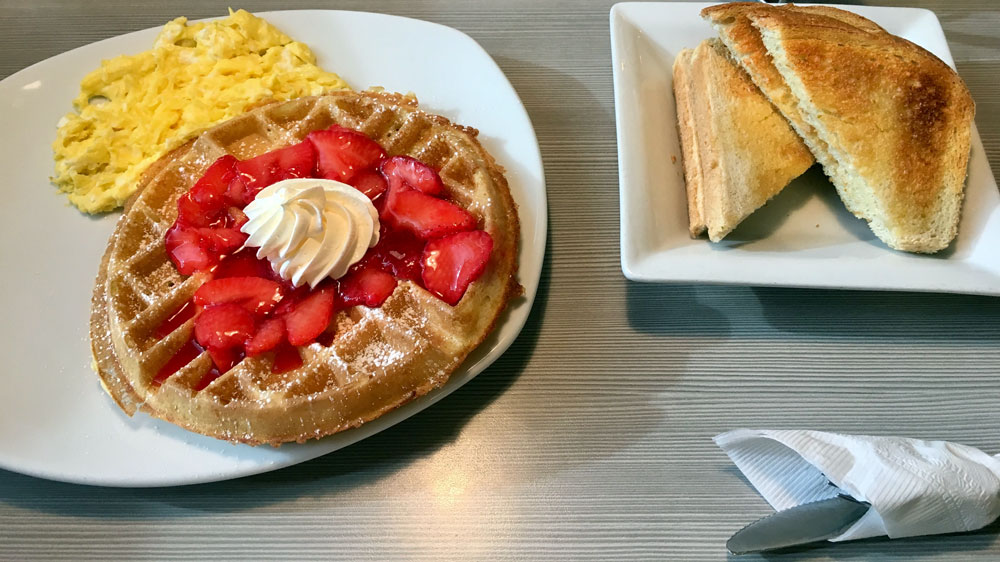 A selfie from early Sunday morning. This is one exhausted Raven. I was tired enough that I opened a bottle of Coke too fast and sprayed most of its contents all over me right before opening. Fun times.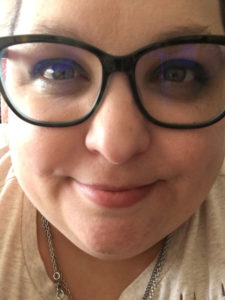 I didn't take as many photos of cosplays as I usually do because we were quite busy all weekend. But here are a few: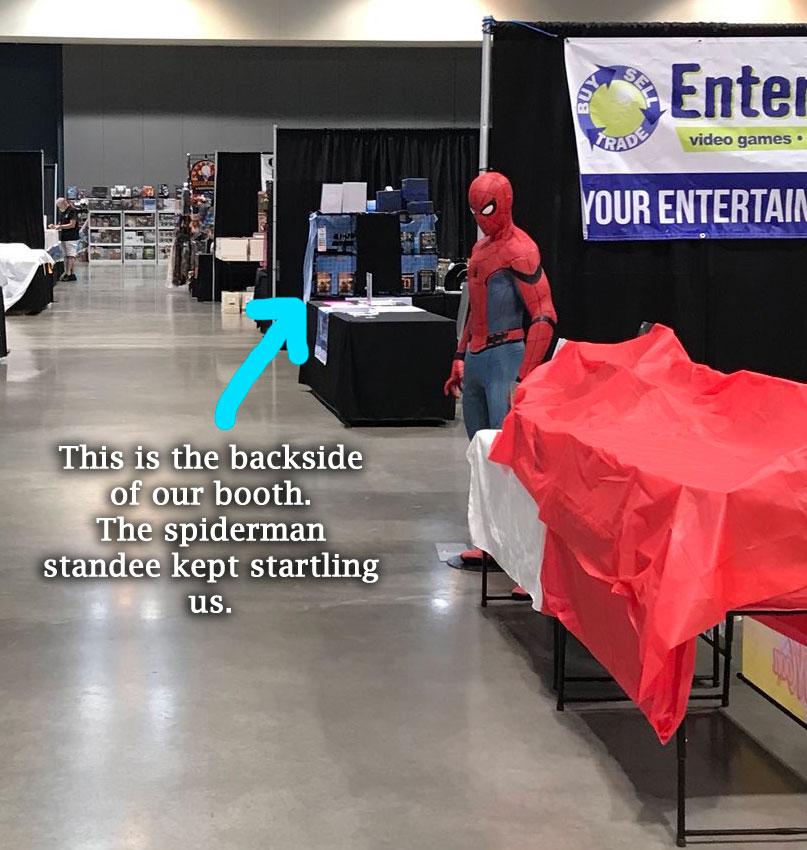 This cosplayer made their entire outfit. The armor and shield are foam and very well put together.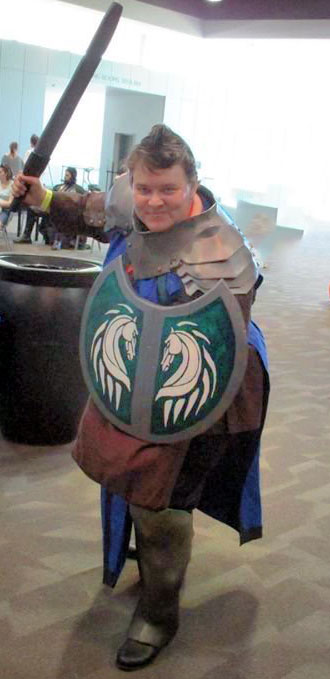 Star Wars was a huge presence at this con, especially in the cosplays. These two were really awesome. Sorry for the low quality cell pic.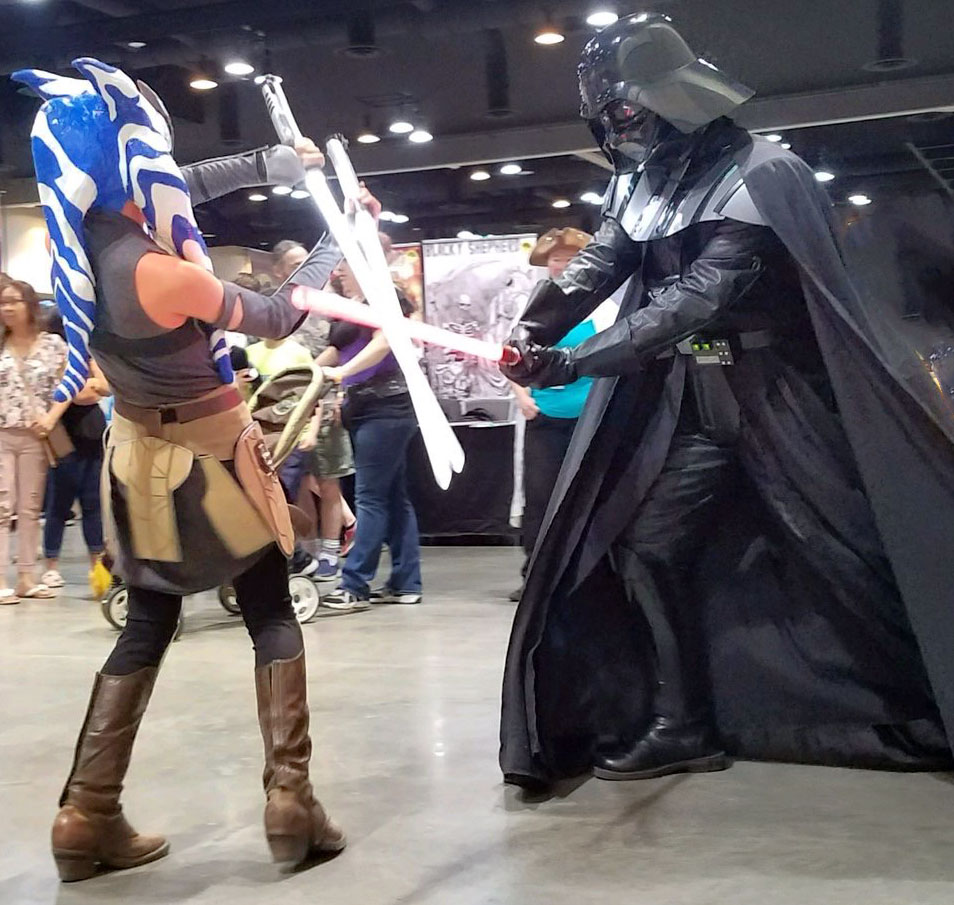 This cat man was at the last LCCC. He's always a huge hit. Elise got a pic with him, which I'll have to get from her, but I managed to snag his one when on the way to the restroom, complete with TARDIS hoodie in the background. 😉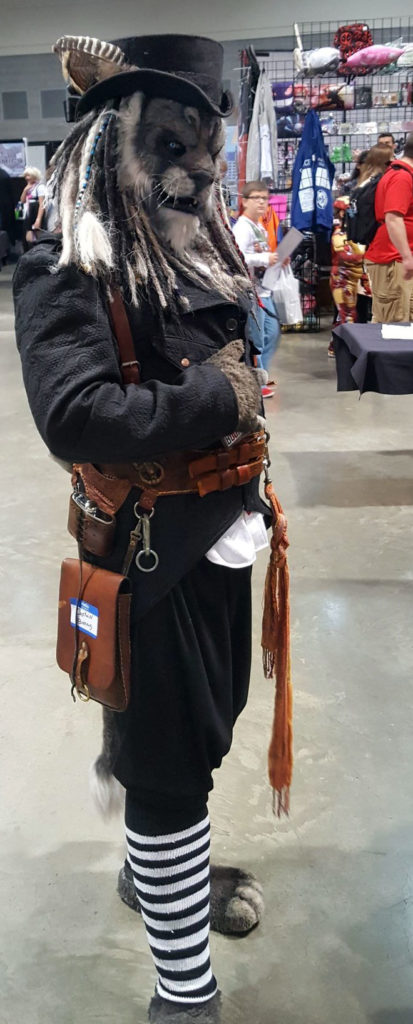 We stayed Sunday night in the hotel (post-pack up) so that we wouldn't be driving home into the early AM, and thus, I played some more Stardew Valley with the husband. Then Elise and I watched some Netflix until we were too tired.
We attempted to sleep in on Monday morning but housekeeping thought 7:58 AM was a good time to knock on the door and attempt to clean the room…even though we were checking out that morning. :/ Here's a shot from Cle Elum, WA on the drive back.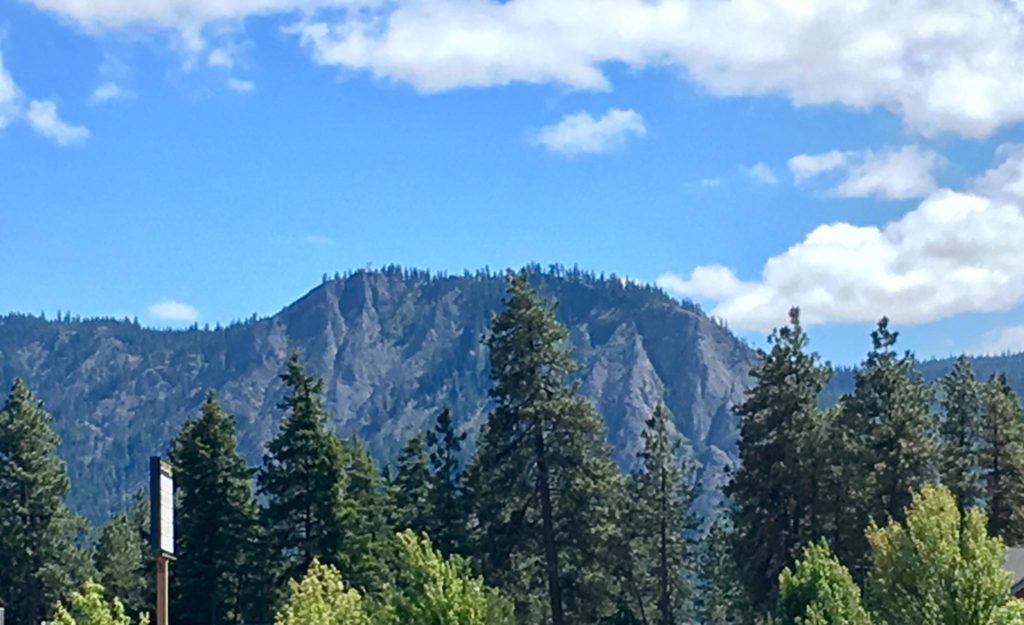 The winds were crazy in Washington on Monday and as such, my Honda Fit was whipped around like a toy duck in the ocean. It was crazy. I ended up driving much slower than usual and got home around 5 PM. It didn't help that we hit rush hour traffic.  Once home, the cats were overjoyed at my return, including Malley here.