---
Publisher: Greater than Games
# of Players: 1-5 players

Best with: 4 players
Playing Time: Depends on the # of players. While the box says 30-60 minutes, in a 2-player first run-through, it was almost a two-hour game for us.
# of Expansions: Five, plus lots of promo cards
# of Parts: 578 cards.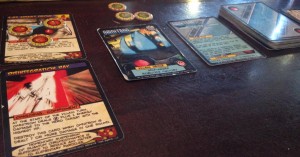 You know me–I love deck builders. I love Legendary from the Marvel universe, so it wasn't outside the realm of possibility for me to enjoy this game…except that with two players, the game is incredibly unbalanced and clunky. For a cooperative, fixed-deck game, this should have been a fun play.
General Mechanics: This game is a cooperative game that unlike many deck builders, begins with a fixed-deck, meaning each player begins with a pre-made deck of forty cards, based on the heroes chosen (there are ten total to chose from). The game consists of three stages within one round:
The villain's turn
The players' turns
The environment's turn
Each players battle together against one of four villains and sometimes the environment. At the start of the villain's turn, players play the top card from the villain deck and follow the instructions on the card. This could be anything from straight damage to the players to turning over additional cards and following their instructions.
Players then will take turns playing a card from their hand (which can damage 1 or more enemies or grand powers) and using a power in play. Then they draw a card from their deck. The idea is to use these powers to increase the amount of power done to villains and decrease the damage taken from villains. Some powers allow the players to heal or use other boons.
Environments are played like villains in that players turn over a card and follow the instructions written on it. Sometimes environment cards help the villain, and sometimes they help the players. An environment card could force players to not draw any cards or not use powers in play, or they might increase damage dealt per round to the villain.
Each villain has advantages and quirks that make defeating him/her more interesting. Players continue cycling these rounds until the villain is reduced to 0 HP and defeated. Or until the villain defeats the heroes.
Each villain has various advantages, such as starting with certain cards in play, as specified by the villain character card. Play continues until the heroes reduce the villain to 0 or fewer HP, or until the villain defeats the heroes, either via a win condition or by reducing all the heroes to 0 or fewer HP.
How to Win/Lose: The game is over when either the players reduce the villain to 0 or fewer HP, or if the villain defeats all the heroes, either by reducing them all to 0 or fewer HP or by some other win condition.
What I Liked: Having a cooperative game against a villain was pretty neat for a deck builder. I enjoyed the idea of the three rotations (villain, players, environment), at least I did once I got used to it.
What I Didn't Like:  It's possible that this game plays incredibly different in a four player game, but with two players, it was nearly impossible to keep up with the villain's damage. A few rounds in, we were both down to 8 health left with little way to heal. And then this card came into play:
There's a mechanic throughout the game called H, which is equal to the number of players. The purpose of H is to allow the game to scale with the number of players. The card above doesn't scale. At all.
So the first five rounds had us yo-yo-ing between 20-30 HP each. Round seven, we got walloped with a massive villain + environmental attack, which took us both down to 8 HP and left us unable to use any powers (that means no healing). We drew this card on round eight with no way to shut it down. We managed to damage the card and bring its HP down to 12, but at the beginning of round nine, it hit us both for 12 points each. We were immediately and irreversibly dead.
I understand that this is a game where we might not beat the villain, and that's fine, but to have a game ending card like this that doesn't scale alongside the rest of the game is hitting below the belt. It soured the game for both us and made us ask, why bother?
If you're going to make a balanced game, make it balanced. Ditch mechanics and/or cards that halt the game (and the fun) so easily.
Overall Rating/Impression:  3.0/10.0. I don't often give a game so low a score on a first run through, but this was pretty disappointing.
---
Read other game reviews in the Monday Night Gaming series by clicking here.