This week's Flashback Friday: Dragons of Autumn Twilight.

I'm happy to have fellow author, Jeff Martin, here for a guest post on how the book, Dragons of Autumn Twilight, influenced him as a writer.
---
I was laying on my bed with my fingers curled around the crisp pages of a new book. New to me, at least, for the book, Dragons of Autumn Twilight by Margaret Weis and Tracy Hickman, had been out for a few years before I got my hands on it. I remember finding it at a local book store. It was like stumbling across an emerald jutting out of the sidewalk. I was nine. Life was full of screaming adults, country music, hasty moves across town, and wondering who my father was. Things were confusing, to say the least.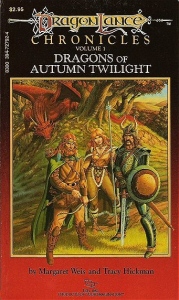 That one day, though, everything made perfect sense. My FM radio was turned up, so I couldn't hear my mom yelling at my younger brothers or someone on the phone. Sun filtered through the window of my small bedroom, putting into focus particles of dust lazily floating through the air that I imagined were tiny souls looking for their friends. Alan Jackson sang about beer cans and moonlight and other things I didn't really understand. There was magic in the air.
That magic was coming from my mind which was, for the first time that I can remember, fully immersed in a world created by an author. The words formed magical patterns against the page and I could feel Caramon's heavy laughter filling the room; I could smell the putrid ichor of the Draconians blood whetting Flint's axe; I could taste the longing Tanis had for his elven love, Laurana, yet hear the internal torment of his parallel love to Kitiara. Emotions filled my consciousness that I was perhaps too young to fully understand.
What I did understand was that this book was actual magic. Sure, it spoke of great magical feats by the frail Raistlin and the great archmage Fistandantilus, but it actually was a magical tome that was transporting me to a realm that I had previously assumed only existed while dreaming. I cried true tears of compassion every time that Caramon tended to his frail twin Raistlin, the latter bitterly resenting the former. They had a relationship that was, quite paradoxically, simultaneously symbiotic and parasitic.
At one point, before the climactic final battle scene that many fantasy books are known for, I laid the book down upon my heaving chest. There was almost too much inside of this book for me to absorb. It could have been the stress of the many chaotic adults in my life haphazardly churning my childhood into a mixture of distress and anger sprinkled with hope.
I often think back on the people that I interacted with in my childhood as characters in a book. I would think of my uncle as a flawed heroic character and my grandmother as a troubled healer. The book that had the first and most profound impact on my life was the paperback with the beautiful ruby dragon curled about a sprawling tree.
---
Click here to read other Flashback Friday posts by other authors including Jean Walker, GG Silverman, Django Wexler, and more.