---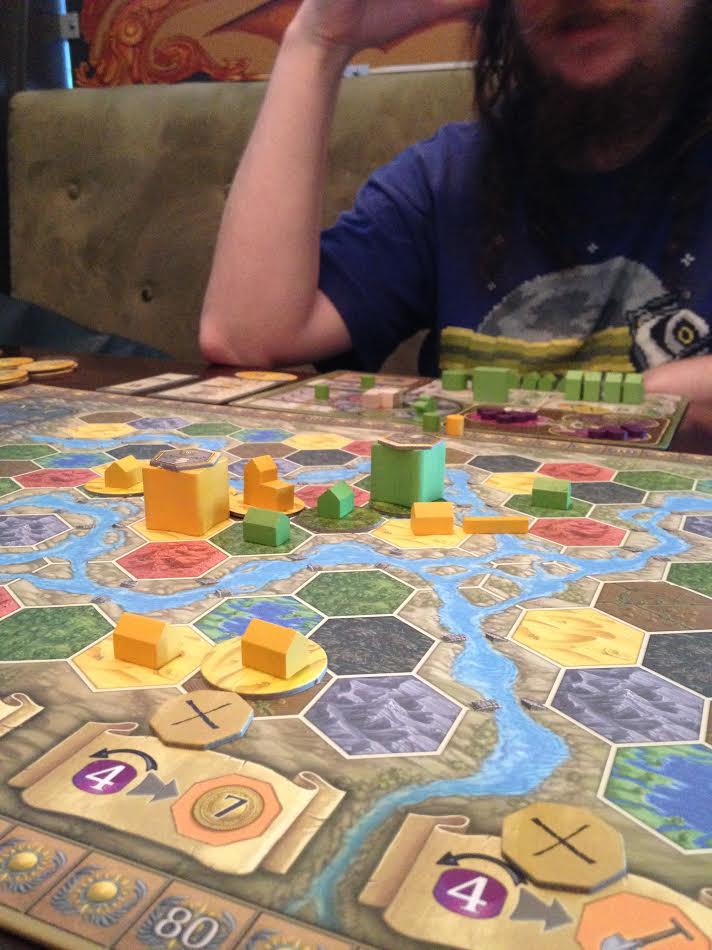 Publisher:  Zman Games
# of Players: 2-5
Best with: 3-4
1st Run Through Playing Time: 4 hours+
The box says it's a 100 minute game, which is entirely true if you've played it before.
We first played this game at Pax Prime, but it was noisy and short on space, so we picked it back up again for a second run. Because it had been so long since we played it, it was like playing it on a first run all over again, complete with the 1.5 hours of setup and manual reading. Seriously folks, watch a how-to play video on this one.
General Mechanics: Terra Mystica is not a luck based game. It is very strategy heavy, and in the beginning, feels a bit overwhelming with all the strategies to keep straight. The board is made up of terrain tiles that are populated by a variety of different people:
Desert (Fakirs, Nomads)
Plains (Halflings, Cultists)
Swamp (Alchemists, Darklings)
Lake (Mermaids, Swarmlings)
Forest (Witches, Auren)
Mountain (Dwarves, Engineers)
Wasteland (Giants, Chaos Magicians)
The goal is for each player to terraform tiles to their particular terrain and then settle by developing dwellings, trading houses, temples, strongholds, and sanctuaries, which add up to form towns. Each established development and town give the player access to resources needed to both build and score victory points. Developments are created by using a mix of workers and gold.
Players take turns completing a long series of stages, in which they can terraform, build/develop, use power, gain influence in one of four cults, improve their terraforming power, or improve their shipping power (sea access). Different buildings give players access to more or less gold, workers, and power.
Dwellings–give access to more workers
Trading Houses–give access to more money
Sanctuaries & Temples–give access to more cult influence, better terraforming, & better shipping. Sanctuaries can also give you the ability to establish smaller towns. Both give favors, which also grant access to more of everything.
Strongholds–give access to a group's special ability, which could be anything from easier building to instant terraforming.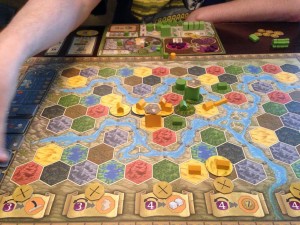 Players must also build bridges to spread their influence and towns over rivers, but some improvements like bridges require power. Power is one of the most difficult resources in the game to get as your power pieces have to cycle in order through two bowls before you can even use them.
Most of the game is spent scrambling for power and resources before the other players while continually changing your strategy based on what other players have done. Your starting faction makes an enormous difference in how game play happens. With the beginning scenario (which is all I've played) and a 2nd run through, the best way to win is to shoot for power as soon and as fast as possible. If you don't, you'll learn the hard way that nothing else matters. All other obstacles can be overcome. With other starting factions, that may be different.
How to Win/Lose: After a total of 6 lengthy rounds, the player with the most victory points, wins the game.
What I Liked: I like the flow of the game once you get into it (which takes some practice), and I like the game's theme and complexity.
What I Didn't Like: There is only one spot on the game to get bridges. If you get blocked out of that spot, you are screwed. I also don't like how difficult it is to acquire power. Way too difficult.
Overall Rating/Impression: Fun game. The manual is way too long (watch a video, it'll be easier) and the game overly complex on the first run, but the game is more enjoyable with repetition and practice. 8/10
---