GENRE: Fantasy
PUBLISHED: January 2015 by Grey Sun Press

BESTSELLER:
Top 100 Amazon Bestseller in New Adult Fantasy, Coming-of-Age, & Dark Fantasy

---
Synopsis
Her name was Adelei.
She was a master in her field, one of the feared Order of Amaska. Those who were a danger to the Little Dozen Kingdoms wound up dead by her hand. The Order sends her deep into the Kingdom of Alexander, away from her home in Sadai, and into the hands of the Order's worst enemy–her father.
The job is nothing short of a suicide mission, one serving no king, no god, and certainly not Justice. With no holy order to protect her, she tumbles dagger-first into the Boahim Senate's political schemes and finds that magic is very much alive and well in the Little Dozen Kingdoms.
While fighting to unravel the betrayal surrounding the royal family of Alexander, she finds her entire past is a lie, right down to those she called family. They say the truth depends on which side of the sword one stands, but they never said what to do when all the swords are pointing at you.

Maps & Images
I created this map of the Little Dozen Kingdoms of Boahim using hand drawings and Photoshop. First I drew the outline of the land masses by hand and scanned the image into Photoshop. Then I used filters and brushes to create the rest.
Map of the City of Alesta
Click on map to view it larger.
First floor map from Alesta Castle
Click on map to view it larger.Other floor maps from Alesta Castle. Click on it to view larger.

Full Cover / Jacket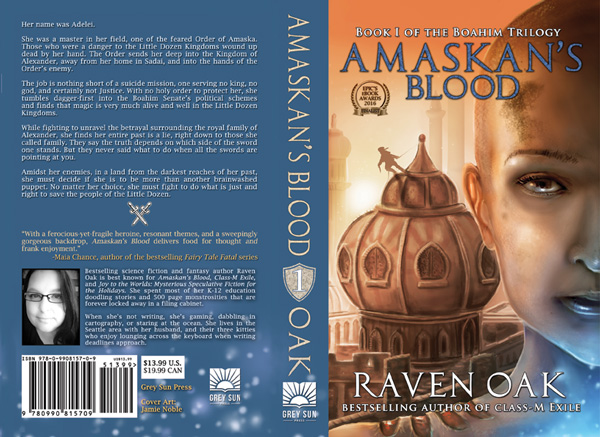 To view the full jacket larger, click HERE. To view the front cover only, click HERE.

Trivia
Amaskan's Blood was originally titled Assassin's Blood.
Amaskan's Blood was always about twin girls as major characters, though in the first draft (before I'd done enough world building), Adelei was named Robyn and Margaret was named Renee.
Ida wasn't written into the first draft.
Ida is such an awesome major character that she will have her own novel at some point.
Boahim was the first place/location name I came up with, which then led to the creation of the Little Dozen Kingdoms of Boahim.
The first edition/printing cover was drawn by K. E. Clausen of Little Griffin Studios.
The 2nd edition/printing cover was drawn by Jamie Noble, The Noble Artist.
Watch a video below on the correct way to pronounce AMASKAN.

Reviews
With a ferocious-yet-fragile heroine, resonant themes, and a sweepingly gorgeous backdrop, Amaskan's Blood delivers food for thought and frank enjoyment."
Maia Chance, author of the Fairy Tale Fatal series
An exciting epic fantasy filled with intrigue and layers upon layers of well crafted secrets and lies." 4/5 stars.
Stephanie Hildreth of 100 Pages a Day
Holy crap, this is good!
Seattle Geekly
This is a novel for readers who enjoy plots filled with twists and intrigue and characters that are emotionally on edge, multidimensional, and solidly developed…It is cinematic and outright entertaining. 5/5 stars
Ruffina Oserio for Readers' Favorite
Oak draws on the power of themes found in fairy tales we've all grown up with, and weaves them into a powerful tale full of violence, emotion and anguish, whilst delivering a powerful and well held together story….If George R R Martin wrote Tangled, it might be a bit like this.
Noor Jahangir, author of The Adventures of Some Kid
"[A] fantasy novel in its truest form…these well-developed individuals held me captive. It was a very strong start to a fantasy series that I very much look forward to following."
Pure Jonal: Confessions of a Bibliophile Reviews
We all enjoyed her book immensely….Amaskan's Blood most certainly receive[s] the Sparkle Motion stamp of approval.
Sparkle Motion Book Club – Special January Selection
Adelei undertakes to save the kingdom, protect Margaret, and discover what truth, loyalty, duty, and family really mean—a tall order for any heroine….
Publisher's Weekly
The prose itself is…a cut above the rest as Raven Oak playfully dances with the reader. It's the addition of just enough detail, and the right amount of it, that makes this read. Oak is loquaciously talented and the writing in the book shines. [She] crafts [her] words carefully, in order to pull the reader in, and once he's hooked, reels him in.
Open Book Society
…A feast of words…Reading [Amaskan's Blood] was like trying to run through Alexander–exhilarating, beautiful and filled with danger for preconceived notions about how people of any economic or social level should be treated.
Penguinate
I thought I had "outgrown" fantasy novels quite a while ago, but Amaskan's Blood kept me intrigued, entertained, and engaged. The world and character building are well done, and the writing is exceptional. 5/5 stars
Beowulf, Reader Review
This book is a story rich in characters and with a plot that stands out from most of its peers...Don't miss this, its well worth the read. 5/5 stars
Matthew Trotter, Reader Review
The epic fantasy unwinds with sorcery, secrets and convoluted layers of plot… I look forward to the next book of the saga. 4/5 stars
Laurel, Reader Review

An A rating! (Read full break down here.)
Book Digits
Amaskan's Blood is nothing short of the complete narrative journey, [with] coming-of-age, seeking the meaning of life, and getting to the bottom of great mystery. Make your way to through to the last page, and you will have found a kingdom you wouldn't mind checking up on from time to time. 5/5 stars
Goodreads Review
[Amaskan's Blood is] a novel that compelled me to read one more page before going to sleep. 5/5 stars
Reader Review
[Amaskan's Blood is] a story that is like the love child of Bujold's Paladin of Souls and Patricia Brigg's Masques…If you enjoy intrigue, religions and politics this would be a good match for you. 3/5 stars
LibraryThing Early Reviews